What's the inspiration behind IGNITE Pink is Punk?
We've been organising IGNITE Pink is Punk for over 10 years now. At IGNITE, we help people stay active and healthy, so we wanted to do something fun and active to show our support during Breast Cancer Awareness Month. The importance of breast cancer awareness and supporting those affected is something that hits very close to home for me. My grandmother passed away from breast cancer, and from an early age it was ingrained in me by my mother that if I had daughters – which I now do – they would have to get checked. I've seen firsthand how breast cancer has affected my family. Our mothers, daughters, aunts, wives, all women deserve support and resources in terms of ongoing funding into research for a cure, treatment and early detection and, if they ever are affected, top-notch medical care and support.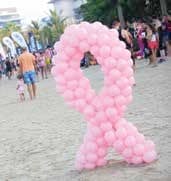 What events are you running this year?
This year we have three fun events that fall under IGNITE Pink is Punk. The Swim:Run on Friday October 4 at Anantara The Palm Dubai Resort is open to anyone aged six and up. If you're unable to swim, we also offer a 3km fun run. Spectators are also welcome and if they donate Dhs150 + VAT, they will receive a Pink is Punk T-shirt and goody bag.
The Sunset Yoga on Monday October 8, also at Anantara The Palm, is for anyone 16 years of age and over, of any ability. The practice is designed to be inclusive and enjoyable for all, but we do have limited spo