Paintings of sceneries and everyday folks captured another time by the masterful brushstrokes of Fernando Amorsolo. Maricris San Diego was particularly drawn to his canvas entitled Dalaga with Fruit Bilao. "It reminds me of a simpler, idyllic time," the executive director of the BPI Foundation says. The work is part of the first OBRA exhibit mounted in celebration of the 40th anniversary of the social innovation arm of the country's oldest bank.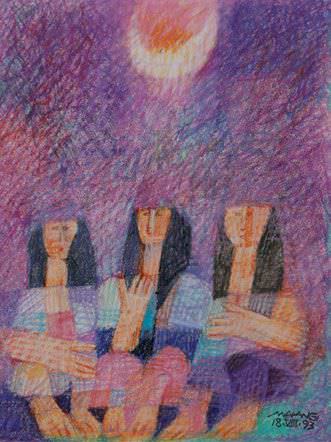 MESSAGE THROUGH THE MASTERS
"OBRA is BPI Foundation's way of expressing the social impact it has diligently fostered for the past four decades," says Maricris. The first OBRA exhibit, titled "PAGPUGAY," is a collection of artworks that manifest the deep sense of respect Filipinos have for families. This characteristic has contributed to the way the bank forges relationship with its clients, employees, partners, and shareholders.
"BPI has made its mark not only as a financial institution but also as a corporate art patron." The OBRA Art Exhibition Series, mounted in partnership with the Ayala Museum, will present masterpieces from the bank's extensive private collection.