Project: Binh Duong School, Di An, Binh Duong, Vietnam Architects: VTN Architects (Vo Trong Nghia Architects), Vietnam
In Vietnam, private schools have traditionally been located in the city centre, but according to recent changes in zoning principles, educational facilities have been allocated to the city's sprawling outlying districts. The mission of Binh Duong School was to cultivate the potential of the outlying site with better air quality and rich green surroundings, and to become a prototype of a suburban school in a typical tropical climate in Vietnam.
The school is located in 5300sq m of land in Binh Duong, a new city which is 30 minutes away from Ho Chi Minh City. The site is in the middle of a flourishing forest that contains a wide variety of lush green plants and fruits growing wildly. The school, which will eventually have 800 students, was designed to maximize the potential of this surrounding nature.

The 6600sq m building consists of a maximum height of five levels, with the intention of being surrounded by the same height of the forest around. Precast concrete louvers and pattern walls were installed in the envelope of the building. These shading devices generate semi-outside space, blocking the direct sunlight as well as working as a part of the natural ventilation system of the corridor space. All the classrooms are connected by this semi-open space, where teachers and students chat, communicate and appreciate the natural beauty they are surrounded by.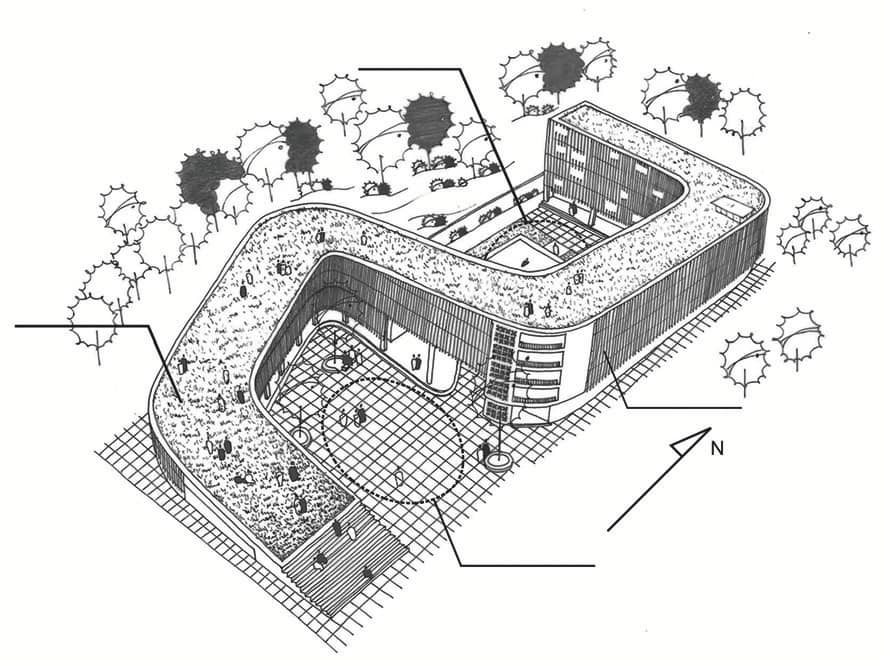 The school is an S-shape volume composed of one narrow strip with a gentle slope which connects the ground and the roof. Like a topographical hill, the slope lessens the aggressive height between the building and the surrounding forest. The narrow strip with openings on the two sides has a great effect on natural lighting and ventilation.
Continue Reading with Magzter GOLD
Log-in, if you are already a subscriber
Get unlimited access to thousands of curated premium stories and 5,000+ magazines
READ THE ENTIRE ISSUE
November 2019
The Building Is Subtle Yet Dynamic In Its Form
Architecture + Design
Rejuvenating Intercity Connectivity
Architecture + Design
Towards A Holistic Approach In The Wake Of Sustainability
Architecture + Design
Matrix Of Built 'N' Un-Built
Architecture + Design
Spiritually Inspired Design
Architecture + Design
Imbibing Culture In Design
Architecture + Design
Fusing Tradition With The Modern
Architecture + Design
Shell Within A Shell
Architecture + Design
An Energy-Efficient Design
Architecture + Design
An Integrated Design Approach To A Great Learning Environment
Architecture + Design