Explore The Convergence Of Three Cultures In Switzerland On A Road Trip
Travel+Leisure India|September 2019
French, German, Italian... Switzerland is a sum of all these and then some. Experience the picture-postcard country differently—hit the roads, traverse incredible landscapes, and explore the food, wine, and way of life of three regions through three unique activities.
"BONJOUR MONSIEUR, WHICH WAY IS THE RAILWAY STATION?"
The farmers looked up from their tasks and studied me curiously. Beyond them, endless swathes of green rolled down the hillside to the edge of Lake Geneva, its stunning blue blinding in the afternoon sun. The homogeneity of the landscape was punctuated with red-roofed farmhouses, the grey of a winding road, and the white of a train snaking far below. These were the picture-postcard UNESCO-listed vineyards of Lavaux, in the francophone southwest region of Switzerland, and I was happily lost.
Stretching over 30 kilometres, these vineyards cover an area of 800 hectares, from the medieval fortress of Château de Chillon in Montreux to the outskirts of Lausanne. The entire stretch is well connected by rail, but the real thrill lies in exploring Lavaux by road, especially on a bicycle. You may choose the easy path that runs along the waterfront, which you can traverse in just two hours. Or, you can make a full-day cycling excursion via the paved, well-marked, and scenic Route de la Corniche—winding through the vineyards and villages, sometimes hugging the lake shore, at other times disappearing behind trees and thickets up in the hills.
It was in the 11 th century that these hillsides, then under the Benedictine and Cistercian monasteries, were turned from woodlands into productive vineyards. Today, the region is a UNESCO World Heritage Site, with terraces rising over 40 levels and 335 metres above the magnificent Lake Geneva, and constituting some of the steepest vineyards in the world. With no irrigation and hardly any chemicals, Lavaux produces artisanal batches of a variety of whites and reds. The Pinot Noir and Chardonnay aside, the most popular grape variety is Chasselas. So crisp and divine are the wines that they're almost entirely consumed locally, with little left for export. This is perhaps why Swiss wine is still a secret. A visit to the region, thus, is incomplete without a taste of these bottled wonders—an activity that is endorsed through tours and tastings by the family-run vineyards.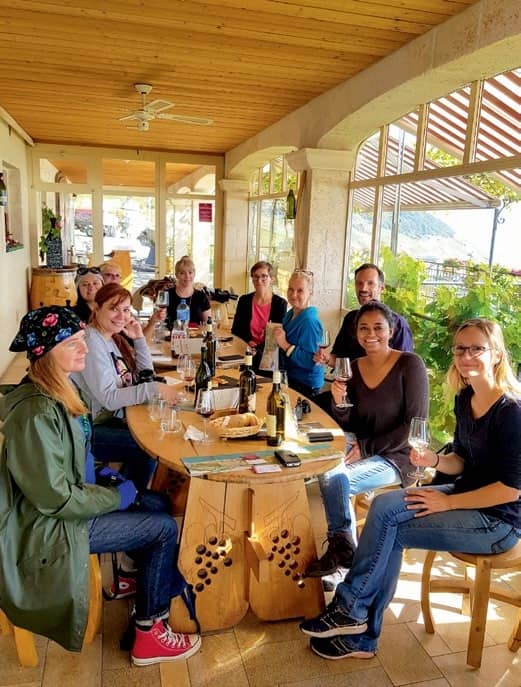 The estate of Croix Duplex has been run by the Vogel family since 1929; it grows 13 varieties of grapes and produces 30 labels of wines. Maude Vogel, the third-generation estate owner, welcomed us with a delectable spread of charcuterie and cheese. After a quick tour of the nearby terraces, where we helped ourselves to juicy grapes picked right off the vines, Maude brought out some of their best wines and enunciated the qualities of each in French-laced English.
You can read up to 3 premium stories before you subscribe to Magzter GOLD
Log in, if you are already a subscriber
Get unlimited access to thousands of curated premium stories and 5,000+ magazines
READ THE ENTIRE ISSUE
September 2019