Two Companies, Two Kids, One Family
Neil Blumenthal is cofounder of WARBY PARKER.. His wife, Rachel, started ROCKETS OF AWESOME. With children ages 4 and 8, they run their home life like a third business. Here's how it breaks down by the hour.
Gemma, G wait!" Rachel Blumenthal orders the blonde blur that is her 4-year-old daughter with the zoomies. "You have a raspberry smoothie unibrow!" There are leggings and bows and 8-year-old Griffin to get out the door for school. But it's all good. Breakfast has been accomplished, workouts done, emails answered, lunches packed, assistants coordinated between his company and hers—and now, wipe in hand, a unibrow crisis averted. And it's only 7:30 at the Blumenthals'.
Neil and Rachel Blumenthal, 38 and 39, met freshman year at Tufts University and married in 2008. By then, she'd already started a jewelry brand, Rachel Leigh. He followed suit in 2010 by cofounding Warby Parker, the industry disruptor that sells trendy prescription eyeglasses for $95 and has grown to nearly 100 stores and 2,000 employees with a valuation, reportedly, of $1.75 billion. Meanwhile, in 2016 she launched Rockets of Awesome, talking to investors while in labor with their second child. With 55 employees and a new investment from Foot Locker, her new brand of children's clothing is designed exactly for mornings like this.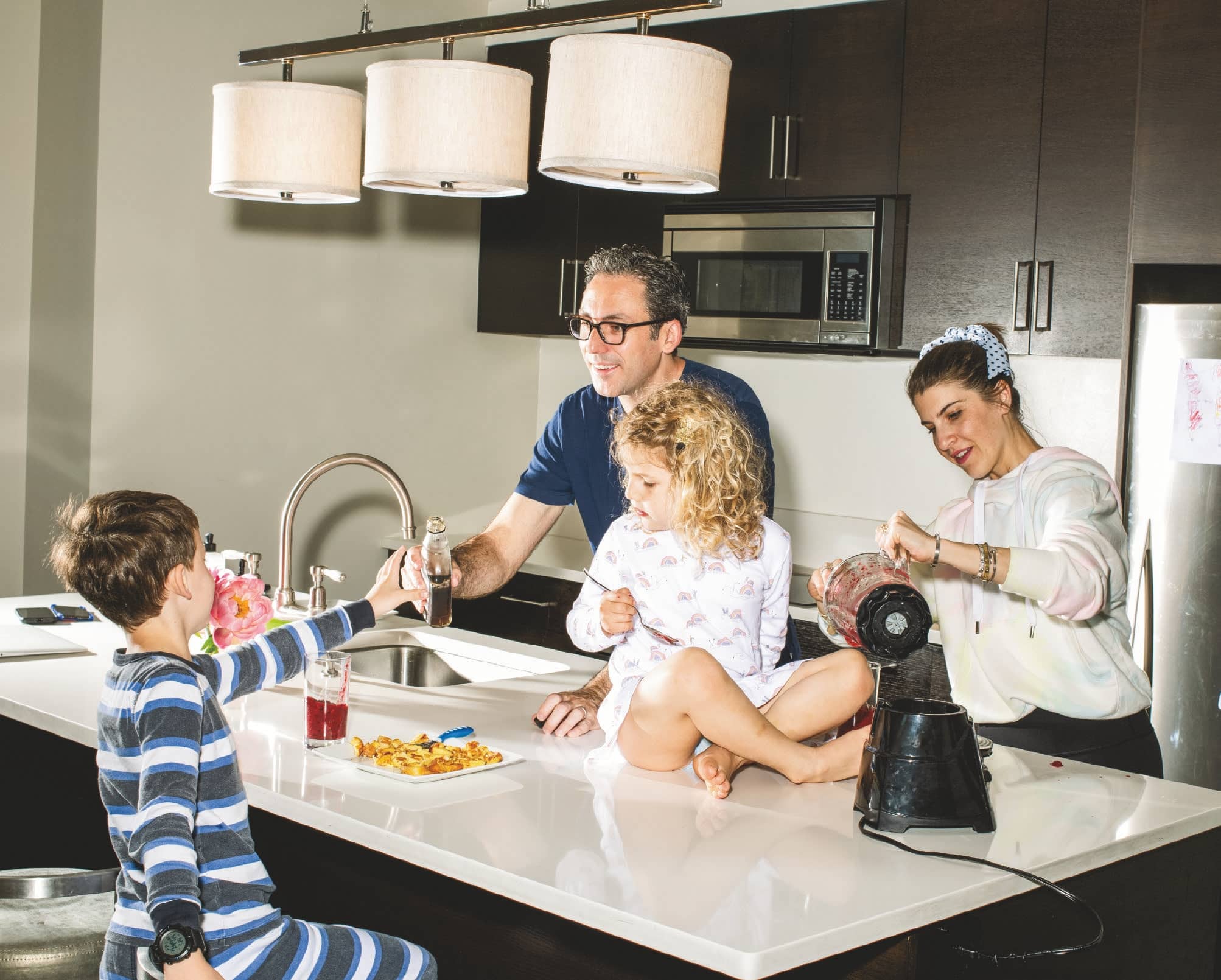 But while not every entrepreneur can claim the Blumenthals' level of business successes, many can relate to their real-life scramble outside the office. Being parent-entrepreneurs requires improvisation. Like the time this spring when they were checking in at JFK for a trip to the Bahamas and Neil turned to Rachel and said, "Your passport is expired." She thought: Surely you don't know how to read a passport because that would never happen to me. But, yeah: expired. So? Step one, distract the kids at Dunkin' Donuts; two, google "emergency passport"; and three, reschedule her flight as the others flew off to the Bahamas. "It was Saturday. I got there Monday," says Rachel. "It was the most peaceful three days of my entire life."
To see how it all works, Entrepreneur shadowed them for a day in May, when on top of the usual madness (unibrow included), they're in a hotel because their Greenwich Village apartment is still a construction zone eight weeks after a gut renovation was supposed to be finished.
Continue Reading with Magzter GOLD
Log-in, if you are already a subscriber
Get unlimited access to thousands of curated premium stories and 5,000+ magazines
READ THE ENTIRE ISSUE
July - August 2019
You Can't Control Everything
Entrepreneur
Five Strategies For Franchise Growth
Entrepreneur
The Hottest Chill In Franchising
Entrepreneur
Franchising's Fountain Of Youth
Entrepreneur
Restaurant rescue?
Entrepreneur
People Are Not Data
Entrepreneur
The Founder & The Idea Man
Entrepreneur
Learning To Work Together
Entrepreneur
Pure Barre's Ultimate Workout
Entrepreneur
A Hand To Hold
Entrepreneur
Can The Renault-Nissan Marriage Be Saved?
Bloomberg Businessweek
Creating Your Life
Diversity Rules Magazine
Do's & Don'ts – Of Giving Your Kids an Allowance
Flagler Parent
Why Family Dinners Matter: The Science Of Eating Together
Volusia Parent
The Hardest Fall
Bloomberg Businessweek
Future Alert Faster Tech
Inc.
What Makes A City Surge?
Inc.
Why Not T-Tops On A Mustang?
Muscle Car Review
Most Influential Business YouTube Channels
Industry Leaders
Top US Schools for Entrepreneurs
Industry Leaders