His work appears to be explosive, sending projectiles of color careening outward. Osborne's choice to pursue action is a stand against complacency, a response to societal pressure.
"In today's world I think we feel stuck in a lot of ways, whether it be a job or a relationship," he says. "However, just like rivers flow and paint spreads, life is constantly moving."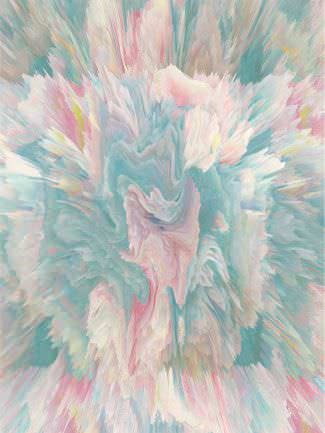 With singleword titles, pop culture references and screwball evocations of electric cheese, Osborne takes his viewers on a trip that careens from the psychedelic to the lovely, creating new space for himself and anyone who dares to follow. He is always drifting through different mediums, exploring resin, acrylic, and digital painting techniques. For Osborne, experimentation is a vital act. He believes artists must be free of fear. During his first painting class, he watched his peers wear coverups to protect their clothing. He looked down at his tshirt and jeans and saw the second canvas.