A Highly Rare Krag Conversion
When it comes to rounding-up a turn-bolt action for a new varmint rifle build, our cups runneth over. The Remington 700 and Savage 110 series are prime candidates simply because so many are out there on the used gun market with prices sometimes low enough to allow robbing the action and dumping everything else at blue-light special prices. Both companies also sell new actions alone. For shooters who can afford them, there are custom actions such as the Stolle, Borden, Stiller, Farley, BAT and Surgeon.
Long before those became available, varmint rifles were commonly built on single-shot actions, with the Winchester Model 1885 High Wall one of the more popular due to its low price and availability. Then came the Krag-Jorgensen. Soon after the 1903 Springfield was adopted as America's primary battle rifle, Krags became available on the military-surplus market at very affordable prices. Rifles in the original .30-40 chambering became quite popular among American hunters, and it was not unusual to spot a few in elk, moose and deer camps as late as the 1960s. An original Model 1898 carbine with a 22-inch barrel was a favorite of one of my father's hunting pals who was a Baptist preacher. How I lusted for that fine little deer-slayer!
Some Krags underwent amateur modifications while others were transformed into fine custom rifles by knowledgeable gunsmiths. Some were rebarreled to various wildcats on the .30-40 case, with the Niedner .25 Krag being one of the more popular among western hunters. Some Krag actions were converted to single shot for cartridges the magazine could not handle. Among them were varmint cartridges such as the .219 Zipper in factory and Improved form, the .22 Hornet, the .22 Hornet Improved, the .22 Niedner on the .32-20 Winchester case, the .22-3000 R2 Lovell on the .25-20 Single Shot case and the .22 Niedner Magnum on the .25 Remington case.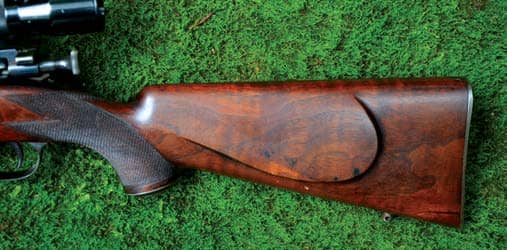 My custom Krag was built by Adolph Otto Niedner who had several things in common with P.O. Ackley, another famous gunsmith. For one, they shared the same middle name and both preferred to be called by their initials. A.O. Niedner had an interesting life. He built his first rifle at the age of 14 and enlisted in the U.S. Army in 1880. During four years of active duty in the cavalry, he was involved in 17 different skirmishes with Apache warriors. The only wound he suffered was a shallow furrow in the skin along the side of his head from an Apache bullet.
Niedner became a champion rifle and pistol shooter for the army and eventually accumulated close to 200 marksmanship medals at many matches, with one of the earliest held at the Centennial Exposition of 1876 in Philadelphia. He remained active in competitive shooting games into the 1930s with a win at 500 yards being one of his last. Niedner and William Stolley founded the Niedner Rifle Corporation in 1920. I am unsure of the location of that first shop, but the one in Dowagiac, Michigan, was quite active for several decades.
Continue Reading with Magzter GOLD
Log-in, if you are already a subscriber
Get unlimited access to thousands of curated premium stories and 5,000+ magazines
READ THE ENTIRE ISSUE
Rifle Special Edition Varmint Fall 2019
Lohman Gunsmith Custom Rifle
Rifle
Ruger's Mini-14 And Mini Thirty
Rifle
U.S. Infantry Rifles
Rifle
Accuracy Systems Modification For Ruger's Mini-14
Rifle
Howa 1500 H-S Precision Rifle
Rifle
.28 Nosler Mountain Carbon Rifle
Rifle