Heavy Bullets And The .220 Swift
Our fastest mainstream varmint cartridge is nearly 85 years old. Sure, there are a couple of .22-caliber cartridges that match or slightly edge its performance, but they never really grabbed American shooters' imaginations like the Swift. Winchester chose the semi-rimmed 6mm Lee Navy as the parent case, and like anything well ahead of its time, the outdoor press summarily piled on. Furthermore, as is standard practice in the shooting community, decades-old assertions are passed down through the years – usually by people who have never actually shot the cartridge under discussion.
Modern barrels are quantifiably superior to those manufactured in the 1930s. But the standard line remains that Swifts quickly burn out barrels. Some early-model Swifts even included .223-inch grooves, holdovers from original .22 Hornets of the day. It is still occasionally related that Swifts develop dangerous pressure spikes. As a result, .220 Swift factory ammunition is generally anemic, often loaded below .22-250 Remington velocities in diffidence to older rifles. Handloading for modern firearms unleashes the Swift's full potential.
The Swift's overbore nature suffered from the limited powders available upon its introduction. The "barrel-burning" issue has largely been addressed by modern steels (combined with common sense, like not shooting your Swift until it gets so hot it'll brand), improved cleaning techniques (a bore snake every 50 shots goes a long way toward extending barrel life) and up-to-date propellants.
Yet one glaring issue persists from those early days: The .220 Swift is hobbled by 1:14 to 1:12 rifling twist rates that stabilize only light bullets carrying low ballistic coefficients. Some traditions die hard. The 48-grain bullets Winchester loaded in introductory ammunition maximized velocity and grabbed headlines. Four-thousand-plus fps was certainly newsworthy in 1935, adding 1,000 fps to the pace set by the 1915 .250 Savage.
My father and I frequently discussed this travesty during varmint-shooting discussions. If any .22-caliber varmint cartridge could effortlessly accommodate heavier bullets, it was the .220 Swift. Dad finally did something about it, refitting a customized FN Mauser 98 with a heavy-contour (.870-inch just behind muzzle crown), 1:9 twist E.R. Shaw barrel. The rifle is glass bedded into a gorgeous thumbhole-stock of walnut and weighs 16 pounds with a scope added.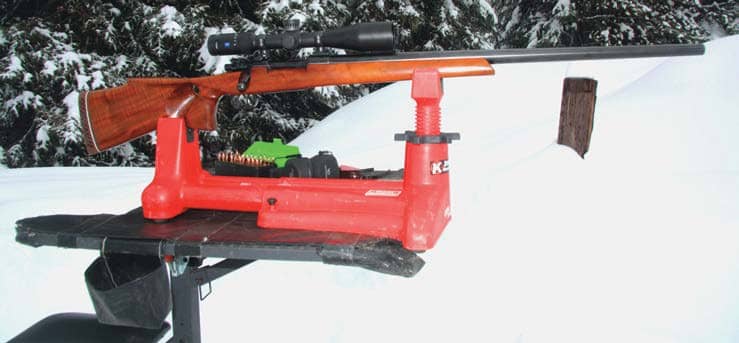 Load development posed initial challenges, as most .220 Swift load data dead-ends with 60-grain bullets in step with standard-issue rifling twists. Berger Bullets and Sierra loading manuals provided welcomed heavy-bullet starting points. The question then became how far bullet weight/length could be pushed in relation to the 1:9 twist. So I started where most others stop; 60 grains, working toward 75- to 80-grain bullets with BCs of .467 and .485, respectively. The goal was to create accurate 400-plus-yard loads for wind-cursed Western hunts for ground squirrels, prairie dogs, rock chucks and coyotes.
Bullets from Cutting Edge (60-grain ER Raptor), Nosler's 60-grain Ballistic Tip and 70-grain RDF, Swift's 62- and 75-grain Scirocco II, Sierra's 65-grain GameKing SBT and 69-grain Tipped MatchKing, Barnes' 69-grain Match Burners, Rocky Mountain Reloading's (RMR) 69-grain 3-Gun Hunter (3GH), the Hornady 73-, 75- and 80-grain ELD Match bullets and Berger's 77-grain BT Target were tested.
Continue Reading with Magzter GOLD
Log-in, if you are already a subscriber
Get unlimited access to thousands of curated premium stories and 5,000+ magazines
READ THE ENTIRE ISSUE
Rifle Special Edition Varmint Fall 2019
Lohman Gunsmith Custom Rifle
Rifle
Ruger's Mini-14 And Mini Thirty
Rifle
U.S. Infantry Rifles
Rifle
Accuracy Systems Modification For Ruger's Mini-14
Rifle
Howa 1500 H-S Precision Rifle
Rifle
.28 Nosler Mountain Carbon Rifle
Rifle