One day in 2009, Mommy Au was walking down a public market in Plaridel, Bulacan when she stepped on something white and spongy. She asked the vendor, whose stash it had fallen from, what it was. She was told that it was an oyster mushroom and it can be cooked in several ways. It was then she decided to turn it into a snack.
After many trials and errors, Mommy Au perfected her mushroom chip recipe, which has become the best selling product of her company, now known as Mom's Haus of Mushroom (MHM).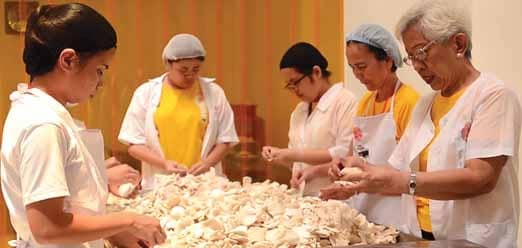 A POPULAR BRAND
It was during 2011 when she officially registered MHM as a business under the Department of Trade and Industry (DTI) and after three years, she has penetrated the market with the help of her now managing director, Romeo "Jay" Martin Jr., a former Operations Analyst in a multinational company who left his corporate job to farm and sell cassava chips.
In 2014, Mommy Au and Martin Jr. officially became partners. "It was very challenging since a big supermarket was asking us to produce a truckload of chips, wherein during that time, we only had a kitchen set-up," said Martin. He also said that it took them around 30 presentations to get their first client, but that was the spark that lit their business. In that same year, they projected that they should be