Ignatius grew up surrounded by art. His parents were both avid art lovers and collectors. During his student years he met the legendary artist Gregoire Boonzaier, who become both a mentor as well as a major source of inspiration. He credits Boonzaier as the person who taught him what it would take to be a professional artist.
These days, he finds inspiration in the work of Edward Seago, Zhaoming Wu, Jeremy Lipking, and some of the American plein air painters such as Marc Hanson and Matt Smith.
He uses his own reference material which he takes with either his cellphone or camera. These he uses together with sketches and quick studies, as reference for his studio paintings. He regularly receives images from people who think he might like to use them as part of a painting.
When time and weather conditions allow for it, Ignatius occasionally paints en plein air. These paintings are usually done on small format canvas. "Most of my Canvas is supplied by a small company on the North Coast of KZN called "Classic Canvas". They specially weave and stretch a canvas/linen combo that is fantastic to work on".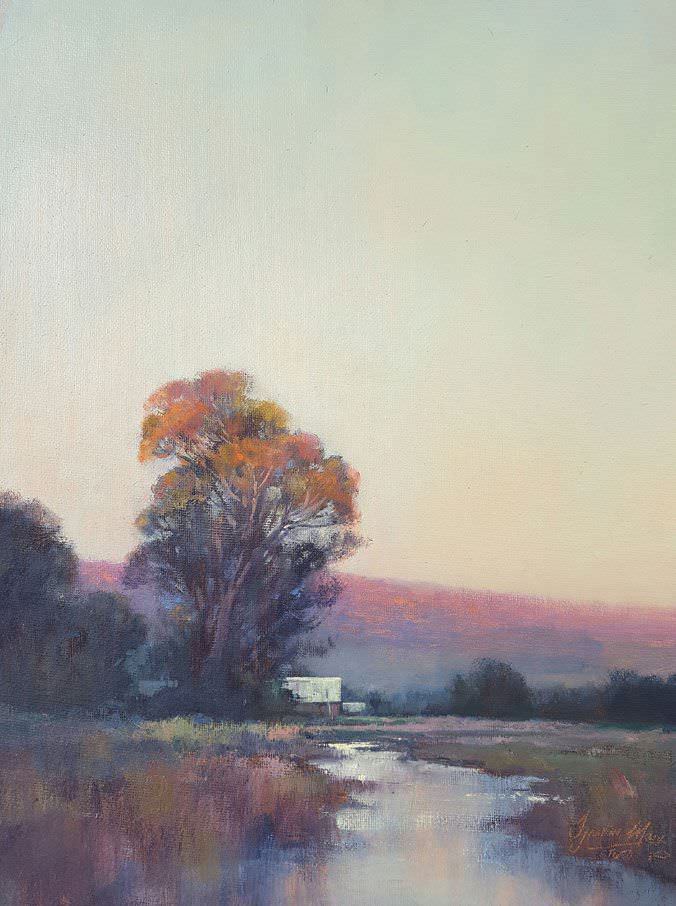 Ignatius likes to paint every day and is fairly disciplined. "First thing I have to have is my cup of coffee! Then I head to the studio, otherwise chances are I get distracted and little or no painting will get done. I usually spend the whole day in the studio, breaking for coffee and a bite to eat, often times working into the night. I love cooking and make my meals in advance so that I don't have to worry about wasting time preparing meals during the day".
He starts the painting process by staining the white canvas with acrylics. This is usually Cadmium Orange or Burnt Sienna, or a mixture of Ultramarine and Sienna. For landscapes, the main elements are roughly sketched in and then a broad monochromatic block-in follows, using a mix of Burnt Umber and Ultramarine with rectified turpentine.
Continue Reading with Magzter GOLD
Log-in, if you are already a subscriber
Get unlimited access to thousands of curated premium stories and 5,000+ magazines
READ THE ENTIRE ISSUE
Issue 25
Painting With The Zorn Palette
The South African Artist
Speaking To The Heart
The South African Artist
Oil Painting Essentials
The South African Artist
True To His Roots
The South African Artist
Eagle In Polychromos
The South African Artist
Painting At The Bottom Of The World
The South African Artist
All About The Light
The South African Artist
Painting Big Sky Country
The South African Artist
Winning Portraits
The South African Artist
Portraits With Passion
The South African Artist
"I'm Not Nice!"
New York magazine
Well, Here We Are
New York magazine
The Voice of a Generation
New York magazine
Still Gazing in Awe at Jude Law
New York magazine
Republicans Don't Even Know What They're Covering Up
New York magazine
Peter Thiel's Latest Venture Is the American Government
New York magazine
Medea in Brooklyn
New York magazine
In Conversation: FRANK GEHRY
New York magazine
Good-bye to Gotham
New York magazine
ROD STEWART COULD DO TIME FOR PARTY PUNCH!
National Enquirer