Most of us can only dream of being tutored by the likes of David Leffel, Richard Schmidt and Nelson Shanks. Gauteng artist Martjie Carter spent 10 years in America where she gained invaluable artistic knowledge. We chatted to her about her career as a musician and artist.
Have you had any formal art training?
I studied music, not art, and obtained my BMus degree in piano. In later years I studied art part time at UNISA but found that to be a contrived and negative experience. My most valuable art training was during the decade I lived in America. I studied for a time at Studio Incamminati in Philadelphia under Nelson Shanks and did workshops under many of the world's greatest portrait artists. Being apprenticed by some of these great masters in an atmosphere of encouragement, humility and true knowledge was the best thing that could ever happen to me.
Carl Jeppe is credited with instilling in you a love for good drawing – what can you tell us about your time as his student?
While I was a student at UP, I was referred to Carl Jeppe because we worked in a similar pencil technique. I went to him for private drawing classes and eventually also got involved in his figure drawing classes. I credit Carl, a great teacher and a master in the art of drawing, for my love of the medium of charcoal. He taught me so many of the possibilities this medium has. It ended up being one of my most favourite drawing mediums.
During your time in America you attended workshops with some of the best artists of our time: John Howard-Sandon, David Leffel, Richard Schmidt and Nelson Shanks. Tell us about them.
Most of these artist have painted the USA presidents at one time or another, as well as many other top dignitaries in the world. Nelson Shanks is well known for his painting of Pope John Paul II. On a visit to his home and studio, I saw a painting he did of Bill Clinton. I still remember the rosy, transparent quality of the skin tone in that portrait.
Richard Schmidt is more diverse in his subject matter and as far as I know he does not work on commission but only paints what he wants. He also does awesome landscapes and vibrant flowers and has unbelievable knowledge of colour. Some of the things that impress me the most of these great artists are their absolute mastery and sometimes almost scientific knowledge of their subjects. Yet there is nothing contrived or arrogant about them. They truly care about sharing this knowledge with younger and upcoming artists and do it in a kind and encouraging way. Also their work speaks for themselves.
David Leffel was then a lecturer at the Art Students League in New York but gave regular workshops all over the country. His work has a kind of Rembrandt feel about it. John HowardSandon is a virtuoso in his portrait painting and works in a wet-on-wet style. I base my basic skin tone palette on his.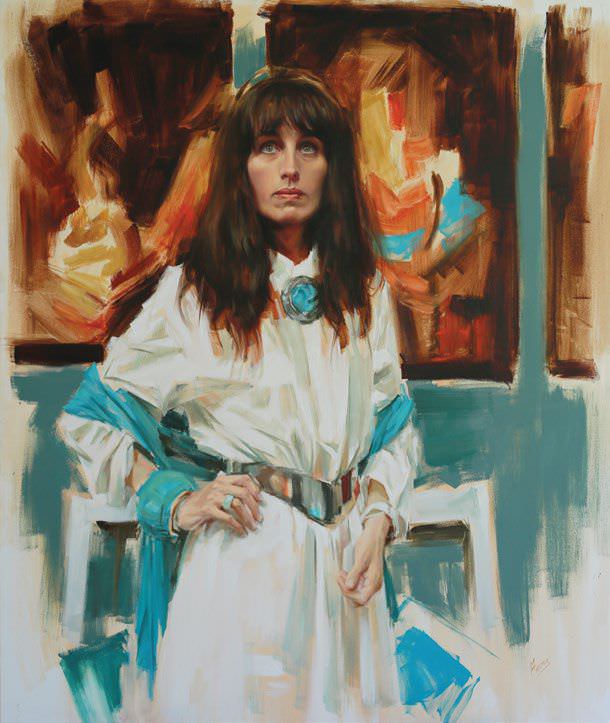 Tell us about a typical day: Do you have a set routine?
Continue Reading with Magzter GOLD
Log-in, if you are already a subscriber
Get unlimited access to thousands of curated premium stories and 5,000+ magazines
READ THE ENTIRE ISSUE
Issue 24
Painting With The Zorn Palette
The South African Artist
Speaking To The Heart
The South African Artist
Oil Painting Essentials
The South African Artist
True To His Roots
The South African Artist
Eagle In Polychromos
The South African Artist
Painting At The Bottom Of The World
The South African Artist
All About The Light
The South African Artist
Painting Big Sky Country
The South African Artist
Winning Portraits
The South African Artist
Portraits With Passion
The South African Artist
Logan Helps Aviators Fly High
Baseball America
The Final Piece
Cobblestone American History Magazine for Kids
Rethinking A Holiday
Cobblestone American History Magazine for Kids
Gonna Have a Good Time
Where Las Vegas
Queen orders Andrew: SPILL YOUR GUTS TO FBI!
National Enquirer
Pirate Johnny Weighs Anchor!
Globe
What Makes A City Surge?
Inc.
I Am Walnuts ... A Great Food For Thought
Reader's Digest US
Relax, Revive Restore
Central Florida Health News