Cape Town artist Shaune Rogatschnig has a clearly focussed approach to her art as she captures the lush textures and colours of our local flora.
Shaune's latest works describe all that she loves about the natural world around us. Her paintings start off with a visit to Kirstenbosch or a hike in the Fynbos rich mountains of the peninsula, where she takes most of her reference photos.
"I find my painting begins at the point of looking and taking references. I know what I'm looking for and can immediately see when an image will most likely be suitable.
I then take it into a design programme and work on the layout and positioning of the image on the canvas – reviewing the lead-ins, rule of thirds, linking darks shapes and negative areas. I often use a bouquet of reference materials to work out the layout. However, I never fiddle with the colour – that's for my paint!"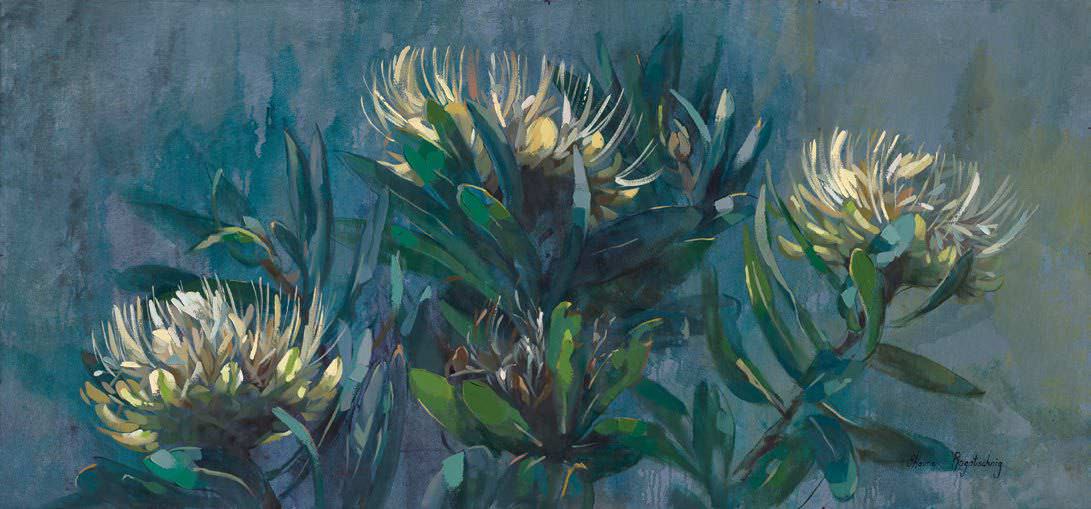 Shaune studied art up to matric, but it was only in 2013 that she took the decision to commit to painting as a full-time career. She started off by attending a year-long course with Lyn Northam. "She taught me, amongst many other things 'to paint out of the lines'. She has become a valued mentor throughout this journey and I am indebted to her support and friendship".
Determined to learn as much as possible, Shaune joined two art societies in 2012 (SASA: South African Society of Artists and CAS: Constantiaberg Art Society), where the regular demos and talks have supported her development. "I find this community of artists extremely supportive in sharing insights and tips".
She also attends as many workshops as possible. "Amongst those that stand out the most are the talented and lovely Laura Wenman, Lesley Charnock, Marc Alexander and Yvonne Ankerman (who kick-started my love of the palette knife in 2014)".
Continue Reading with Magzter GOLD
Log-in, if you are already a subscriber
Get unlimited access to thousands of curated premium stories and 5,000+ magazines
READ THE ENTIRE ISSUE
Issue 24
Painting With The Zorn Palette
The South African Artist
Speaking To The Heart
The South African Artist
Oil Painting Essentials
The South African Artist
True To His Roots
The South African Artist
Eagle In Polychromos
The South African Artist
Painting At The Bottom Of The World
The South African Artist
All About The Light
The South African Artist
Painting Big Sky Country
The South African Artist
Winning Portraits
The South African Artist
Portraits With Passion
The South African Artist
Before Zuckerberg, Gutenberg
The Atlantic
How Low Will Democrats Go?
New York magazine
NATO RESEARCHERS: SOCIAL MEDIA FAILING TO STOP MANIPULATION
AppleMagazine
Facebook Rebuffs US AG Over Access To Encrypted Messages
AppleMagazine
Facebook Tests Tool To Move Photos To Google, Other Rivals
AppleMagazine
The Investigator
Columbia Journalism Review
Interference 2020
Columbia Journalism Review
What Would Social Media Look Like If It Served The Public Interest?
Columbia Journalism Review
How To Disable Web Notifications
PC Magazine