4 Deadlift Variations To Bring Your Backside Back To Life
Bring your backside back to life with these four deadlift variations.
Today's booty-crazed world has shifted the focus behind us, and we're not complaining: Your posterior chain is a powerful partnership between glutes and hamstrings that propel you to faster sprints, bigger lifts and higher jumps. Use these deadlift variations to master the all important hip-hinge technique and create that sexy strength and power you need to lift some seriously heavy stuff— and of course fill in those jeans quite nicely, thank you very much.
LEVEL 1: BSTANCE DUMBBELL ROMANIAN DEADLIFT
This move is a great way to target one leg at a time, which can help reveal and then overcome strength imbalances. Since you still have the support of your "kickstand" (back) leg, you can go a little heavier without being limited by your ability to balance on a single ankle.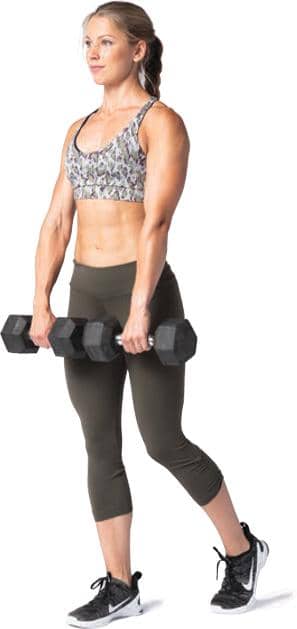 Hold a set of dumbbells in front of you and assume a split stance — one foot forward and one back — with your feet placed about hip-width apart. Shift most of your weight into your working (forward) leg, keeping your knee straight but soft. Your supporting (non-working) leg should be about a half a foot's length behind you on your tiptoes, knee bent — like a kickstand for balance. Maintain a straight back as you fold forward and press your hips back to lower the weights, keeping them close to your thighs and bending your knee as you descend. Pull yourself back to standing with the backside of your working leg. Do all reps on one side, then switch.
Troubleshooting
You can hold the dumbbells in front of you or at your sides, but don't let them drift too far forward, which can torque your lower back and sacroiliac joint. If your hamstrings are tight and you can't properly hinge forward, your lower back might round, which puts your erector spinae and spine at risk. Prevent rounding — as well as shrugging or hunching — by engaging your upper back to lock your shoulder blades into place and lower down only as far as you can while maintaining a neutral spine. All the work should be focused on one leg while the other simply works to maintain balance. Shift your bodyweight forward and distribute it evenly throughout your entire foot to ensure your rear foot is mostly passive.
Continue Reading with Magzter GOLD
Log-in, if you are already a subscriber
Get unlimited access to thousands of curated premium stories and 5,000+ magazines
READ THE ENTIRE ISSUE
September - October 2019
7 Simple Moves To Improve Alignment And Boost Confidence
Oxygen
The 12-Minute Total-Body Tabata
Oxygen
Attention Female Athletes: It's Time To Consider Another Kind Of Iron
Oxygen
Body Fat - The Good, The Bad And The Beige
Oxygen
How To Prevent And Resolve 5 Hand Issues For Athletes
Oxygen
New Approach To Nutrition For Better Health, More Energy And Improved Results
Oxygen
Eat, Drink & Still Shrink
Oxygen
4 Deadlift Variations To Bring Your Backside Back To Life
Oxygen
The 60 Day Metabolıc Reset
Oxygen
Are You Eating Too Clean?
Oxygen
2 Routines To Build Badass Legs
Muscle & Fitness Hers
The Most Important Exercise Every Athlete Should Do
Men's Fitness (US)
How To Perfect Your Deadlift
Muscle & Fitness UK Edition
Is The Deadlift For You?
Men's Health Singapore