Build strength, burn fat and increase mobility in record time with this combination of innate bodyweight movements and kettlebell training.
If you're of a "certain age," you'll remember the Reece's commercial when a man bumps into a woman on the street and accidentally jams his entire chocolate bar into her weirdly open jar of peanut butter, thereby creating the most delicious flavor combo on the planet.
Seemingly disparate modern-day workouts can be similarly blended, albeit in a less incongruously machinated way, to create a completely new training experience — yoga with Pilates, barbells and barre class, and now kettlebell training and Animal Flow. The dynamic duo of Venus Lau and Marcus Martinez melded together these two disciplines to create Oxygen's new six week course Kettlebell & Flow. Their ensuing unique training cocktail is fun and effective and is all but guaranteed to make you stronger, more mobile and more intimately connected to your body.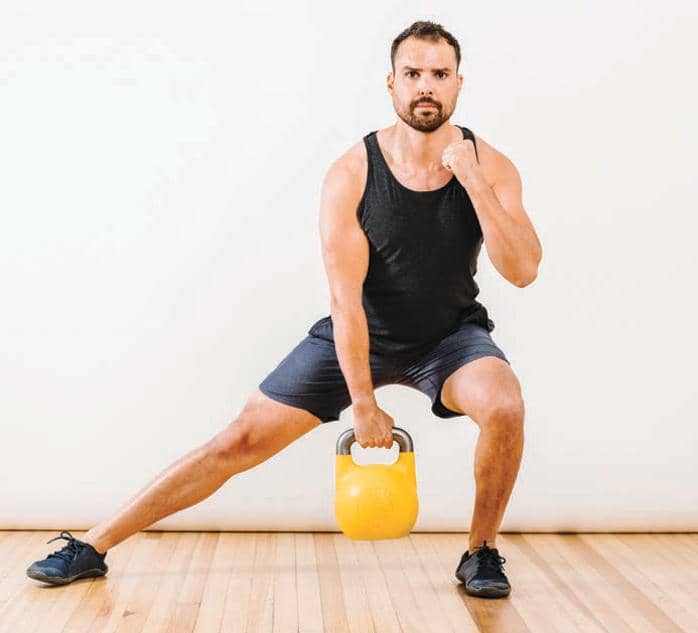 Flowing Fundamentals
Sometimes getting back to basics is the best way to make progress, and it can't get any more basic than using your own body in a functional way. "We were literally born to move like this — crawling, squatting, running and moving in every plane," Martinez says. "As we get older, we lose that capacity and have to earn those positions back."
Animal Flow — the brainchild of Mike Fitch, NSCA-CPT, NASM, NSCA, IFPA, AAHFRP — was designed to do just that, combining ground-based, multi-planar movements with elements such as bodyweight training, gymnastics, break dancing, parkour and hand balancing. "Animal Flow is based on primitive, human movements that are the healthiest for our bodies to master," says Lau, who herself is an L2 and L2 Animal Flow instructor. "There is no other fitness system that gets your body moving so much. It is strength, mobility, core dynamics, cardio, balance, power, coordination, timing, brain stimulation and self-expression all at once."
It will also get you into great shape. "I tried flowing because I thought it looked unique, but I quickly found out how much more challenging it was compared to normal calisthenics — I was a sweaty mess," Martinez says.
"I got into the best shape of my life doing this kind of training," Lau adds. "In fact, I can lift more weight now than I could before, and I am rarely sore."
Kettle-Benefits
Continue Reading with Magzter GOLD
Log-in, if you are already a subscriber
Get unlimited access to thousands of curated premium stories and 5,000+ magazines
READ THE ENTIRE ISSUE
July - August 2019
7 Simple Moves To Improve Alignment And Boost Confidence
Oxygen
The 12-Minute Total-Body Tabata
Oxygen
Attention Female Athletes: It's Time To Consider Another Kind Of Iron
Oxygen
Body Fat - The Good, The Bad And The Beige
Oxygen
How To Prevent And Resolve 5 Hand Issues For Athletes
Oxygen
New Approach To Nutrition For Better Health, More Energy And Improved Results
Oxygen
Eat, Drink & Still Shrink
Oxygen
4 Deadlift Variations To Bring Your Backside Back To Life
Oxygen
The 60 Day Metabolıc Reset
Oxygen
Are You Eating Too Clean?
Oxygen
Helping Children Handle The Strongest Of Feelings
Carolina Parent
Short On Sleep? Don't Forget To Drink Water
Reader's Digest US
Period Hacks That Work
Girls' Life magazine
How To Tune Up Your Knees
Backpacker
Treating Pain With Plants
American Survival Guide
What We Can Learn From Imperfect Movement
Pilates Style
5 Easy Memory Tricks
Reader's Digest US
Stop Working Out To Lose Weight
Clean Eating
Forced Reps - An Effective Training Style
Muscle & Fitness
Jazzercise, Smart Socks, Massages And More
Inc.