Change up this overplayed classic and breathe new life into your lower-body routine.
As far as lower-body exercises go, lunges are one of the best for developing strength, building endurance and improving balance. But truth: They are also exceedingly boring. Use these four exercises to level up your lunges — and still keep a level head.
LEVEL 1: UNILATERALLY LOADED SPLIT SQUAT
The split squat helps develop balance and control while maintaining proper hip, knee and ankle position. Unlike a true lunge, your base in a split squat doesn't move, keeping the tension on your glutes and quads and preventing you from using momentum. Here, you're loading just one side to challenge your core and hip stability. Hold a dumbbell in your right hand at shoulder height with your chest lifted and elbow down, and stand with your feet in a split stance, left leg forward, right leg back and up on your toes. Keep your torso erect as you bend both knees and drop straight down toward the floor until both legs form 90-degree angles at the hips and knees. Extend your legs to return to the start. Complete all reps on one side before switching.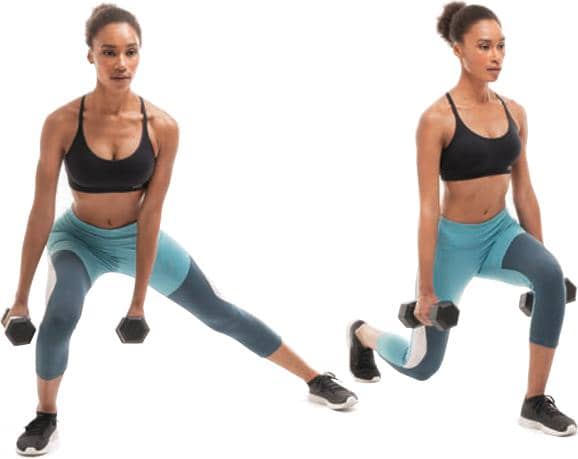 Troubleshooting
Since this move is unilaterally loaded, the dumbbell will want to pull your torso over to the weighted side. Focus on keeping your rib cage level with the floor and squeezing your shoulder blades down to maintain balance and stay square, with your center of gravity over your hips.
Continue Reading with Magzter GOLD
Log-in, if you are already a subscriber
Get unlimited access to thousands of curated premium stories and 5,000+ magazines
READ THE ENTIRE ISSUE
July - August 2019
7 Simple Moves To Improve Alignment And Boost Confidence
Oxygen
The 12-Minute Total-Body Tabata
Oxygen
Attention Female Athletes: It's Time To Consider Another Kind Of Iron
Oxygen
Body Fat - The Good, The Bad And The Beige
Oxygen
How To Prevent And Resolve 5 Hand Issues For Athletes
Oxygen
New Approach To Nutrition For Better Health, More Energy And Improved Results
Oxygen
Eat, Drink & Still Shrink
Oxygen
4 Deadlift Variations To Bring Your Backside Back To Life
Oxygen
The 60 Day Metabolıc Reset
Oxygen
Are You Eating Too Clean?
Oxygen
Helping Children Handle The Strongest Of Feelings
Carolina Parent
Short On Sleep? Don't Forget To Drink Water
Reader's Digest US
Period Hacks That Work
Girls' Life magazine
How To Tune Up Your Knees
Backpacker
Treating Pain With Plants
American Survival Guide
What We Can Learn From Imperfect Movement
Pilates Style
5 Easy Memory Tricks
Reader's Digest US
Stop Working Out To Lose Weight
Clean Eating
Forced Reps - An Effective Training Style
Muscle & Fitness
Jazzercise, Smart Socks, Massages And More
Inc.