Developed during the early 1960s, the M113 was a replacement for the U.S. Army's M59 Armoured Personnel Carrier.
It was first tried out in combat after the United States provided the South Vietnamese Army with various types of heavy weaponry under the 'Military Assistance Command, Vietnam' (MACV) scheme. The M113 became the most widely used armoured vehicle during the Vietnam War. Due to the ease with which it could break through dense jungle vegetation, it earned the nickname 'Green Dragon' by the Viet Cong.
A notable feature of the M113 was its aluminium alloy hull. Thick enough to protect the crew and passengers from small-arms fire, it made the vehicle light enough to be air-portable and moderately amphibious. While the M113 series have long been replaced by the M2 and M3 Bradleys as front-line vehicles, large numbers are still used in support roles.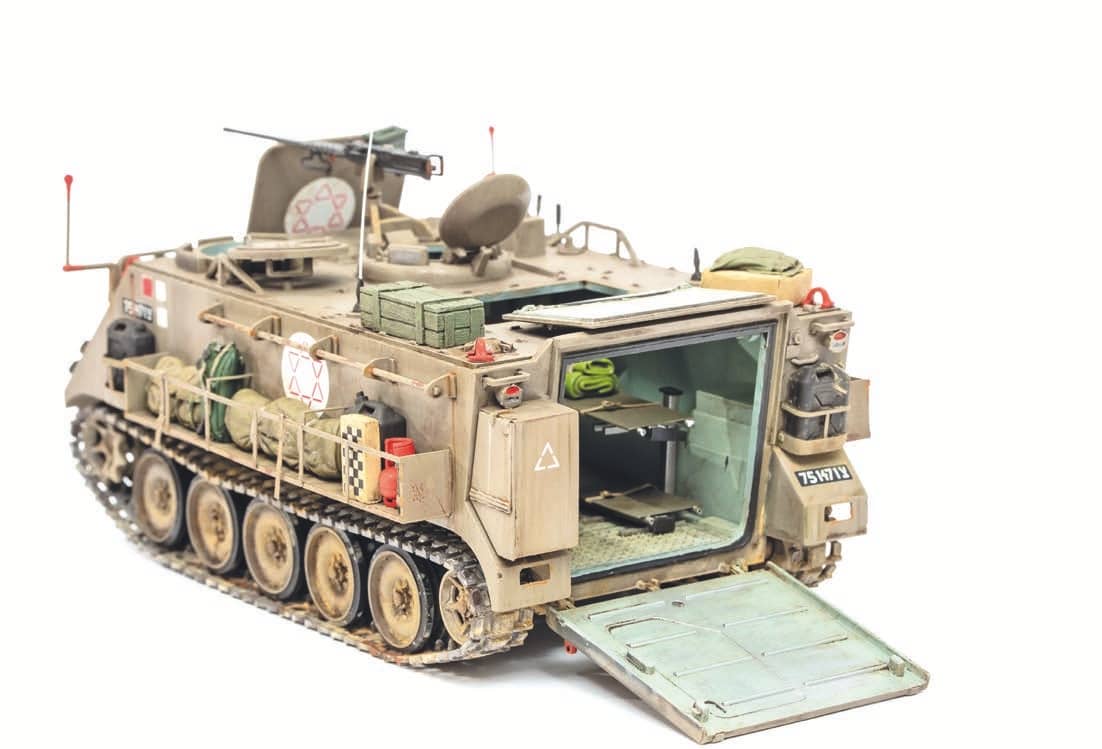 Second only to the U.S Army, the largest user of the M113 is the IDF. Following the capture of several Jordanian vehicles during the Six-Day War, Israel began to receive a quantity of better armoured M113A1s from the U.S. Since then, they have served in all of Israel's wars and operations, including the Yom Kippur War, Operation Peace for Galilee, the First and Second Intifadas, the Second Lebanon War, Operation Cast Lead and Operation Protective Edge. It is estimated that around 10,000 M113s have served with the IDF in various forms; most have now been replaced by newer and better protected vehicles, but (according to military sources) about 500 will continue to serve until the end of the 2020s.
The Model
Of the many variants, the one that immediately appeals to me is the IDF M113 Medevac. Not surprisingly, there are plenty of kits of the M113 in various configurations, but seemingly nothing specifically for this version. So, rather than waiting for something to appear, I decided to tackle a conversion based on the venerable Tamiya kit (ref. 35040). Released back in 1974 (yes, 45 years ago), this was their first 'M113' kit, and the basis for a variety of upgrades over the years. Since the kit itself depicts an American version, I needed to carry out modifications to both the interior and exterior. Most of these were scratch-built, but items such as IDF-specific stowage were resin pieces from Legend Productions. In terms of markings, these were sourced from Echelon Fine Details and Archer Fine Transfer sheets (photo 1).
Continue Reading with Magzter GOLD
Log-in, if you are already a subscriber
Get unlimited access to thousands of curated premium stories and 5,000+ magazines
READ THE ENTIRE ISSUE
May 2019