Shouldering On To Mount Olympus!
Delt training with Brandon Curry
THE MAN WHO MIGHT BE KING
There is no doubt that one of the odds-on favorites to win the 2019 Mr. Olympia is Brandon Curry. The past two contest seasons have seen The Prodigy rise from a middle-of-the-road pro who never quite lived up to expectations and predications made when he joined the IFBB Pro League ranks 11 years ago to an A-lister who broke into the top five at the Mr. Olympia and won the Arnold Classic this past March. Considering two of the four men who beat him at the last Olympia aren't competing this time and he defeated the other two in winning the Arnold, things are looking very promising indeed for his many fans. Curry has always had an outstanding physique, but only recently has he finished filling it out with an additional 25 pounds of mass as well as mastering the art of peaking for a contest with stellar conditioning. Few men can stand next to Brandon when it comes to full, round, muscles, particularly in the upper body. One of his deadliest weapons has always been his shoulders, which even though it's a tired cliché, really do resemble boulders. Wide, round deltoids are a necessityfor any man who wants to excel in competitive bodybuilding, but even more so for someone hoping to earn the sport's most prestigious title.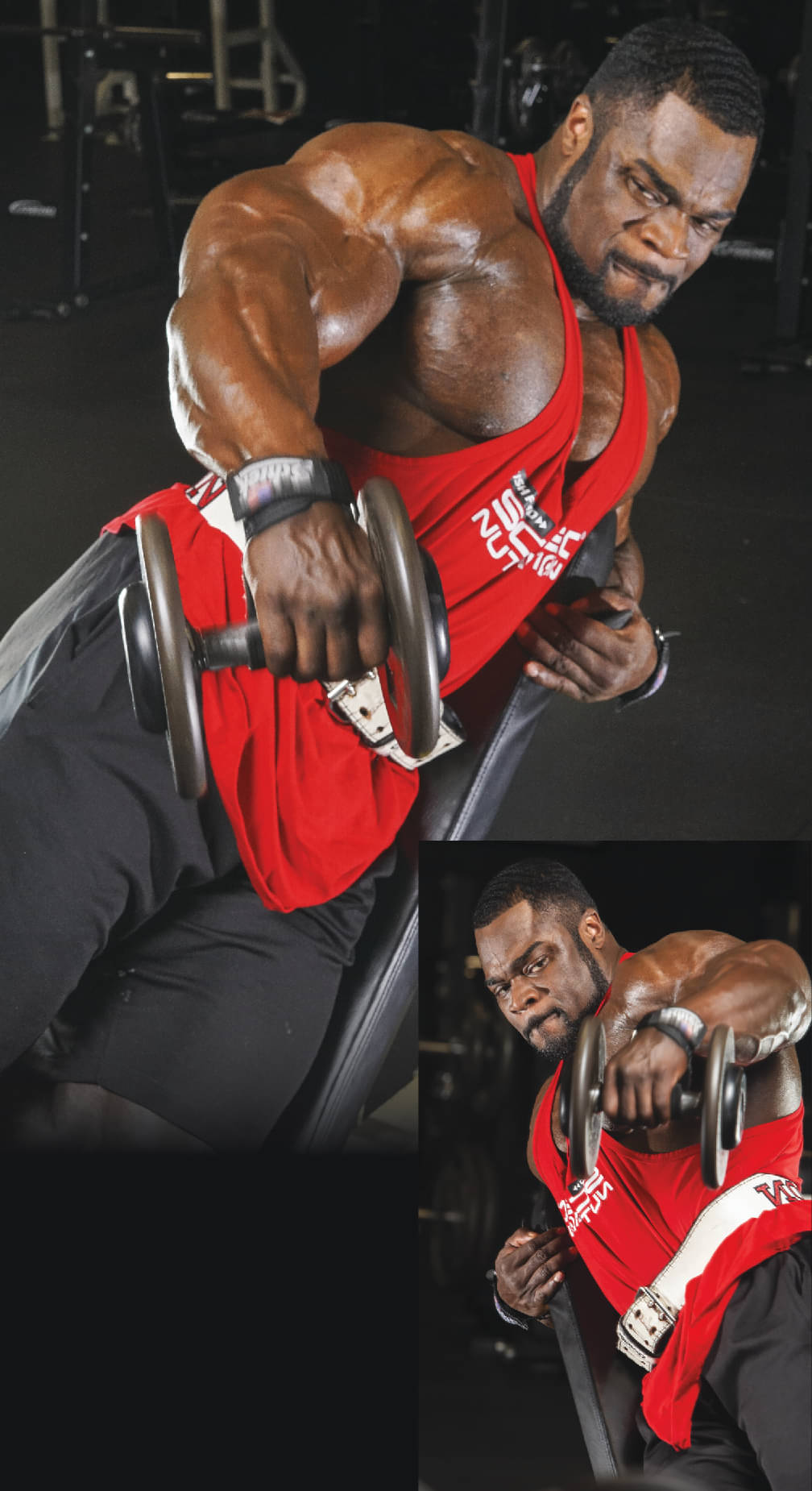 THE ORIGINS OF CURRY'S CRAZY DELTS
Brandon's shoulders got a head start in the weight room back in his days of playing football first for Hunters Lane Comprehensive High School in Nashville, then at Middle Tennessee State University in Murfreesboro. "The military press was my favorite liftof all," he says. "It was my staple, and in high school I was already maxing out with 315 on it." Brandon's shoulder training didn't really start evolving into what he does today until sophomore year, when he decided to step away from the gridiron and pursue bodybuilding. Here is what he does these days, though his workouts do vary while training at the outrageously well-equipped Oxygen Gym in Kuwait.
"ACTIVE WARM-UP"
Continue Reading with Magzter GOLD
Log-in, if you are already a subscriber
Get unlimited access to thousands of curated premium stories and 5,000+ magazines
READ THE ENTIRE ISSUE
September 2019
The Best Of 2019
Muscular Development
Kai King - Transcending Bodybuilding
Muscular Development
Brutal Muscle
Muscular Development
Jordan Plantiko-Generation Next!
Muscular Development
British Steel
Muscular Development
Have Your Cake And Eat It Too!
Muscular Development
Top 12 Stories Of 2019
Muscular Development
Best Squat Workout For Strength: Heavy Weight Vs. Lighter Loads To Failure
Muscular Development
Best Cardio For Bodybuilding
Muscular Development
Rescue 911!
Muscular Development