The Glorious Steve Laureus
Done for 2019, But Already Training to Win the 2020 Arnold Classic
I've got some bad news and some good news for Steve Laureus fans. The bad news is, you won't be seeing him on the Olympia stage this year. The good news is, he's taking time to make the necessary improvements that will take him to the next level. With the guidance of coach Neil "Yoda" Hill, Steve is well on his way as we speak to closing in on the competitive weight of 215 pounds, the limit for his height of 5 foot 10 for a pro in Classic Physique. We spoke recently about working with Neil and the strategy they have put in place to make sure the Steve Laureus we see next time will be truly glorious to behold.
The last time we spoke was right after the Arnold Classic, where you lost to George Peterson by one point. You weren't sure if that qualified you for the Olympia. How did you find out the answer, and how did that change any plans you had for the rest of the season?
I looked into it and taking second at the Arnold Classic gives you 10 points. I needed to do at least one more show to either win it or get more points to qualify. My coach Neil Hill didn't think it was best for me to do any more shows this year, not even the Olympia. The Arnold was my sixth contest in 18 months. Remember, in 2017 I did the New Jersey, my first NPC show, then the North American, and in 2018 I did Pittsburgh, the New York Pro, and the Olympia. He wanted my body to get some rest to prepare for 2020. Neil's concern was that if we pushed on and did the Olympia, my body wouldn't respond well simply because it was tired from all that prep.
In that brief time, you were thinking about doing another contest to get the points. Which ones were you looking at?
I had two options, either Pittsburgh or Tampa. Tampa is six weeks out from the Olympia, so that way I would already be in shape and just work on refining things for the Olympia. Neil thought that if I polished the look I had at the Arnold and came in a little heavier and leaner, I could be top five at the Olympia or maybe even top three. Placing in the top five might be good for my career because it's up from seventh last year, but we're not chasing a top five showing, or even the win, exactly. We're chasing a look. Neil said let's take 10 months to work on your physique and come back bigger and harder at the 2020 Arnold. That look would be very hard to beat. That's all I needed to hear. I've never been so focused and regimented before. Taking a couple of months after the Arnold to live life and relax put me in a perfect place to work hard from now until the Arnold.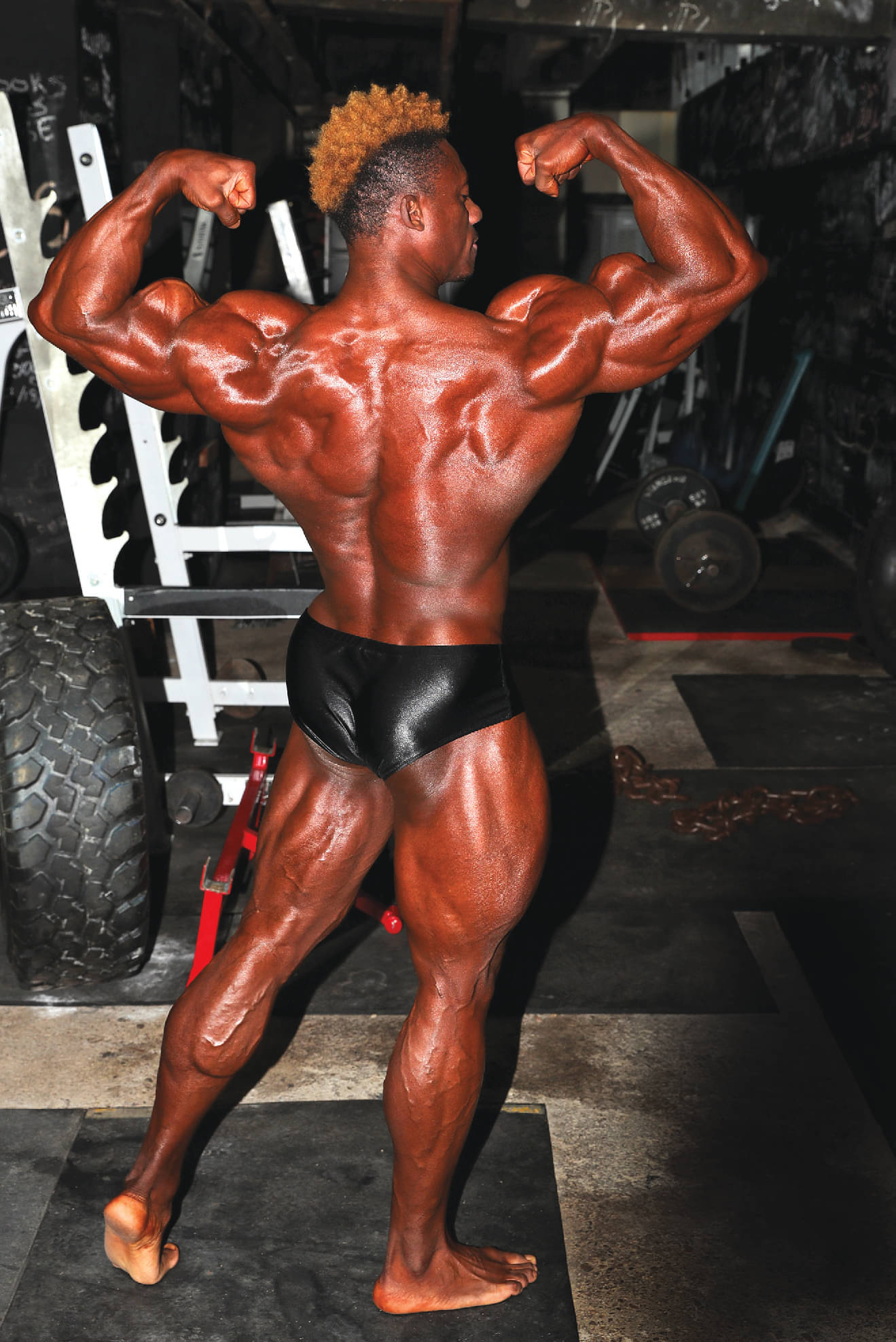 We already figured out "Mr. Propah" wasn't the best nickname. Now Neil Hill and Aaron Singerman have given you two more. What are they, and which one do you like better?
I never liked that Mr. Propah nickname either, as I've said before. So now Neil and my friends at the gym call me "The Specimen," as in, you're not human! I was in the elevator with Neil Hill at the Arnold and he looks over and says, "Mate, you're a fucking specimen!" Aaron Singerman is the one who came up with "Glorious Steve Laureus." It doesn't matter to me, I'm just here to work hard and get better. Call me whatever.
How has your training changed since you started working with Neil Hill? What are you doing now that you weren't doing a year ago?
Continue Reading with Magzter GOLD
Log-in, if you are already a subscriber
Get unlimited access to thousands of curated premium stories and 5,000+ magazines
READ THE ENTIRE ISSUE
August 2019
The Best Of 2019
Muscular Development
Kai King - Transcending Bodybuilding
Muscular Development
Brutal Muscle
Muscular Development
Jordan Plantiko-Generation Next!
Muscular Development
British Steel
Muscular Development
Have Your Cake And Eat It Too!
Muscular Development
Top 12 Stories Of 2019
Muscular Development
Best Squat Workout For Strength: Heavy Weight Vs. Lighter Loads To Failure
Muscular Development
Best Cardio For Bodybuilding
Muscular Development
Rescue 911!
Muscular Development