Josh Wade - Man Who Never Gives Up
Meet 'relentless' Josh Wade, the man who never gives up
You can probably understand all you need to know about Josh Wade from a story about his first contest prep back in 2006. At the time, Wade worked full time as a plumber, a vocation that entails strenuous, manual labor, and still put in two hours of cardio and 90 minutes of weight training every day. At five weeks out from the NPC Sacramento, his hand slipped while cutting some PVC pipe and it severed the tendon of his left thumb. Because it happened on a Friday, he was unable to schedule hand surgery until Monday. After expressing to the doctor that he was intent on competing in five weeks, he was told there was no way he'd be doing any weight training for at least six weeks, so forget it. Understandably disheartened that 11 weeks of tough dieting had all been for naught, Josh hit the local El Pollo Loco and drowned his sorrows in nachos, burritos and soda. The next morning, he woke up with an epiphany.
"Nothing is over until I decide it's over," he realized. He proceeded directly to the gym for two hours of fasted cardio, then returned later with his thumb bandaged up to do whatever he could and used straps to secure his grip with the left hand for the next few weeks. Having started the prep at 220 pounds, Josh got onstage for thefirst time shredded at 176 pounds, winning the novice and open middleweight divisions. It was this unbreakable resolve in the face of adversity that would come to define Josh Wade's bodybuilding career. He was told many times he would never turn pro. Then, when he turned pro as a Masters competitor, he was assured that no man earning his card in the Masters ever made even the slightest impact in the pro ranks. Wade has been proving his doubters wrong for a long time now. Let's learn more about this inspirational man.
FROM YOUNG PUNK TO POWERHOUSE BODYBUILDER
Josh grew up a self-described "skinny white kid" in a neighborhood of Sacramento, California that was primarily African American and Asian. Lacking confidence and desperate to fit in with what he perceived at the time as the cool kids, he became a class clown and would start fights over something so paltry as someone stepping on his shoe. There were many stays in juvenile hall, until he was arrested for fighting at age 18 and sentenced to 12 months in the county jail with older, hardened criminals. Released on his 19th birthday four months early for good behavior, he needed something positive to focus on, as he had no intentions of running afoul of the law again. "I'd always been interested in bodybuilding since picking up a copy of MD when I was 15, but now it seemed to be calling to me." Josh joined a local Gold's Gym, where the older lifters showed him everything from how to train to proper gym etiquette. "It changed my life," he tells us. "Bodybuilding gave me a sense of accomplishment and self-confidence that I'd never known before." A few years went by, and young Wade's physique began to grow and take shape. The top competitor training at his gym was Faramarz Aghazadeh, who took second place to Phil Heath in the heavyweights at the 2005 USA Championships. After speaking, Faramarz agreed to help prep him for his first contest, which as you now know, he won. He meant to continue competing the following year, 2007, but was sidelined by a staph infection he contracted in the hospital, which led to blood poisoning and nearly killed him.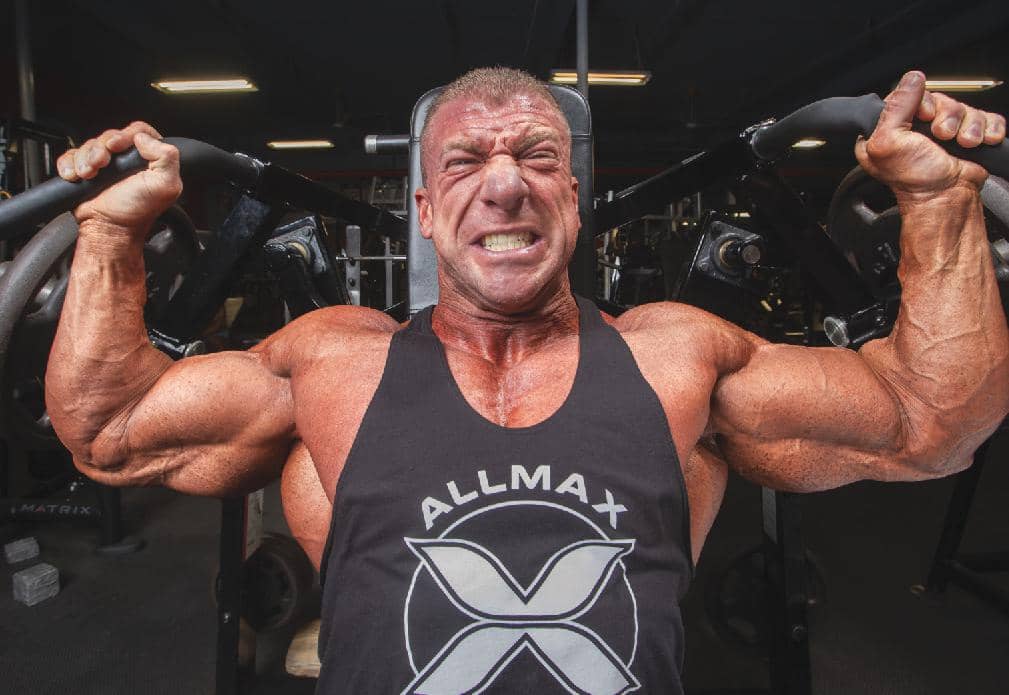 YET MORE OBSTACLES HURLED IN HIS PATH TO THE PRO RANKS
Continue Reading with Magzter GOLD
Log-in, if you are already a subscriber
Get unlimited access to thousands of curated premium stories and 5,000+ magazines
READ THE ENTIRE ISSUE
August 2019
The Best Of 2019
Muscular Development
British Steel
Muscular Development
Have Your Cake And Eat It Too!
Muscular Development
Best Squat Workout For Strength: Heavy Weight Vs. Lighter Loads To Failure
Muscular Development
Best Cardio For Bodybuilding
Muscular Development
Rescue 911!
Muscular Development
Gat Girls On Top Of The World!
Muscular Development
Classic Evolution
Muscular Development
Why The Mr. Olympia Will Always Be #1
Muscular Development
What Is Hardcore Bodybuilding ?
Muscular Development