Not quite reich on the night
As the Eurythmics attested in its 1985 banger, "Sisters are doin' it for themselves". Only in the case of this uneven shooter's twin stars, they're not so much "ringin' on their own bells" as smashing Nazi skulls to pieces with a shotgun. They're also "standin' on their own two feet", albeit ones shelled inside metallic armour that turn BJ Blazkowicz's daughters into teen RoboCops.
A spin-off of MachineGames beloved Blaz' reboots, Wolfenstein: Youngblood carries the same muscular, Hitler-hating DNA of its parent titles. Yet where New Order and New Colossus used eccentric storytelling and impeccable pacing to pull you through their campaigns, this companion piece mostly ditches bespoke set-pieces in favour of forcing you to grind for XP in order to tackle Destiny-lite raids and repetitive fetch quests.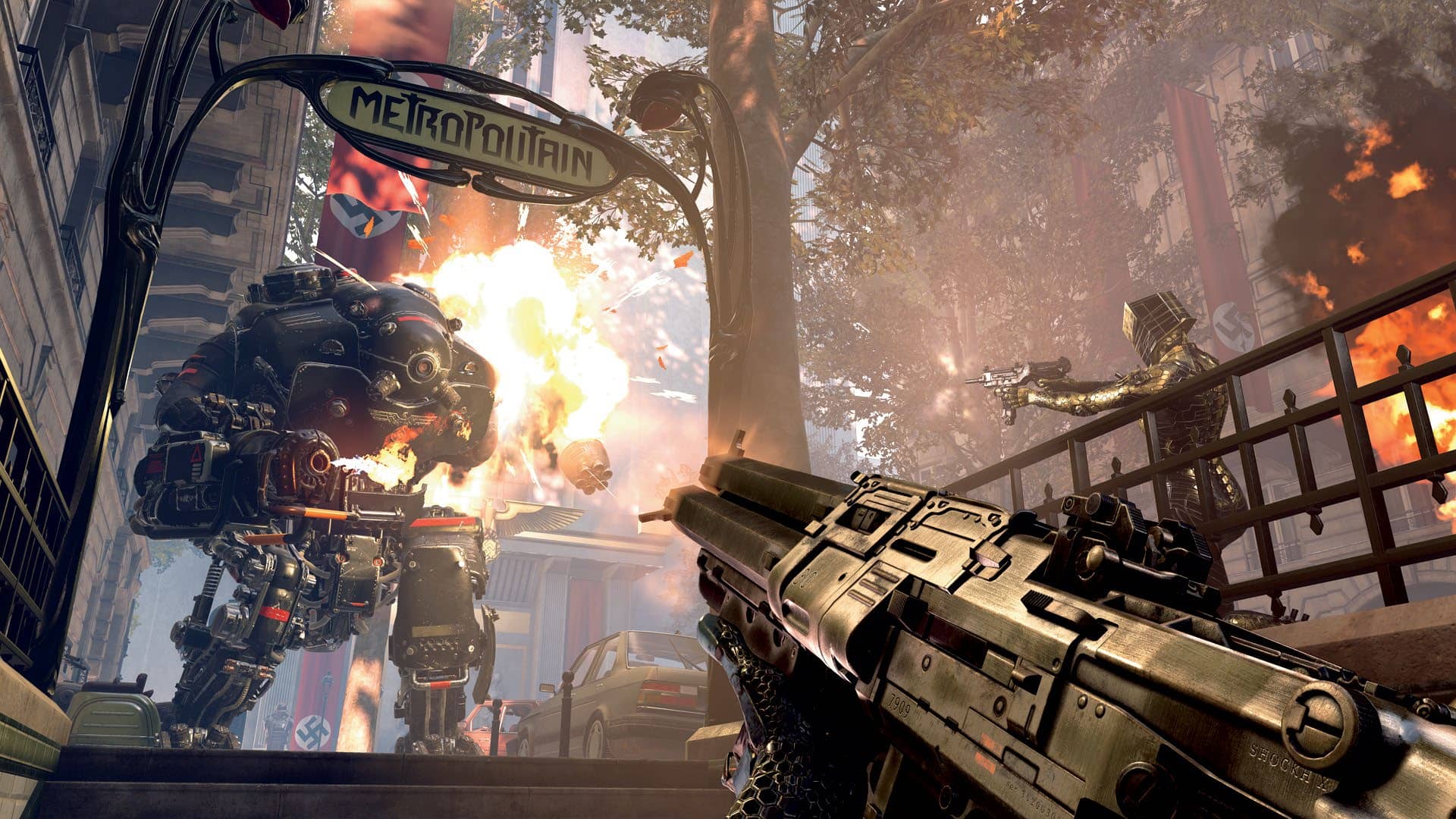 Set decades after the last game, you play as either Jess or Soph Blazkowicz, with the other twin controlled by an online friend or the AI, if you're playing solo. The teenage daughters of a super beardy BJ follow a lead to Paris circa 1980, after their war hero pop goes AWOL. This being Wolfenstein, you're once again dealing with an alternate version of history; one in which the Germans won the Second World War, and in doing so, became the globe's dominant power. That means the streets of this 'Neu Paris' are adorned in Nazi iconography, with dudes in berets merrily eating pastries being given the heave-ho by giant Panzerhunds that singe the French streets with their fiery breath.
Thick and twin
Like BJ's adventures, Youngblood is tonally all over the shop. Moments of violence are punctuated by silly jokes, though in this spin-off's defence, the switch to a younger cast gives the story a lighter tone. Play the game with an online pal, set your pads down, and the twins soon start to banter back and forth. "Sarah Jane stole your lunch money at school, Soph, that doesn't make her a Nazi… well, close enough." At times, Jess and Soph's interplay is endearing.
Continue Reading with Magzter GOLD
Log-in, if you are already a subscriber
Get unlimited access to thousands of curated premium stories and 5,000+ magazines
READ THE ENTIRE ISSUE
October 2019
Retrospective Dead Rising
Official Xbox Magazine
The Best Racing Games In Xbox History
Official Xbox Magazine
Ghost In The Machine
Official Xbox Magazine
Mind Games - Bring Your Friends
Official Xbox Magazine
The Dark Pictures Anthology: Man Of Medan
Official Xbox Magazine
Chris Tells Us About His Pursuit Of 'The Game'.
Official Xbox Magazine
Destiny 2 - Forging A New Path
Official Xbox Magazine
The Church In The Darkness
Official Xbox Magazine
The Blackout Club
Official Xbox Magazine
The Beginning Of A New Tale
Official Xbox Magazine