"Sustainability". The catchphrase shows up only twice during my hour-long conversation with Abhilasha Bahuguna. Words have been a big part of the current clothing missive, and she knows that, but her main obligation is to
not mistake slogans for solutions. Instead, she speaks single-mindedly on real issues like the practice of slow-paced consumption, and living sustainably by marrying steady employment with homespun solidarity.
The 29-year-old and her husband, Prasanna Ramaswamy G, founded the Looms of Ladakh Women Cooperative, a farm-to-fashion collective that utilises and showcases their adopted region's rich heritage of wool in all its renditions: pashmina, yak, sheep and camel.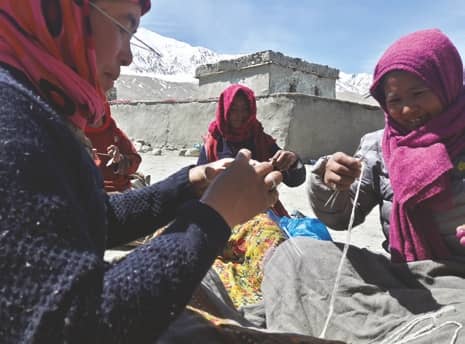 All-natural, renewable, warm, odour-resistant, adaptable, non-flammable, soft, wrinkle-free: wool is a planet-friendly fibre with a lot going for it. Yet, thanks to India's rhetoric and push for home-produced Banarasi brocades, Chanderi silks, khadi or cotton via its politics and policies, there is very little attention directed towards the wool industry. "It's a matter of perception. Wool may lack the finesse of Chanderi silk, but that can change with government-led interventions of technology and science. I have no doubt that our country's legacy of woollen textiles—starting with Himachal Pradesh and Uttarakhand and travelling down to Karnataka and Andhra Pradesh—is on par with our international counterparts," Bahuguna explains.