THEY ARE THE LEAST EXPENSIVE component of our dinner, but the brussels sprouts command attention. Piled in a blue Le Creuset ramekin with thin crescents of pickled red onion, the quartered sprouts bring our conversation to a halt.

I'm out with my girlfriend, Gillian, on a Saturday in August. The PGA Championship is in town and the wood-paneled dining room at Oak Steakhouse is a mixture of sunburned golf fans and couples, like us, dressed up for date night. We order drinks at the bar: a refreshing Carolina Summer (vodka, elder‰ower liqueur, grapefruit juice) for her and a traditional sazerac for me. As we're ushered to a table, I notice the surprisingly bright dining room. The space has hints of clubbiness, but it doesn't feel heavy, as many chain steak houses often do. Oak, in SouthPark's Sharon Square development, is predictable—until it isn't.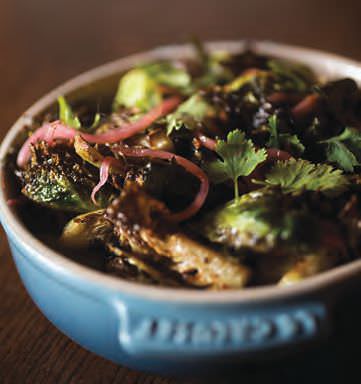 The appetizer list includes staples such as oysters Rockefeller and shrimp cocktail, but we bypass those for pan-seared scallops ($17). They are sweet and tender, balanced well against anisey raw fennel, salty pork belly, and peppery watercress. The dish exceeds our expectations, and we eagerly anticipate the next course.