The Strength Of Sacrifice
What do we get upset with? We don't get upset with the birds or the clouds or with Nature. We don't get upset with the environment!
Gurudev Sri Sri Ravi Shankar
So, what do we get upset with? We get upset with the people around us. Our enemies upset us and our friends upset us as well. Our mind gets stuck either in our friends or in our enemies. We either think about our friends or we think about our enemies the entire day.
People become our enemies even when we have not done any wrong to them. Many people have had this experience. We didn't do any wrong to them; neither did we misbehave with them and yet, they became our enemies. This is very surprising! We think, 'Oh! Why has he become my enemy? Until yesterday he was my friend.'
In the same way, we do not do any special favors for some people, yet they become our close friends. That is why I tell you, this is some astonishing and mysterious karma – how some people become our enemies and some of our friends.
So, what should we do! We should place both our friends and enemies in one basket, and just become empty from within and be joyful. All these happenings (people becoming friends and enemies) run by some strange law of karma and we don't know how and where it comes from. We just can't say, when someone's feelings towards us will change and whether it will be in our favor or not. That is why we should place absolute faith on our Self, on God, not on friendship or enmity.
We should not waste our time thinking about friends and enemies. This does not mean you distance yourself from your friends, or that you stop making new friends. Friendliness should be in our nature; love should be in our very nature. We are love after all! When someone comes and sits beside us, we smile at them and exchange a few words. This does not mean you think; 'anyway, who is a friend or who is an enemy, there is nothing to share with anyone', and you walk around with a gloomy face being angry with everyone. This is not a sign of wisdom. This is ignorance and foolishness. We must interact with everyone around us and at the same time be centered from within.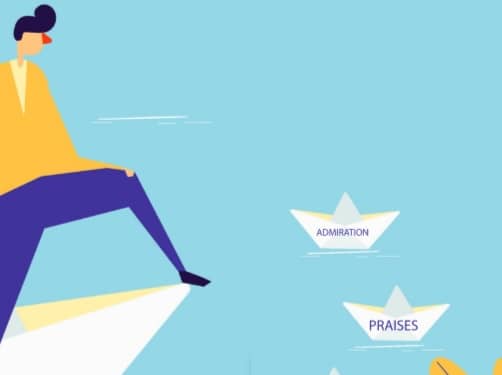 When we are centered, then we will not feel sad, angry or possessive. Then we will not have the disappointment of any kind. Otherwise, many a time we become sad. "Oh! Look, I made him such a good friend and today he does not even talk to me. I did so many favors for him and now he has turned against me!" By thinking like this, we waste the time we have in the present. We should not do this.
Life is short. And in this short lifetime, do some good deeds! We need to have tyaag budhhi (An intelligence capable of sacrifice, of letting go) Sacrifice gives us great strength. Nothing else can give us the kind of strength that sacrifice does. Great strength comes to you when you sacrifice. And everyone makes some kind of sacrifice, in some way or the other – either big or small. There is not a single person in the world who does not sacrifice something or the other. One has to sacrifice something. Where there is love, there is bound to be some sacrifice. A mother sacrifices her comforts out of love for her child. Every mother stays awake at night spending sleepless nights when her baby is small. All her attention is on her child, day and night. She forgets all her comforts for the sake of her children. In the same way, there are people who like to sacrifice for society.
Continue Reading with Magzter GOLD
Log-in, if you are already a subscriber
Get unlimited access to thousands of curated premium stories and 5,000+ magazines
READ THE ENTIRE ISSUE
August 2019
Different Karmas Will Give Fruits At Different Times
Rishimukh
Who Brought The Ocean Of Conflict In Life?
Rishimukh
The Airavateswara Temple In Darasuram
Rishimukh
Origins Of The Names Of India
Rishimukh
Karma The Most Misunderstood Principle
Rishimukh
The Transient Nature Of Feelings
Rishimukh
Who Becomes Free?
Rishimukh
The Vastness Of The Unknown
Rishimukh
5 Sources Of Misery
Rishimukh
Perfect Hair Every Day!
Rishimukh
Are You Mentally Tough Enough?
Shape Malaysia