Michelle Waterson Reps More Than Herself In The Cage
MMA is a violent and unforgiving sport. But instead of shielding her young daughter from her career, Michelle Waterson is bringing her along every step of the way.
Tisha Thompson And Simon P. Baumgart
The bodies started falling as early as 6 a.m. Irishmen, with their lilting brogue bouncing off the cavernous walls outside the Hakkasan nightclub at the MGM Grand in Las Vegas, grappled on the casino floor, oblivious to the fact that the sun was starting to rise. Others, with their country's distinctive green, white and orange flag wrapped around their shoulders, stumbled through the slot machines, yelling at girlfriends and reeking of spilled beer. Throughout the day, diamonds, sheath dresses and slurring Russian accents filled nearly every elevator. It was a heady mix of wealth, alcohol and simmering violence, and rumors of possible brawls circulated in the hours leading up to the big October fight.
Which was why security had assigned a bodyguard, replete with the standard UFC uniform of bald head and long beard, to follow the 7-year-old girl with dark-brown braids as she navigated her way to her seat inside T-Mobile Arena. She was easily the youngest and smallest spectator here. But she knew more about rear naked choke holds and straight arm bars than most of the wannabe brawlers surrounding her in the stands.
Because Araya Gomez has never missed one of her mom's fights. Not one.
If her mother had followed the typical MMA playbook, Araya would never have been here at all. She wasn't part of the plan. She and her family have defied stereotype, allowing Araya to become the most powerful force behind one of the most successful fighters in the UFC—a fighter who was about to enter the Octagon and launch the biggest night in UFC history.
A FEW WEEKS earlier, back home in Albuquerque, New Mexico, Araya jumps out of her grandmother's car, ditches her backpack in the kitchen and runs through the backyard toward the garage. Her family has been in the new house for only a few months, and cardboard boxes still line the dining room walls. But her parents didn't buy the house for the pool or the kitchen or the master bedroom. They bought it for the massive stand-alone garage.
As Araya comes flying in, past the sauna and the punching bags, her mother unleashes a flurry of punches at her father before hooking a leg around him, throwing him to the ground and elbowing him a few times in the head.
Araya barely takes note of any of it. Instead, she beelines for the giant rope hanging from the ceiling, launching her body at it to swing back and forth through the room until her parents wear themselves out.
Josh Gomez pulls off the padded headgear, bodysuit and boxing mitts with the word "Karate" stitched on one hand and "Hottie" on the other and laughs. "I guess you call that couples therapy."
Michelle Waterson, still taking huge gulps of air, asks Araya, "How was school?" Araya tells her it was great as she flies through the air on her rope. This is Waterson's fourth workout of the day. She and Gomez started that morning with a long run through their neighborhood's 5,900-foot altitude, then two hours sparring at Jackson Wink MMA Academy before a specialized workout with Waterson's jiujitsu coach here in the garage.
But the workout with Gomez, 34, was critical. Waterson's female training partners "know what hurts and what doesn't, and that sometimes doesn't benefit her because they're trying to stay back," he says. "And then sometimes with the men, when Michelle really starts to hit them, the ego comes out and they get very aggressive. That doesn't benefit her. So what I try to do is emulate the opponent that is coming up and let her beat me up."
"Josh volunteered himself as my punching dummy," Waterson says, laughing after catching her breath. "He puts his headgear on and lets me go to town. It really gives me confidence because Josh is a 190-pound grown man and couldn't buck me off."
Waterson has just found out she will face Felice Herrig in the opening fight of the undercard for Conor McGregor–Khabib Nurmagomedov. The October 2018 bout will become the biggest pay-perview event in UFC history. "This fight between Khabib and Conor is such a massive fight," UFC president Dana White says. "People like Michelle will get more exposure in this one night than they will in their entire career."
The stakes are higher than they've ever been for Waterson and Gomez. But for today, her job as one of the top UFC straw weights is over. Waterson, 33, needs to go to her other job, the one she never expected would elevate her career the way it has. Still dripping with sweat and breathing hard, Waterson turns to Araya and says, "Time for homework."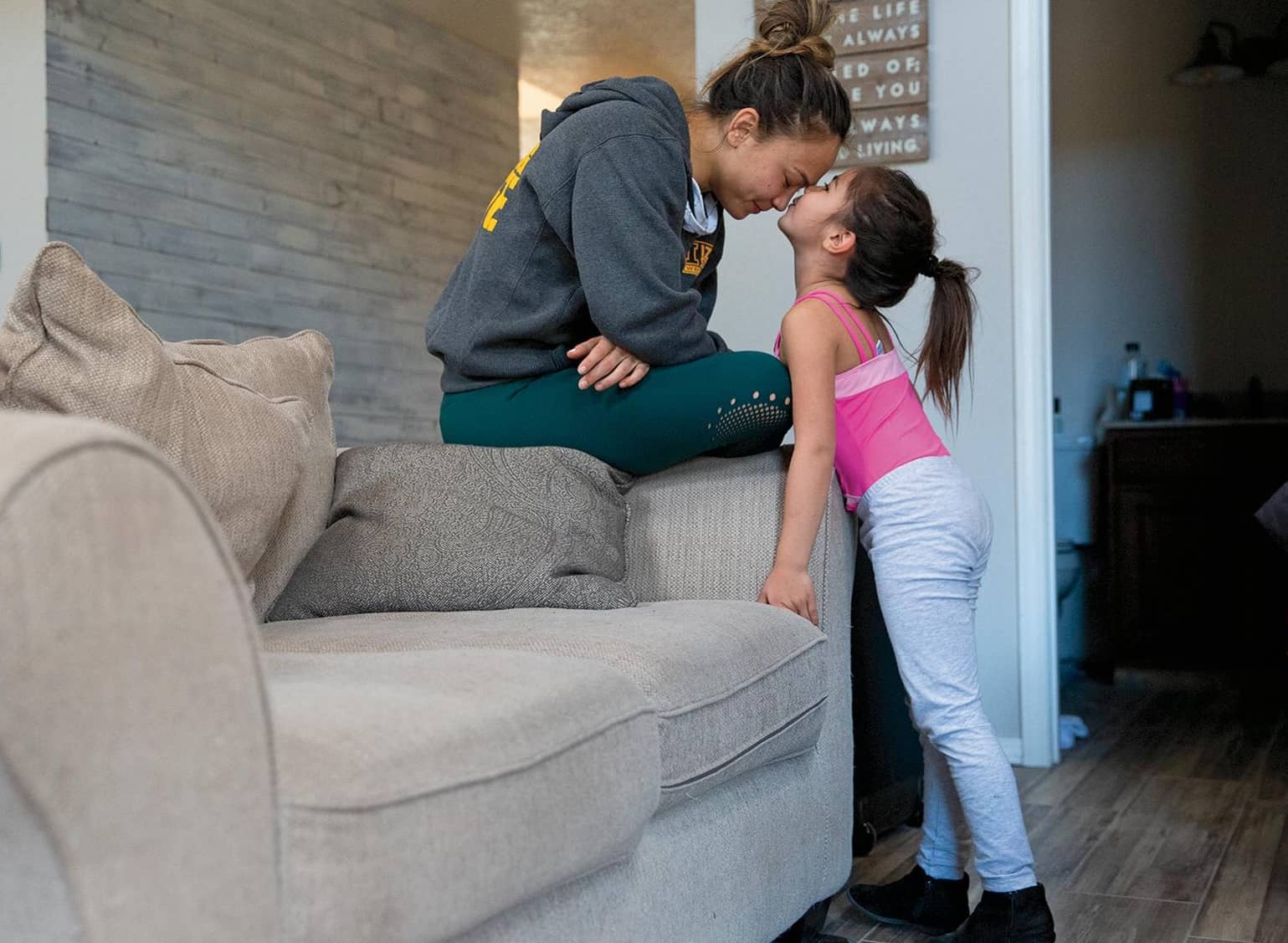 WATERSON AND GOMEZ met at Hooters in 2008. Sort of. Gomez's parents had driven up from El Paso, Texas, to visit him at his Air Force base in Albuquerque and wanted to watch the Dallas Cowboys game. They were seated at a table underneath a full-size poster of Waterson sporting the restaurant's trademark uniform. Even though he had never met Waterson, Gomez told his mother, "That's going to be my wife, Mom." The whole family started laughing but quickly stopped when Waterson suddenly appeared to take an order.
Gomez was too nervous and too shy to say a word.
Little did he know that Waterson had never been completely comfortable with her looks. "I think I was an ugly duckling growing up," she says with her distinctive giggle, adding that she's always felt that she looks "like a 10-year-old Asian boy."
She decided early on that if she wasn't going to make friends through her looks, "I'm going to make friends because I do cool stuff like martial arts in the assemblies and the talent shows." She dropped out of college to pursue martial arts full time, despite her 3.8 GPA her first year. "My life was martial arts, and I needed my college to be martial arts."
Continue Reading with Magzter GOLD
Log-in, if you are already a subscriber
Get unlimited access to thousands of curated premium stories and 5,000+ magazines
READ THE ENTIRE ISSUE
April 2019
Who Is The Future Of U.S. Women's Soccer?
ESPN The Magazine
Which Aussie Rules Football?
ESPN The Magazine
Who Is The Ass Kicker Of The U.S. Women's National Team?
ESPN The Magazine
Kyler Murray - Will Past Be Prologue For The Possible Top NFL Draft Pick?
ESPN The Magazine
Williamson Is Ready For Takeoff
ESPN The Magazine
The Future Of Football Is You
ESPN The Magazine
Nick Bosa Reveals The Pain Of His Unfinished OSU Business
ESPN The Magazine
One-Track Mind
ESPN The Magazine
Dear Future Me - Caroline Marks
ESPN The Magazine
The One And Only Naomi Osaka
ESPN The Magazine