The Boardroom Making Of A Mogul
Kevin Durant's go-to move for off-the-court success?
Trusting his instincts.
THERE'S A STORY BEHIND THE SMALL BLACK TRIANGLE FOREVER IMPRINTED ON KEVIN DURANT'S WRIST.
Like the rest of his tattoos—"Maryland" (his home state) across his shoulder blades, a portrait of Tupac on his leg—the ink is an attempt to grab hold of a moment in time and mark it as meaningful.
The triangle tattoo is a symbol of the friendship between Durant, his business partner Rich Kleiman and their friend Charlie Bell. A few years ago the three men were hanging out, talking about the incredible possibilities in front of them, and someone thought it sounded like a good idea to get tattoos commemorating the bromance.
It feels a bit quaint now, even to them. Aww, friendship tattoos. How cute!
"I wouldn't get most of the tattoos I have now," Durant says with a smile. "But that's why they're cool. I got each of them at a point in my life I was feeling something I wanted to remember."
Kleiman laughs and points to a Chinese character tattooed on his arm.
"Like, this means 'patience,' " the 41-year old executive says. "Could you imagine if I went in somewhere now and was like, 'Yeah, what up, my man? Could you give me the Chinese symbol for patience?'
"The guy would be like, 'OK, midlife crisis. What up, Dad?' But when I was 19, in Miami, I'm like, 'Yooo, give me "patience"!' "
We're sitting at a shady table at the café atop the Montage Hotel in Beverly Hills. The Warriors have the day off after a win of The Boardroom, out April 3 on ESPN+.over the Lakers, and Durant and Kleiman are making the most of it. There was a morning meeting with Brat (a company that created a network for young YouTube stars), this lunch interview, house hunting in Beverly Hills in the afternoon, then a red-eye flight to Washington, D.C., to attend the opening of College Track, which prepares high school students to apply to and graduate from college, at the Durant Center in Prince George's County, Maryland.
Life as a two-time NBA Finals MVP and budding entrepreneur can be a little like taking a speedboat down the chocolate river in Charlie and the Chocolate Factory—sensory and experiential overload around every turn.
"My platform is hoops," Durant says. "Billions of people are watching, so why not leverage it to do the cool stuff that we like to do?"
As one of the best basketball players on the planet, Durant can meet anyone he thinks is interesting, invest in any company he digs and get into any event he wants. Twitter and Square CEO Jack Dorsey? He flew in for Durant's birthday party this year. Apple VP Eddy Cue? A huge Warriors fan whose company just green-lighted a scripted show called Swagger based on Durant's experiences in AAU basketball. David Geffen, Oprah, Diane von Furstenberg? Durant hung out with them at Google's invite-only celebrity camp at the Verdura Resort in Sicily the past few summers.
His world is wide open—and so the challenge for Durant and other superstar athletes-turned-business moguls isn't just in finding the time to take advantage of the exclusive opportunities in front of them but in searching for the right reasons to do so.
A GREAT BRAND is a lot like a great jump shot: The best ones appear effortless. And yet, underneath the surface, years of sweat, grind and refinement have gone into it. Athletes used to wait until they were done playing to start building their businesses off the court. They'd let their teams or agents with dozens of other clients handle their marketing. Even back then, they knew they were leaving money and leverage on the table. But who had the bandwidth to build out a portfolio while playing?
In the business world, that's called a market gap. Customers want a product that doesn't exist yet? Somebody should go create that product.
In this case, first a superstar athlete such as Durant had to believe he was capable of building his own brand while playing. Then he had to figure out how to do it.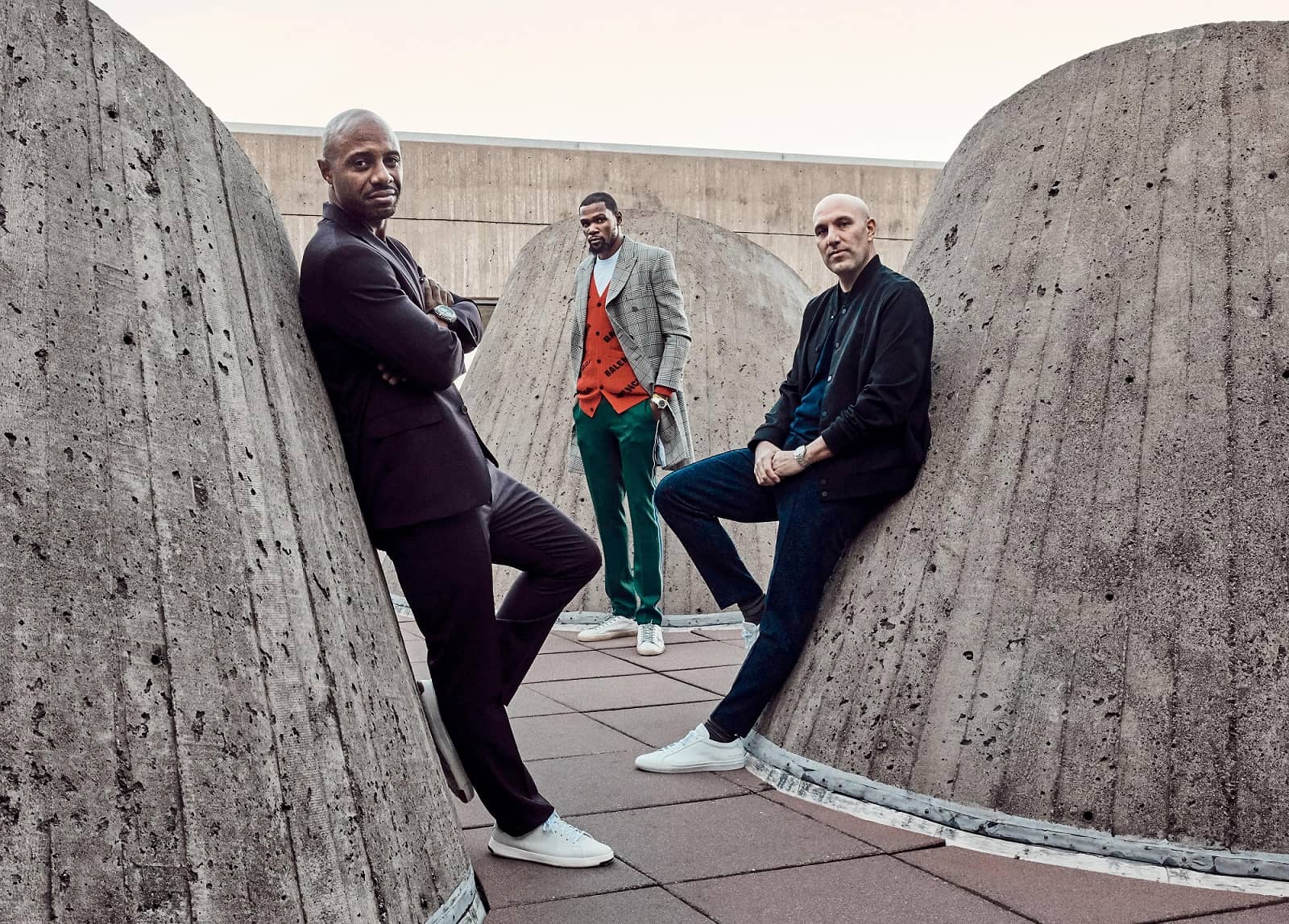 Earlier in his career, Durant says, he mostly just wanted to do what he saw other superstars do.
"Gatorade, I need that. McDonald's," he says. "I need a trading card, Upper Deck, because I've seen other great players do that."
"You also thought your off-days had to be completely filled," Kleiman says from across the table.
Over the six years they've been working together, Kleiman's job has been to help Durant be purposeful and intentional about his projects and to take advantage of the creative freedom Durant's considerable platform has afforded him.
That filtering process can be dizzying for a curious soul like Durant, who readily admits he's still searching—and probably always will be—for what he wants to be. So a few years ago, in one of their daily deep dives, Kleiman laid it out: "You need to understand that this part of your life should be enjoyable."
Durant had spent too long trying to fit the model of what he thought a superstar athlete "should" be doing. Just do what feels right or fun or interesting, Kleiman told him. Maybe one of his investments will turn into the next Vitamin Water or Beats by Dre. Maybe it'll just be a cool experience to look back on. Maybe it'll flop. But if a startup company presents a product Durant or Kleiman would use himself, or its founder had a certain je ne sais quoi they both connect to, that's what guides them.
Continue Reading with Magzter GOLD
Log-in, if you are already a subscriber
Get unlimited access to thousands of curated premium stories and 5,000+ magazines
READ THE ENTIRE ISSUE
March 2019
Which Aussie Rules Football?
ESPN The Magazine
Williamson Is Ready For Takeoff
ESPN The Magazine
The Future Of Football Is You
ESPN The Magazine
Nick Bosa Reveals The Pain Of His Unfinished OSU Business
ESPN The Magazine
Dear Future Me - Caroline Marks
ESPN The Magazine
The One And Only Naomi Osaka
ESPN The Magazine
House Of Devising Fun
ESPN The Magazine
The Boardroom Making Of A Mogul
ESPN The Magazine
Raise Your Voice
ESPN The Magazine
It's Gotta Be The Laces!
ESPN The Magazine
Good Gifts
White Wing Messenger
Coaching Pastors And Ministry Leaders
White Wing Messenger
A Word From My Daughter
White Wing Messenger
Punk In Theory
Guitar World
A Carol Story For Christmas
White Wing Messenger
Perpetual Motion Machine
Guitar World
Golden 'Grams - The Rise (And Shine) Of Instagram Guitarists
Guitar World
World's Largest Starbucks Opens in Chicago
Industry Leaders
The Investigator
Columbia Journalism Review
WORLD'S MOST VALUABLE Private Companies
Industry Leaders