The Fix Was In The Whistle
In 2007, NBA ref Tim Donaghy pleaded guilty to betting on games he officiated. But it was never proved that he fixed them—until now. Our two-year investigation and intensive data analysis reveals how he did it, whom he did it with and the millions that flowed from the conspiracy.
ACT 1 A CONVENIENT HALF-TRUTH
James "Jimmy" "Bah-Bah" "The Sheep" Battista was a stressed-out, overweight, Oxy-addicted 41-year old, in the hole to some underground gamblers for sums he'd sort of lost track of, when he settled in to watch an NBA game for which he believed he'd just put in the fix. It was January 2007. A month or so back, not long before Christmas, he'd done something audacious: He'd sat down and cut a deal with an NBA referee. Now he feared the scheme had become too obvious.
"You wanna get paid?" Battista had said to the ref. "Then you gotta cover the f---ing spread." The bribe was only two dimes, $2,000 per game—an outrageous bargain. If the pick won, the ref got his two dimes. If the pick missed, the ref owed nothing; Battista would eat the loss. A "free roll," as they call it. But this referee didn't lose much. His picks were winning at an 88 percent clip, totally unheard of in sports betting for any sustained period of time. They were now entering the sixth week of the scheme— what you might call a sustained period of time.
Battista had known the ref, Timmy Donaghy, for 25 years. They'd gone to the same parochial high school in the working-class Catholic ghettos of Delaware County, just outside Philadelphia—Delco, as it's sometimes called—where the sports bars are abundant, where a certain easy familiarity with all forms of gambling prevails, where guys have bookies like they've got dentists.
Battista was a creature of that world. He was what's known as a mover. Strictly speaking, movers are neither gamblers nor bookmakers. They're a species of broker that provides services to sports bettors, laying down wagers on their clients' behalf with bookmakers of various types around the world, legal and not. Battista was positioned well enough in that world that, without Donaghy's knowledge but based on Donaghy's picks, he'd helped set up a kind of loose, disorderly hedge fund. Several people from the sports-betting underworld had, in effect, staked Battista a bankroll—a fund he was now using to bet on games officiated by this one NBA referee. One member of the group called it "the ticket" and "the company." "Maybe the company never sat at a table together," he says. "But they all had a piece of the pizza." The main problem now was keeping a lid on the thing.
In his endeavors, Battista had a sometime assistant, another high school chum, Tommy Martino, who acted as a liaison in the Donaghy scheme. Close friends with the referee since they were kids, Martino had a day job as an IT guy at JPMorgan. Using burner phones, Donaghy would call Martino and inform him of his pick for the game he was officiating. Martino would then relay the pick to Battista. Battista and Donaghy were never to speak directly. Battista would spend the day betting heavily on Donaghy's selection. In total, according to a person with knowledge of their operation, he hoped to get down about $1 million of his investors' money in each of Donaghy's games.
You want to get paid, you gotta cover the spread, Battista had told Donaghy. But Battista never used the word "fix." Or "influence" or "manipulate" or in any way discussed the mechanics of fixing.
"There wasn't no need to," Battista has told friends. The whole thing had been merely insinuated, a matter of strong innuendo. "The only mechanics, he had in his hand. He had the f---ing whistle."
IT REMAINS ONE of the most tantalizing questions in all of sport: Does American game-fixing still exist? In the 100 years since 1919, when gamblers blackened the Chicago White Sox, only the Tim Donaghy scandal has offered the hint of an answer—but also a repudiation. For 11 years, the official plotline has been that Donaghy was a rogue, gambling-addicted ref who made some bets on his own games—and nothing more. The NBA conducted its own investigation and concluded that Donaghy, in fact, did not fix games. But for many in and around the league, suspicions have remained that the full story has not been told, that what really happened has been suppressed.
It matters all the more now. On May 14 of last year, the U.S. Supreme Court struck down a 1992 federal law that had forbidden states from legalizing sports gambling within their own borders. It's widely believed that the ruling will lead to a lifting of the interstate prohibition on sports betting, which, in turn, would give rise to a massive increase in the money wagered on American sports. At the same time, the NBA—which once balked at gambling—has now openly embraced legalized sports betting more than any other U.S. pro sports league. In 2014, commissioner Adam Silver penned an op-ed in The New York Times advocating for legalization. In July of 2018, he announced a multiyear deal for MGM Resorts to be the "official gaming partner of the NBA."
Proponents of legalization have long argued that regulation leads to transparency, which helps root out game-fixing schemes. But there is much evidence to suggest the opposite. As economist Wladimir Andreff of the University of Paris has written: "All economic analyses conclude that the more money there is inflowing to sport, the greater the sport corruption."
And so it is that May's Supreme Court decision demands a review of the Donaghy affair. If it were shown that Donaghy had indeed fixed the games he reffed, it would reveal an uncomfortable truth, one that almost everyone—leagues, teams, fans, gamblers—would prefer to ignore: just how easy and profitable it is to fix an American sport.
In early 2017, inspired by the 10th anniversary of the scandal, ESPN set out to reinvestigate it. The research entailed interviews with more than 100 people, including current and former NBA referees, current and former NBA staff, gamblers, bookmakers, lawyers, law enforcement officials and friends and relatives of Donaghy. (Donaghy himself declined repeated requests for an interview.) Freedom of Information Act requests were filed. Thousands of pages of court documents and investigative records were scrutinized. Hundreds of hours were spent watching every NBA game Donaghy officiated in the 2006-07 season. Every foul call was logged, the resulting data analyzed, along with betting market line-movement histories for every game Donaghy reffed that season. Two years of reporting later, the story can now be told: This is the definitive account of how Tim Donaghy conspired to fix NBA games—and how, in so doing, he unwittingly enriched an array of gamblers to the tune of likely hundreds of millions of dollars.
ACT 2 A SIMPLE PLAN
Mendy Rudolph, Yogi Strom, Jake O'Donnell, Billy Oakes, Ed. T. Rush, Joey Crawford, Steve Javie, Tom Washington, Mark Wunderlich, Duke Callahan, Ed Malloy, Mark Lindsay, Aaron Smith, Tim Donaghy— all NBA referees current, retired, dead or (in the last case) disgraced, all born and/or raised in the environs of Philadelphia. If there is a cradle of basketball refereeing, it is here.
Oakes was Tim Donaghy's uncle. Gerry Donaghy, his father, for a long time wore stripes at the highest levels of NCAA men's basketball. Malloy, Crawford and Callahan all attended Delaware County's Cardinal O'Hara High School, Donaghy's alma mater—a cradle within a cradle. "It was a job I was born to do," Donaghy wrote in his 2009 memoir, Personal Foul, but the sentence carries a double meaning. Blessed with the right connections, and after four years officiating in the CBA, the NBA's minor league, he was called up to the majors in 1994. He was 27 years old.
The referee's life has its contradictions. In-season, it is demanding, tiring, high stress. But the gig is well-paid—even rookies in 2007 could make six figures. And then there's the offseason. By many accounts, it's like semi-retirement. "If it wasn't basketball season, he had a lot of time on his hands," says one of Donaghy's friends. In 1998, Donaghy joined a country club in West Chester, Pennsylvania, called Radley Run, along whose fairways the Donaghys built a spacious home. At the club he developed a circle of golfing pals. They played 18 holes four or five days a week. There was golfing but also drinking and gambling. Frequent excursions were made to the Borgata, a casino in Atlantic City. In the casino, Donaghy wore a baseball cap low to hide his eyes; everyone knows about the cameras in casinos, and the NBA forbade any gambling by its refs (with the exception, oddly, of horse racing).
Infrequently, Donaghy was at home. "He was a single man, married with four kids," says Kim Donaghy, his ex-wife. "He played golf and gambled."
Probably Donaghy's closest friend in this crowd was a man named Jack Concannon. They'd known each other since high school. Like many in their cohort, Concannon had a bookie, Peter Ruggieri, who also golfed frequently with Donaghy and Concannon's crew. Short, squat, thick-necked, Ruggieri was built, some thought, like a small rhinoceros. Inspheres other than the country-club set, he went by the nickname Rhino.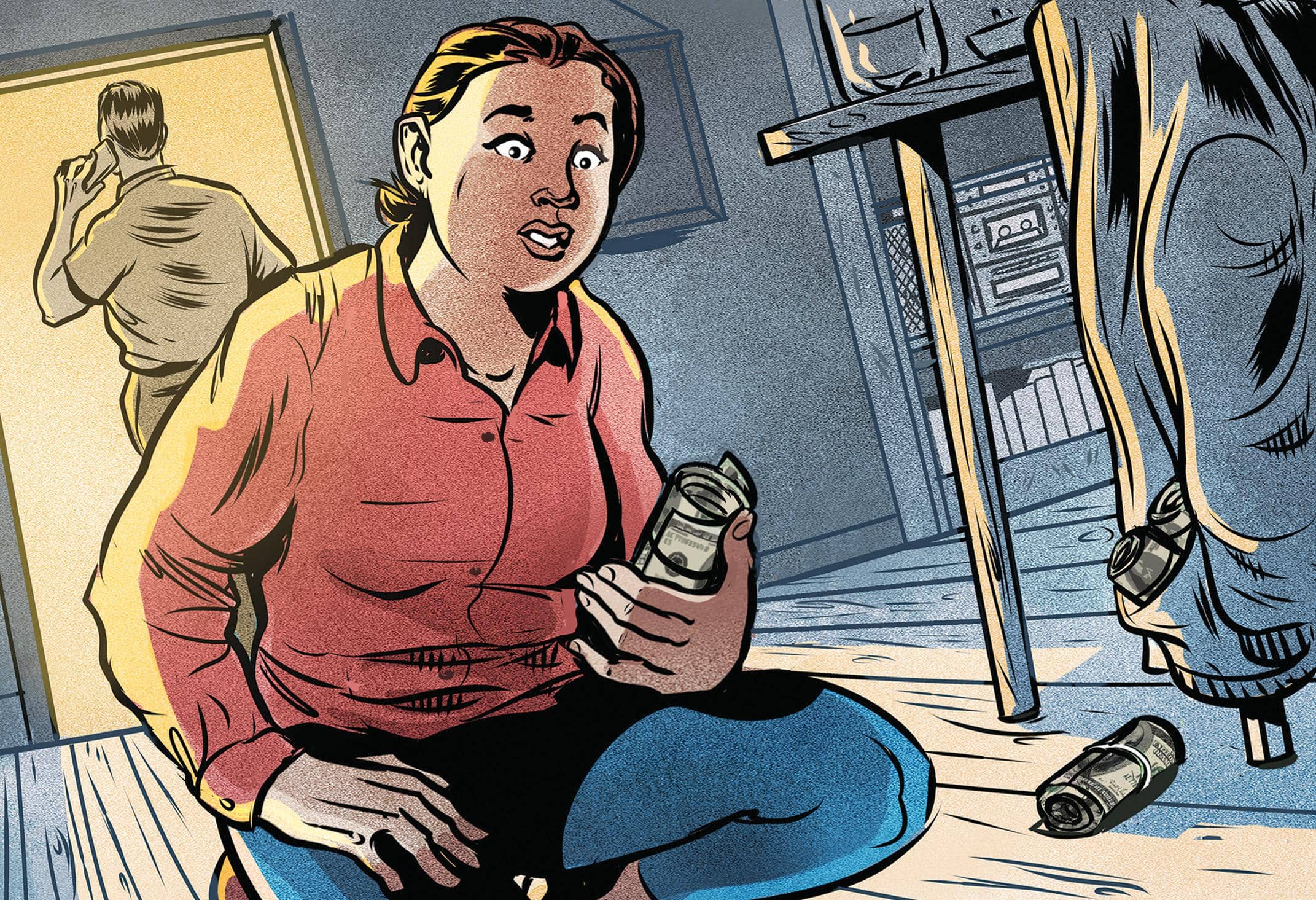 Donaghy has written that Rhino had a handicapping system for picking NFL and college football winners. In October 2002, Donaghy and Concannon decided to pool their money and wager on Ruggieri's picks. (Concannon declined comment for this story.) This was a clear violation of NBA rules, but Donaghy got over it. "I started thinking—or should I say, rationalizing: S---, everyone on the staff bets," he wrote. "I was like a pot smoker moving up to cocaine."
Then, at some point in 2003, Donaghy and Concannon crossed the Rubicon. According to Donaghy's account, the two were sitting alone in the Radley clubhouse after a round of golf when they decided to bet the NBA. But it wasn't just the NBA; according to court documents, they decided to bet on Donaghy's own games.
THERE ARE MANY misconceptions about the Tim Donaghy scandal. Perhaps the greatest is this: that Donaghy was the ref who colluded with gamblers on NBA games for one disgraceful season.
That is incorrect. According to a court document, Donaghy and Concannon placed their first bet on a game Donaghy was refereeing in March 2003— more than four years and four NBA seasons before he was caught.
He started small. In that first March, he bet on only two or three games. The next season, though, the volume rose sharply—he made between 30 and 40 wagers on games he worked. Same with the season after that and the season after that.
He did well. By Donaghy's own admission in his memoir, so much cash started rolling in that he had problems knowing physically where to stash it so his wife wouldn't start asking questions.
Today, Kim Donaghy lives in Sarasota, Florida, where she and her then-husband and four daughters moved in 2005. Kim filed for divorce in late 2007, a few months after the scandal became public. When I visited her in Sarasota not long ago, at the office where she works, she made it clear the divorce was a long time coming. "Tim was very, very secretive. He was always locked in a room, on the phone."
In Sarasota, Kim Donaghy printed out for me the first 98 pages of her unfinished and unpublished memoir, The Ref 's Wife. In it, she writes of the paradox of being both "lonely for him" and "truly afraid of him." She describes the moment she picked up his official NBA jacket to put it in the wash and found in the pocket "a huge wad of $100 bills rolled in a rubber band." How huge? With her thumbs and forefingers, she made an "O" the diameter of an orange. She struggled to recall exactly when, but she told me she probably started finding the cash in 2004, during the season. At the time, she told herself the money was from golf-course betting. But she would keep finding such rolls in his pockets as the years went on. When I asked, she said she never counted the money, never confronted him about its existence.
"Why?"
She gave a one-word answer: "Scared."
THEY CALLED IT The Office. A high roller named Mike Rinnier, who'd made his fortune in Delaware County supermarkets, decided to bankroll a small sports betting syndicate in the 1980s. He staffed it with working-class Delco kids ambitious to earn. "They were intelligent guys who just couldn't have full-time day jobs," says a former gambler who knew them. Battista, who'd drifted as a bartender, restaurant manager and small-time hustler after high school, was in his early 20s when, according to Gaming the Game, a book about the Donaghy scandal by former Philly police detective Sean Patrick Griffn, Rinnier recruited him to join the group. By chance, over the years its members had all acquired animal nicknames: Tiger, Rooster, Rhino, Seal, Sheep. And so their syndicate came to be known by some as the Animals.
In the early 2000s, the sports-betting world was undergoing its own equivalent of a dot-com boom. Black-market street bookies from all over the U.S., sharp pro gamblers and digital-savvy entrepreneurs with coding skills were all setting up online sportsbooks, often establishing themselves in places with little regulatory oversight, like Costa Rica, Antigua, Jamaica and Curaçao.
The Animals landed in Curaçao, where they helped launch an online sportsbook known as Play- ASAP. It was situated in a house a block off the beach. And it was there, in fall 2003—between beers under palms at the Mambo Beach tiki bar, between rounds of golf and late-night poker sessions at the Holiday Beach hotel's casino—that the Animals began to cash in on one brilliant discovery.
Rhino Ruggieri was booking bets made by an acquaintance from back home, a guy he knew from the golf course named Jack Concannon. Back in Philly, Ruggieri had noticed that Concannon's bet sizes were an order of magnitude higher on certain NBA games. And those bets won—won like Concannon had never won before. Normally this guy was a $100 or $200 or maybe $500 bettor. And normally this guy lost. But suddenly this recreational dumb money insurance salesman was putting five dimes each on select NBA games and beating the bookies? Why? There had to be a pattern.
Since he was now affliated with PlayASAP, Ruggieri was running all the bets that he booked back home, including Concannon's, through the Play- ASAP website. Everyone at the Curaçao offce, therefore, had access to Concannon's gambling account. They'd studied his wagers. It hadn't taken long to deduce. Because he was a sometime member of the same golfing circle back home, Ruggieri knew that Concannon and NBA ref Tim Donaghy were friends. They checked the games. Who were the referees? Sure enough, there he was. One of the three was always him. F---ing Donaghy.
Holy s---! they thought. Donaghy and Concannon are betting on Donaghy's games—and making a goddamn killing.
So what do you do when you stumble upon a possible criminal conspiracy in progress? What Battista, Ruggieri and the rest did was follow the Concannon- Donaghy bets with bets of their own—$30,000, $50,000, $100,000 a game, according to a person familiar with the betting. Large sums but, if handled deftly, not large enough to alert the broader market that something screwy might be going on. They had possibly just stumbled on the ultimate edge. They now had one job: Do not lose the edge by letting the information leak. Whether Donaghy was using his whistle to fix games was beside the point. When Donaghy reffed and Concannon bet, the side he bet was covering the spread between 60 and 70 percent of the time. The Animals went so far as to study the box scores after each of Donaghy's outings. "If you looked at the stats," said one gambler in The Offce at the time, "you could see he was calling more fouls on the team he bet against and less fouls on the team he bet on. That was obvious."
Said another: "Did I assume he was fixing the games? Yeah, I did. But I didn't give a s---, because it was great information. From 2003 to 2007, we didn't miss a game. Any game that he reffed we had a wager on."
ON A NIGHT in early December 2006, Tommy Martino received an urgent phone call from Battista. Along with the rest of the Animals, Battista had returned from Curaçao in 2004 after PlayASAP had gone belly-up. Battista had since decided to set up shop on his own as a bet broker. Whatever his issue was, Battista said he couldn't talk about it over the phone.
A decade later, in the break room of the hair salon he worked in, Martino told me how it had gone: Martino had already known that their mutual buddy Tim Donaghy had been betting on his own NBA games with Concannon, and winning those bets. Battista, after discovering this, had been following those bets for the better part of the past four years. But now, when Battista arrived at Martino's house, he dropped the bomb.
The big problem, Battista said, was that the betting markets appeared to be getting wise to the emergence of an astonishingly accurate NBA handicapper. Because this edge, this treasure, was in danger of evaporating, Battista had decided that he needed to assume direct control over the referee. Martino was not a gambler, had hardly ever placed a bet in his life. But he'd remained close friends after high school with both Donaghy and Battista, who, in turn, were never that close with each other. Martino, in that way, was about to become the unlikely bridge upon which the conspiracy would travel. To Martino, Battista seemed desperate, even frightened. "You've got to arrange a meeting with Donaghy," Battista said.
IT WAS DEC. 12, 2006, a Tuesday, an hour before midnight, at the Philadelphia Airport Marriott, inside that hotel's primary restaurant, called at the time the Riverbend Bar & Grille. And it was there, in the otherwise vacant dining area, seated around a table, that Battista and Donaghy, with Martino witnessing, consummated their deal. Battista demanded that Donaghy never bet with Concannon again, and in exchange for providing Battista with his betting "picks," Donaghy would receive $2,000 per game— but only if the pick won. Much later on he would come to call this meeting "the marriage."
Accounts of the meeting differ. According to statements Donaghy made to federal law enforcement, Battista's deal was effectively an act of extortion. You don't want anyone "from New York" coming to your house, Battista told him. And: You don't want the NBA to find out about what you've been doing with Concannon.
According to Battista, though, it was Donaghy who reached out, asking for a meeting. Both Battista and Martino have said that there were no threats, that everyone was nervous but the situation seemed copacetic, and that what sold Donaghy on the deal was Battista saying to him: We know you're giving the games to Jack Concannon. And then, twisting the knife, Battista told him how much Concannon was winning.
Donaghy rose from the table. He had to use the bathroom, he said, and motioned for Martino to please come along. "He gets so pale sometimes, he turns yellow, I swear to god," Martino told me. "In the bathroom, Donaghy is like, 'Tom, you f---ing believe it?' And I said, 'What?' I'm thinking he's going to say: Oh s---! It got out to Battista that I'm giving games to Jack! But no. You know what he says? He goes: 'Do you believe it?' He goes, 'Concannon was making all that money and not giving me anything!'"
Continue Reading with Magzter GOLD
Log-in, if you are already a subscriber
Get unlimited access to thousands of curated premium stories and 5,000+ magazines
READ THE ENTIRE ISSUE
March 2019
Who Is The Future Of U.S. Women's Soccer?
ESPN The Magazine
Which Aussie Rules Football?
ESPN The Magazine
Who Is The Ass Kicker Of The U.S. Women's National Team?
ESPN The Magazine
Kyler Murray - Will Past Be Prologue For The Possible Top NFL Draft Pick?
ESPN The Magazine
Williamson Is Ready For Takeoff
ESPN The Magazine
The Future Of Football Is You
ESPN The Magazine
Nick Bosa Reveals The Pain Of His Unfinished OSU Business
ESPN The Magazine
One-Track Mind
ESPN The Magazine
Dear Future Me - Caroline Marks
ESPN The Magazine
The One And Only Naomi Osaka
ESPN The Magazine
The View From Here
Global Traveler
Lock Them Up!
The Best of Times
Traditions Of Excellence
Global Traveler
Heavenly Peace
The Best of Times
Ups And Downs
Global Traveler
Above And Beyond
Global Traveler
Take Five With LEAH PRITCHETT
Hot Rod