WOODWORK AT THE VENICE BIENNALE 2019
The 58th International Art Exhibition, Venice Biennale 2019, opened May 11 and runs thru Nov. 24, throughout Venice, Italy. The festival consists of 89 national pavilions, 21 collateral events, and 79 invited artist exhibitions. The theme is May You Live In Interesting Times, the inventive English translation of a Chinese curse. And many of the works exhibited embody interpretations of current political issues. Here are three examples in which wood was the primary media.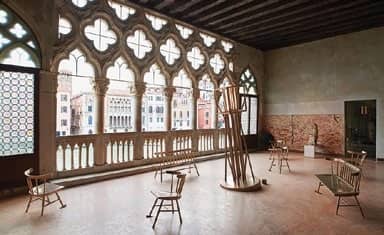 At the U.S. Pavilion, Martin Puryear addresses the topic of freedom in Liberty/Libertà. The exhibit begins outside (right), where he constructed Swallowed Sun—a monumental wooden lattice Southern Yellow Pine screen in a dome-like pattern—in front of the Monticello-style neoclassicaldesigned building. Inside are sculptural works, mostly of wood, related to slavery, migration, and the fight for independence.
Los Angeles-based, Hong Kong-born artist Shirley Tse created a haphazard barricade for the Hong Kong Pavilion. The artwork, composed of wood turned spindles, runs from room-to-room throughout the entire building. Called Negotiated Differences, each turned component is con