Jim Piper of Portland, OR draws upon the natural world in creating his exquisite turned and embellished wood pieces.
Here is his story, in Jim's own words:
Wood and art have always been part of my life. Raised in a logging community in Southwest Oregon, I learned about wood and the forest around me at an early age. My parents built the house where I grew up, and I built the house where we have lived since 1985, milling timbers from trees on our property.
While studying architecture in college, I discovered photography and went on to establish a commercial photography studio, developing a national clientele over a 25-year career. With artists needing good portfolios, I was able to trade photographic services for works of art. This made it easy for the artists to maintain their portfolios, while I accumulated a collection of art pieces that I could not otherwise afford or justify, including ceramics, furniture, paintings, and prints.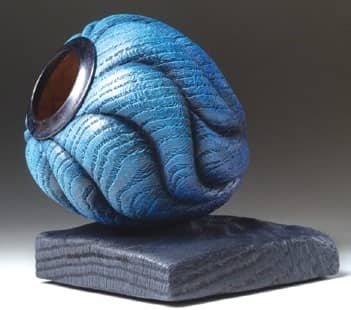 I never had much interest in woodturning, until I observed demonstrations at the annual Art in the Pearl festival in Portland. It fascinated me, but I knew I could not pursue anything like this without the proper time to devote. In 2011, I finally bought a crude little lathe for about $50 and turned a couple simple pieces. I immediately became hooked, and it quickly became an obsession. I soon bought a better lathe and continued to upgrade, as my abilities evolved.
Continue Reading with Magzter GOLD
Log-in, if you are already a subscriber
Get unlimited access to thousands of curated premium stories and 5,000+ magazines
READ THE ENTIRE ISSUE
March - April 2019
Profile: John P. McCormack
Woodworker West
From David Marks Studio- Patina Applications & Questions
Woodworker West
Education: NW Woodworking Studio
Woodworker West
Rubbing Out Arm R Seal & Questions
Woodworker West
Education: Maloof Foundation Classes
Woodworker West
Tools & Techniques - Intro To CNC Routers
Woodworker West
Profile: Greg Klassen
Woodworker West
Turning Topics AAW Members' Exhibition
Woodworker West
Tools & Techniques
Woodworker West
Shavings & Sawdust
Woodworker West
"I'm Not Nice!"
New York magazine
Well, Here We Are
New York magazine
The Voice of a Generation
New York magazine
Still Gazing in Awe at Jude Law
New York magazine
Republicans Don't Even Know What They're Covering Up
New York magazine
Peter Thiel's Latest Venture Is the American Government
New York magazine
Medea in Brooklyn
New York magazine
In Conversation: FRANK GEHRY
New York magazine
Good-bye to Gotham
New York magazine
ROD STEWART COULD DO TIME FOR PARTY PUNCH!
National Enquirer