Here is his story, in Jim's own words:
Wood and art have always been part of my life. Raised in a logging community in Southwest Oregon, I learned about wood and the forest around me at an early age. My parents built the house where I grew up, and I built the house where we have lived since 1985, milling timbers from trees on our property.
While studying architecture in college, I discovered photography and went on to establish a commercial photography studio, developing a national clientele over a 25-year career. With artists needing good portfolios, I was able to trade photographic services for works of art. This made it easy for the artists to maintain their portfolios, while I accumulated a collection of art pieces that I could not otherwise afford or justify, including ceramics, furniture, paintings, and prints.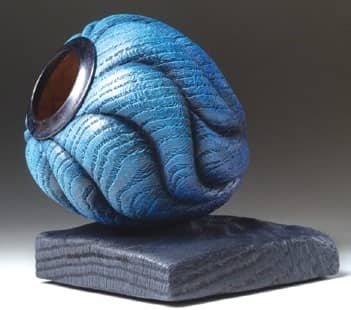 I never had much interest in woodturning, until I observed demonstrations at the annual Art in the Pearl festival in Portland. It fascinated me, but I knew I could not pursue anything like this without the proper time to devote. In 2011, I finally bought a crude little lathe for about $50 and turned a couple simple pieces. I immediately became hooked, and it quickly became an obsession. I soon bought a better lathe and continued to upgrade, as my abilities evolve