Can A Black Woman Win The Presidency Today?
The senator from California has always been cautious, but since announcing her candidacy she's grown bolder. Can a black woman win the presidency today—and what compromises must she make to do so?
So here's the plan: Kamala is going to walk up to Rodney Scott's Whole Hog BBQ from the left. At 12:50 p.m., Rodney Scott will greet her. She'll enter through the side door and order at the second register, from the woman in the red shirt. Kamala, Scott, and Maya Harris—that's Kamala's sister and campaign chair—will sit and eat. Kamala will then exit through the front door and walk around back to look at the smoker. She'll reenter through the front, cross the dining room, and exit through the side door to take reporters' questions.
Rodney Scott's Whole Hog, on the corner of King and Grove Streets in Charleston, South Carolina, is perfect— the kind of fast-casual, deeply American spot almost any voter can get behind: local pitmaster anointed by Anthony Bourdain, outdoor seating under tasteful white Christmas lights, wooden tables with wrought-iron legs, red stools. In the hour leading up to Kamala's arrival, men walking and biking slowly down Grove Street give way to police cars, followed by unmarked cars. At T minus 10, the campaign's 23-year-old South Carolina communications director, Jerusalem Demsas, asks, "Can we get Rodney out here?" She places Scott, handsome and regionally beloved, on his mark to the left of the door. After Demsas leaves, Scott mutters, "People with warrants must be running off the block."
It's all happening before you can even see her, so thick and aggressive is the press: the 20-plus reporters with TV cameras, boom mics, lenses larger than some dogs. Kamala shakes Scott's hand; touches his arm; smiles her big, open, I-am-so-happy-to-be-with-you-right-now smile. She's shorter, even in heels, than one expects. But she's magnetic, authoritative, warm-leaning in, nodding, gesturing with both hands, moving those hands from a voter's biceps or shoulder to a position of deep appreciation over her heart.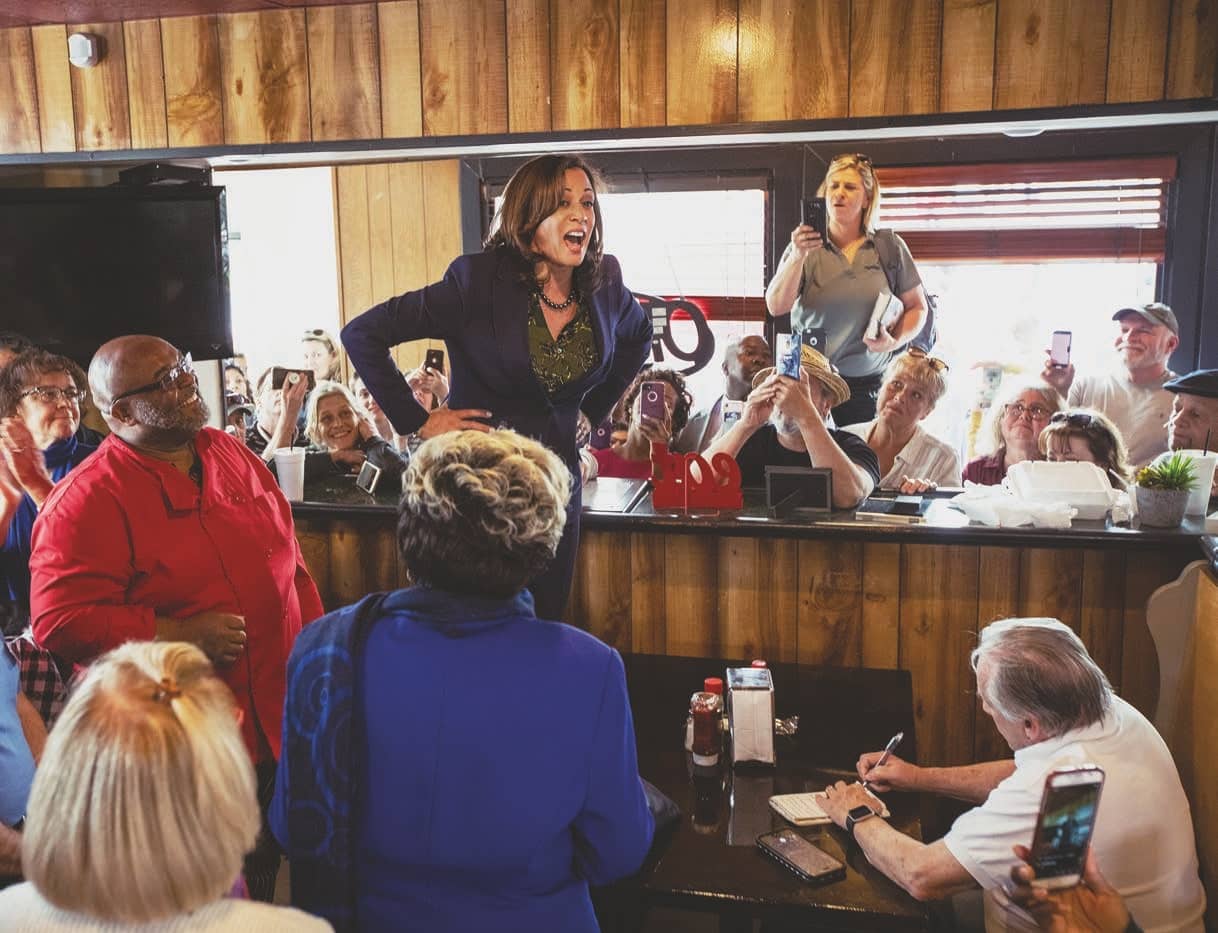 Kamala wends through the scrum of the press, makes her way to the counter, and finds the woman in the red shirt, who happens to be Scott's wife. Kamala greets her with a two-handed clasp (a simple shake would come across as too formal and masculine). Then, right there, a decision needs to be made on the fly: What is Kamala going to order?
Kamala Harris—the Democratic presidential hopeful and 54-year-old junior senator from California—is a prosecutor by training. She knows well that any misstep, anything you say or do, can and will be held against you. Her fundamental, almost constitutional, understanding of this has made her cautious, at times enragingly so.
Harris's demographic identity has always been radical. She was San Francisco's first female district attorney, first black district attorney, first Asian American district attorney. She was then California's first female attorney general, first black attorney general, first Asian American attorney general. She was the second black woman, ever, to win a seat in the United States Senate. But in office, she's avoided saying or doing much that could be held against her. As attorney general, she declined to support two ballot measures to end the death penalty. She declined to support making drug possession a misdemeanor. She declined to support legalizing pot. She declined to support a ballot measure reforming California's brutal three-strikes law. The point is: She had power. She kept most of it in reserve. More important than fixing the broken criminal justice system, it seemed, was protecting her status as a rising star. She had earned that reputation by the time the first major profile of her was written: San Francisco Magazine, 2007. The article also described her as "maddeningly elusive."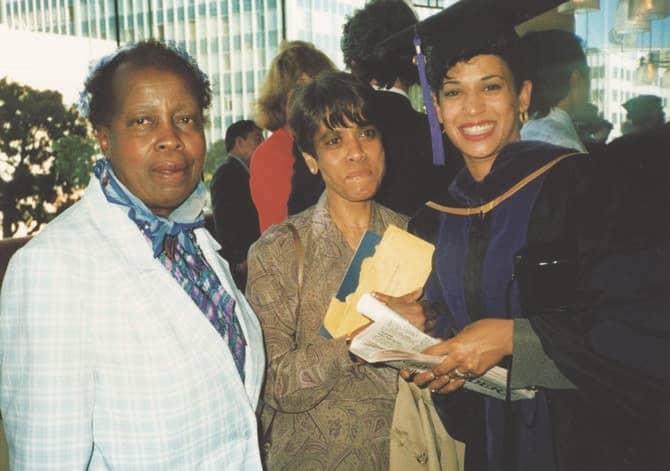 It takes Harris a minute, but she decides on a pulled-pork sandwich, with cornbread and collard greens, and banana pudding to split with Maya. They sit and eat, ignoring the two dozen recording devices in their faces, talking about Scott's vinegar based BBQ sauce and his recipe for banana pudding—good territory for Harris, as she's a serious cook. Nearby, there are a few appalled customers, including a family that has driven 40 minutes to celebrate the father's birthday and has no idea what's happening, no idea even who Harris is, and would just like this rugby squad of reporters to move aside long enough for their son to refill his drink. But for the most part, the patrons are dazzled by Harris, whose star quality drew 20,000 people to her kickoff rally in Oakland. The dynamism she displayed there made the event feel like a cause, or a concert— Kamalapalooza —and gave her campaign significant momentum. (Laurene Powell Jobs, the president of Emerson Collective, which is the majority owner of The Atlantic, has provided financial support to the Harris campaign.)
After 15 minutes, right on schedule, Harris sets down her napkin and walks around back. She takes some photos near the smoker with Scott's family and looks deeply into the eyes of his adorable 10-year-old son. She tells him she's giving a speech later and she'd like him to let her know what he thinks of it. Then she walks back through the restaurant and exits, as planned, through the side door so she can gaggle with the press. (NB: Gaggle is now a verb in American politics, meaning "to answer questions shouted at you by a group of reporters.")
Here, again, Harris is graciously, militarily on point. All good politicians stick to a script, but Harris speaks like a woman who knows that facts are ammunition. Everything you say can and will be used against you. Just this week she's been in the weeds, so to speak, with Reefergate, a kerfuffle that arose when Harris was asked on the Breakfast Club radio show what music she'd listened to when she smoked pot in college and she said Tupac and Snoop Dogg. Social media erupted with gotchas, as those artists didn't release songs until after she'd graduated.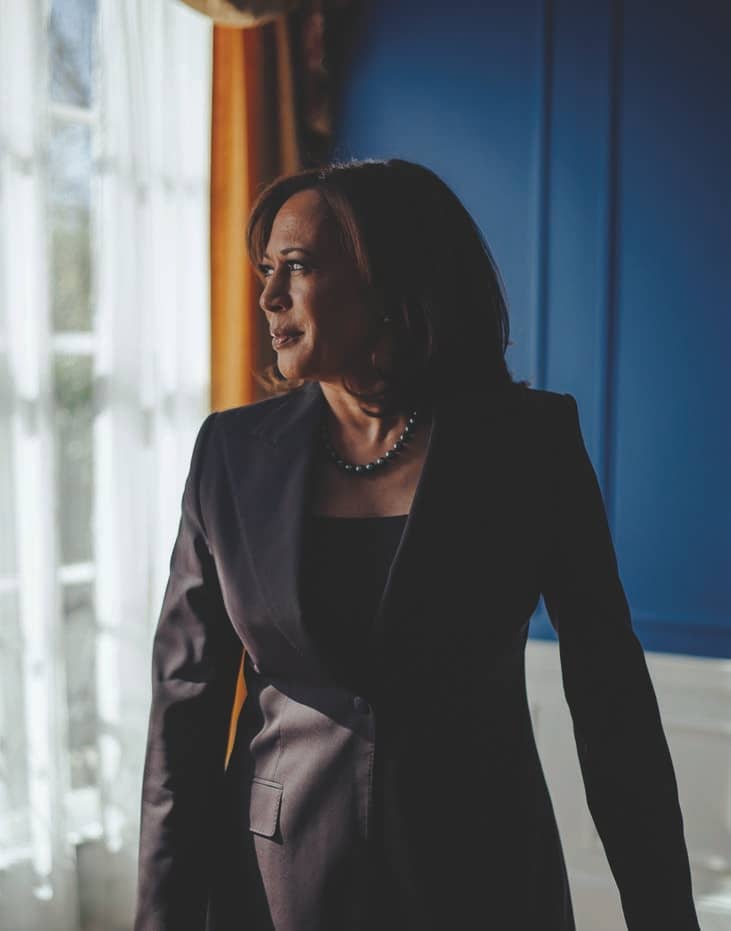 Harris's spokesperson said that she'd been answering a different question, about the music she listens to now, but even so The New York Times, The View, MSNBC, and Fox & Friends all picked up the story. Harris's own father, who is Jamai can, flamed her on Jamaica Global Online for insinuating that she supported legalized pot because she was Jamaican: "My dear departed grandmothers … as well as my deceased parents, must be turning in their grave right now to see their family's name, reputation and proud Jamaican identity being connected, in any way, jokingly or not with the fraudulent stereotype of a pot-smoking joy seeker." The uproar caused the former Obama speechwriter Jon Favreau to flip out on Pod Save America: "Donald Trump is president … We cannot be talking about this fucking shit again with the Democratic candidates."
But Harris, today, gaggling, is in top form: We don't need a tragedy to enact commonsense gun reform. This economy is not working for working people. Every American needs a path to success. We need to speak the truth. If Harris's campaign has a mantra, that's it: truth truth truth truth truth. She delivers her talking points while dressing, as she always is, in her uniform of dark suit, pearls, black heels. I know—you think I shouldn't be writing about her clothes. But the clothes themselves are a smart, cautious play, one that Hillary Clinton, frankly, could have benefited from. If you wear the same outfit every single day, pretty soon the haters will run out of snarky things to say about your appearance and move on.
Among Harris's core traits, arguably her Shakespearean tragedy trait, the one so central to her character that it has the potential to lift her to the highest post in the land but could also take her down, is her discipline. It is what has allowed her to play the long game, to protect her future. It has also infuriated constituents over the years who wanted Harris to take a stand and fight for them today, not when she reached a higher office. Yet Harris, on the trail, seems bolder than she has in the past. She's declared that she's for reparations, for the Green New Deal, for decriminalizing sex work and legalizing pot. She comes across as a woman who is cashing in her chips, taking all the political and social capital she was safeguarding for all those years and putting it on the table, declaring that her moment is now. She's a black female prosecutor; we have a racist, misogynist, possibly criminal president. All of that caretaking of her political future—what was it for if not this?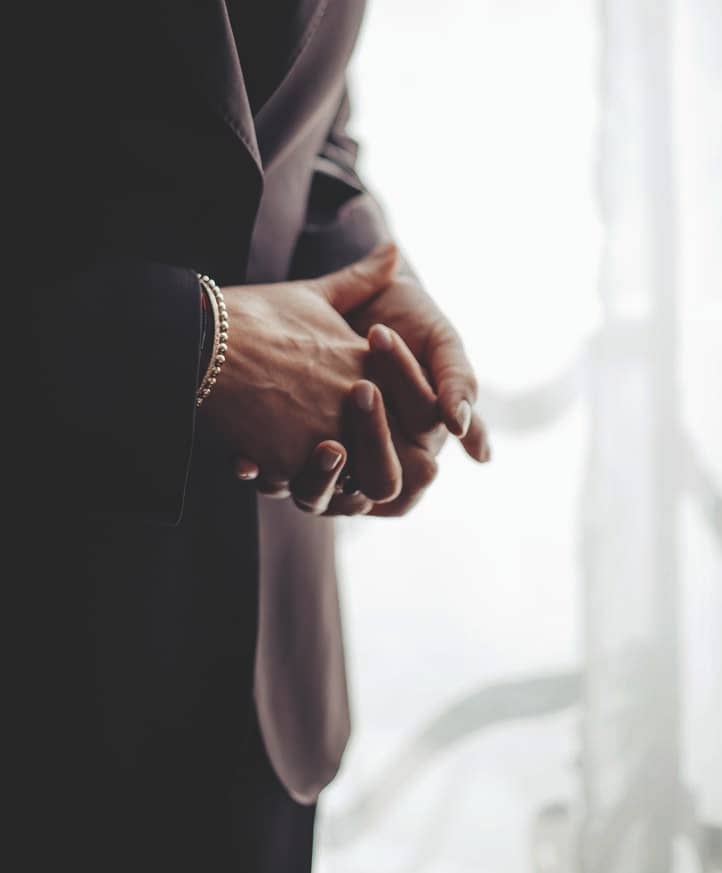 By Harris's side, on the road, is not her husband, Doug Emhoff, a Los Angeles lawyer she married in 2014, but her sister, Maya, who was a top policy adviser for Hillary Clinton's 2016 presidential campaign and, before that, the vice president for democracy, rights, and justice at the Ford Foundation and the executive director of the ACLU of Northern California. When the world is following you with boom mics and long knives, Maya told me, "it's good to know there are people with you 100 percent. Ride or die. Not going anywhere."
Harris's parents, Shyamala Gopalan and Donald Harris, met in Berkeley, California, in the early 1960s, in the civil rights movement. They'd both come to the United States to study at UC Berkeley: Shyamala, at age 19, from a Brahman family in India, to pursue a doctorate in endocrinology and nutrition; Donald, from Jamaica, for a doctorate in economics. As with almost everything else in her life, Harris has a set of stock stories she tells about her upbringing, all of which are laid out in her heavily vetted, surprise-free memoir, The Truths We Hold, which was released two weeks before she announced her candidacy. (The big vulnerable reveal in it is that Harris had to take the bar exam twice.) As a girl, she loved the outdoors; her father yelled at her, "Run, Kamala! As fast as you can. Run!" Her mother sang along to Aretha Franklin; her dad played Thelonious Monk. They divorced when Harris was 7. Before that, the family attended protests together. At one, Harris, a toddler, started fussing. Her mother bent down and asked, "What do you want?"
Harris said, "Freedom!"
Shyamalan, the daughter of a diplomat father and a mother who educated fellow Indian women about birth control through a bullhorn, was barely 5 feet tall, and formidable. She was supposed to return to India for an arranged marriage. She refused. "She had literally no patience for mediocrity," Maya said. Her outlook was: "Be your best. If you're going to do something, be the best. Work hard, the whole way." En route to becoming a prominent breast cancer researcher, she raised her girls primarily as a single mother. She took Harris with her to her lab when necessary and directed her to wash test tubes. She covered the kitchen in their small apartment with waxed paper and made lollipops and other candy. If she bought gifts, she set up a game in the style of Let's Make a Deal. What do you want—Door No. 1 (the bedroom) or Door No. 2 (the kitchen)? Inside, the girls would find a blue bike with tasseled handlebars or an Easy-Bake Oven. In Harris's telling, Shyamalan didn't coddle. If her children came home from school with a problem, she would ask, "Well, what did you do?" in order to push them to solve it themselves. She raised her daughters in the black community, taking them to Berkeley's black cultural center, Rainbow Sign, where Maya Angelou read poetry and Nina Simone sang. In 1971, when Harris was 7, Shirley Chisholm dropped by. She was exploring a bid for president.
When I asked Maya about her relationship with her sister, Kamala raised her eyebrows and cocked her head, like, This had better be good. "Well, she's a big sister and …" Maya paused and turned to Harris. "Are you going to qualify that?"
Harris, laughing, declined. So Maya continued: "She was protective … Maybe just a liiiiiiiittle bossy." If there was a problem in the schoolyard, Harris would assess the situation and make sure Maya was okay. The two organized a children's protest to overturn a no-playing policy in their apartment building's empty courtyard. Do I even need to say it? They won.
Continue Reading with Magzter GOLD
Log-in, if you are already a subscriber
Get unlimited access to thousands of curated premium stories and 5,000+ magazines
READ THE ENTIRE ISSUE
May 2019