Can The Pentagon Weaponize The Brain?
The Pentagons R&D arm, DARPA, gave us drones and the internet. Now the agency has a new mission: to fold computers into the brain and nervous systemor maybe vice versa. Silicon Valley is eating all of this up.
I. WHO COULD OBJECT?
"Tonight I would like to share with you an idea that I am extremely passionate about," the young man said. His long black hair was swept back like a rock star's, or a gangster's. "Think about this," he continued. "Throughout all human history, the way that we have expressed our intent, the way we have expressed our goals, the way we have expressed our desires, has been limited by our bodies." When he inhaled, his rib cage expanded and filled out the fabric of his shirt. Gesturing toward his body, he said, "We are born into this world with this. Whatever nature or luck has given us."
His speech then took a turn: "Now, we've had a lot of interesting tools over the years, but fundamentally the way that we work with those tools is through our bodies." Then a further turn: "Here's a situation that I know all of you know very well—your frustration with your smartphones, right? This is another tool, right? And we are still communicating with these tools through our bodies."
And then it made a leap: "I would claim to you that these tools are not so smart. And maybe one of the reasons why they're not so smart is because they're not connected to our brains. Maybe if we could hook those devices into our brains, they could have some idea of what our goals are, what our intent is, and what our frustration is."
So began "Beyond Bionics," a talk by Justin C. Sanchez, then an associate professor of biomedical engineering and neuroscience at the University of Miami, and a faculty member of the Miami Project to Cure Paralysis. He was speaking at a TEDx conference in Florida in 2012. What lies beyond bionics? Sanchez described his work as trying to "understand the neural code," which would involve putting "very fine micro-wire electrodes"—the diameter of a human hair—"into the brain." When we do that, he said, we would be able to "listen in to the music of the brain" and "listen in to what somebody's motor intent might be" and get a glimpse of "your goals and your rewards" and then "start to understand how the brain encodes behavior."
He explained, "With all of this knowledge, what we're trying to do is build new medical devices, new implantable chips for the body that can be encoded or programmed with all of these different aspects. Now, you may be wondering, what are we going to do with those chips? Well, the first recipients of these kinds of technologies will be the paralyzed. It would make me so happy by the end of my career if I could help get somebody out of their wheelchair."
Sanchez went on, "The people that we are trying to help should never be imprisoned by their bodies. And today we can design technologies that can help liberate them from that. I'm truly inspired by that. It drives me every day when I wake up and get out of bed. Thank you so much." He blew a kiss to the audience.
A year later, Justin Sanchez went to work for the Defense Advanced Research Projects Agency, the Pentagon's R&D department. At DARPA, he now oversees all research on the healing and enhancement of the human mind and body. And his ambition involves more than helping get disabled people out of their wheelchair—much more.
DARPA has dreamed for decades of merging human beings and machines. Some years ago, when the prospect of mind-controlled weapons became a public-relations liability for the agency, officials resorted to characteristic ingenuity. They recast the stated purpose of their neurotechnology research to focus ostensibly on the narrow goal of healing injury and curing illness. The work wasn't about weaponry or warfare, agency officials claimed. It was about therapy and health care. Who could object? But even if this claim were true, such changes would have extensive ethical, social, and meta physical implications. Within decades, neurotechnology could cause social disruption on a scale that would make smartphones and the internet look like gentle ripples on the pond of history.
Most unsettling, neurotechnology confounds age-old answers to this question: What is a human being?
II. HIGH RISK, HIGH REWARD
In his 1958 State of the Union address, President Dwight Eisenhower declared that the United States of America "must be forward-looking in our research and development to anticipate the unimagined weapons of the future." A few weeks later, his administration created the Advanced Research Projects Agency, a bureaucratically independent body that reported to the secretary of defense. This move had been prompted by the Soviet launch of the Sputnik satellite. The agency's original remit was to hasten America's entry into space.
During the next few years, ARPA's mission grew to encompass research into "man-computer symbiosis" and a classified program of experiments in mind control that was code-named Project Pandora. There were bizarre efforts that involved trying to move objects at a distance by means of thought alone. In 1972, with an increment of candor, the word Defense was added to the name, and the agency became DARPA. Pursuing its mission, DARPA funded researchers who helped invent technologies that changed the nature of battle (stealth aircraft, drones) and shaped daily life for billions (voice-recognition technology, GPS devices). Its best-known creation is the internet.
The agency's penchant for what it calls "high-risk, high-reward" research ensured that it would also fund a cavalcade of folly. Project Seesaw, a quintessential Cold War boondoggle, envisioned a "particle-beam weapon" that could be deployed in the event of a Soviet attack. The idea was to set off a series of nuclear explosions beneath the Great Lakes, creating a giant underground chamber. Then the lakes would be drained, in a period of 15 minutes, to generate the electricity needed to set off a particle beam. The beam would accelerate through tunnels hundreds of miles long (also carved out by underground nuclear explosions) in order to muster enough force to shoot up into the atmosphere and knock incoming Soviet missiles out of the sky. During the Vietnam War, DARPA tried to build a Cybernetic Anthropomorphous Machine, a jungle vehicle that officials called a "mechanical elephant."
The diverse and sometimes even opposing goals of DARPA scientists and their Defense Department overlords merged into a murky, symbiotic research culture—"unencumbered by the typical bureaucratic oversight and uninhibited by the restraints of scientific peer review," Sharon Weinberger wrote in a recent book, The Imagineers of War. In Weinberger's account, DARPA's institutional history involves many episodes of introducing a new technology in the context of one appealing application, while hiding other genuine but more troubling motives. At DARPA, the left-hand knows, and doesn't know, what the right hand is doing.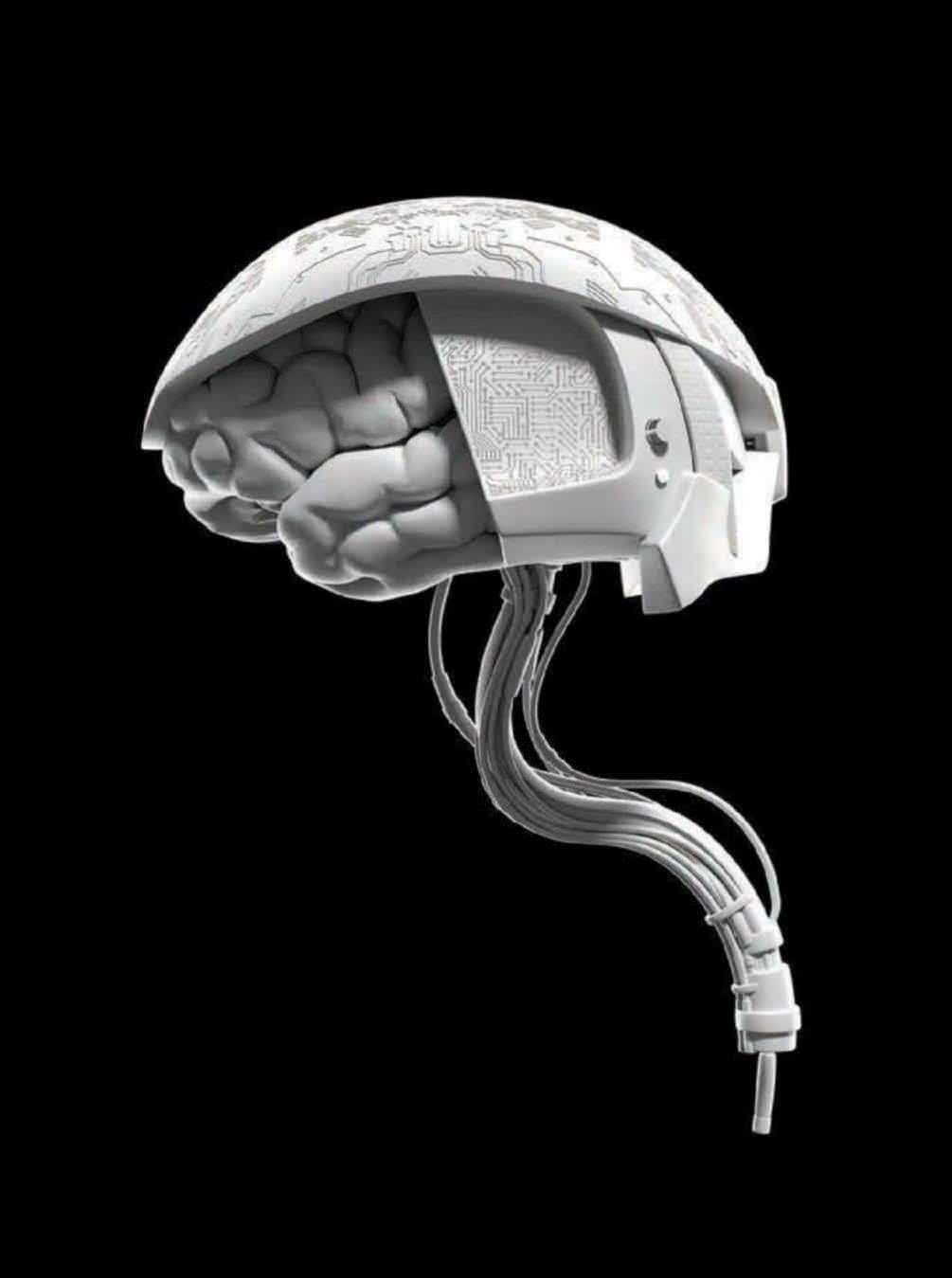 The agency is deceptively compact. A mere 220 employees, supported by about 1,000 contractors, report for work each day at DARPA's headquarters, a nondescript glass-and-steel building in Arlington, Virginia, across the street from the practice rink for the Washington Capitals. About 100 of these employees are program managers—scientists and engineers, part of whose job is to oversee about 2,000 outsourcing arrangements with corporations, universities, and government labs. The effective workforce of DARPA actually runs into the range of tens of thousands. The budget is officially said to be about $3 billion, and has stood at roughly that level for an implausibly long time—the past 14 years.
The Biological Technologies Office, created in 2014, is the newest of DARPA's six main divisions. This is the office headed by Justin Sanchez. One purpose of the office is to "restore and maintain warfighter abilities" by various means, including many that emphasize neurotechnology— applying engineering principles to the biology of the nervous system. For instance, the Restoring Active Memory program develops neuroprosthetics— tiny electronic components implanted in brain tissue—that aim to alter memory formation so as to counter-act traumatic brain injury. Does DARPA also run secret biological programs? In the past, the Department of Defense has done such things. It has conducted tests on human subjects that were questionable, unethical, or, many have argued, illegal. The Big Boy protocol, for example, compared radiation exposure of sailors who worked above and below deck on a battleship, never informing the sailors that they were part of an experiment.
Last year I asked Sanchez directly whether any of DARPA's neuro-technology work, specifically, was classified. He broke eye contact and said, "I can't—We'll have to get off that topic, because I can't answer one way or another." When I framed the question personally—"Are you involved with any classified neuroscience project?"— he looked me in the eye and said, "I'm not doing any classified work on the neuro-technology end."
If his speech is careful, it is not spare. Sanchez has appeared at public events with some frequency (videos are posted on DARPA's YouTube channel), to articulate joyful streams of good news about DARPA's proven applications— for instance, brain-controlled prosthetic arms for soldiers who have lost limbs. Occasionally he also mentions some of his more distant aspirations. One of them is the ability, via computer, to transfer knowledge and thoughts from one person's mind to another's.
III. "WE TRY TO FIND WAYS TO SAY YES"
Continue Reading with Magzter GOLD
Log-in, if you are already a subscriber
Get unlimited access to thousands of curated premium stories and 5,000+ magazines
READ THE ENTIRE ISSUE
November 2018