A boisterous new age of global childrens entertainment has arrivedand it's not at all what we adults were expecting.
Chuchu TV, the company responsible for some of the most widely viewed toddler content on YouTube, has a suitably cute origin story. Vinoth Chandar, the CEO, had always played around on YouTube, making Hindu devotionals and little videos of his father, a well-known Indian music producer. But after he and his wife had a baby daughter, whom they nicknamed "Chu Chu," he realized he had a new audience—of one. He drew a Chu Chu–like character in Flash, the animation program, and then created a short video of the girl dancing to the popular and decidedly unwoke Indian nursery rhyme "Chubby Cheeks." ("Curly hair, very fair / Eyes are blue, lovely too / Teacher's pet, is that you?")
Chu Chu loved it. "She wanted me to repeat it again and again," Chandar recalls. Which gave him an idea: "If she is going to like it, the kids around the world should like it." He created a YouTube channel and uploaded the video. In a few weeks, it had 300,000 views. He made and uploaded another video, based on "Twinkle, Twinkle, Little Star," and it took off. After posting just two videos, he had 5,000 subscribers to his channel. Someone from YouTube reached out and, as Chandar remembers it, said, "You guys are doing some magic with your content." So Chandar and several of his friends formed a company in Chennai, in the South Indian state of Tamil Nadu, from the bones of an IT business they'd run. They hired a few animators and started putting out a video a month.
Five years on, ChuChu TV is a fast-growing threat to traditional competitors, from Sesame Street to Disney to Nickelodeon. With all its decades of episodes, well-known characters, and worldwide brand recognition, Sesame Street has more than 5 billion views on YouTube. That's impressive, but ChuChu has more than 19 billion. Sesame Street's main feed has 4 million subscribers; the original ChuChu TV channel has 19 million—placing it among the top 25 most watched YouTube channels in the world, according to the social-media-tracking site Social Blade—and its subsidiary channels (primarily ChuChu TV Surprise Eggs Toys and ChuChu TV Español) have another 10 million.
According to ChuChu, its two largest markets are the United States and India, which together generate about one-third of its views. But each month tens of millions of views also pour in from the U.K., Canada, Mexico, Australia, and all over Asia and Africa. Roughly 20 million times a day, a caretaker somewhere on Earth fires up YouTube and plays a ChuChu video. What began as a lark has grown into something very, very big, inflating the company's ambitions. "We want to be the next Disney," Chandar told me.
But whereas Disney has long mined cultures across the world for legends and myths—dropping them into consumerist, "family-friendly American formats—Chu- Chu's videos are a different kind of hybrid. The company ingests Anglo-American nursery rhymes and holidays, and produces new versions with sub-continental flair. The characters' most prominent animal friend is a unicorn-elephant. Nursery rhymes become music videos, complete with Indian dances and iconography. Kids of all skin tones and hair types speak with an Indian accent.
Many observers respond to ChuChu's unexpected success by implying that the company has somehow gamed the system. "Whenever we go to the U.S.," Chandar told me, "people say, 'You guys cracked the algorithm.' But we didn't do anything. The algorithm thing is a complete myth."
ChuChu does not employ the weird keyword- stuffed titles used by lower-rent YouTube channels. The company's titles are simple, sunny, consistent. Its theory of media is that good stuff wins, which is why its videos have won. "We know what our subscribers want, and we give it to them," Chandar said. ChuChu says it adds roughly 40,000 subscribers a day.
That kind of growth suggests something unpredictable and wild is happening: America's grip on children's entertainment is coming to an end. ChuChu is but the largest of a new constellation of children's-media brands on YouTube that is spread out across the world: Little Baby Bum in London, Animaccord Studios in Moscow, Videogyan in Bangalore, Billion Surprise Toys in Dubai, TuTiTu TV in Tel Aviv, and LooLoo Kids in Iai, a Romanian town near the country's border with Moldova. The new children's media look nothing like what we adults would have expected. They are exuberant, cheap, weird, and multicultural. YouTube's content for young kids—what I think of as Toddler YouTube—is a mishmash, a bricolage, a trash fire, an explosion of creativity. It's a largely unregulated, data-driven grab for toddlers' attention, and, as we've seen with the rest of social media, its ramifications may be deeper and wider than you'd initially think.
With two small kids in my own house, I haven't been navigating this new world as a theoretical challenge. My youngest, who is 2, can rarely sustain the attention to watch the Netflix shows we put on for my 5-year-old son. But when I showed her a ChuChu video, just to see how she'd react, I practically had to wrestle my phone away from her. What was this stuff? Why did it have the effect it did?
To find out, I had to go to Chennai.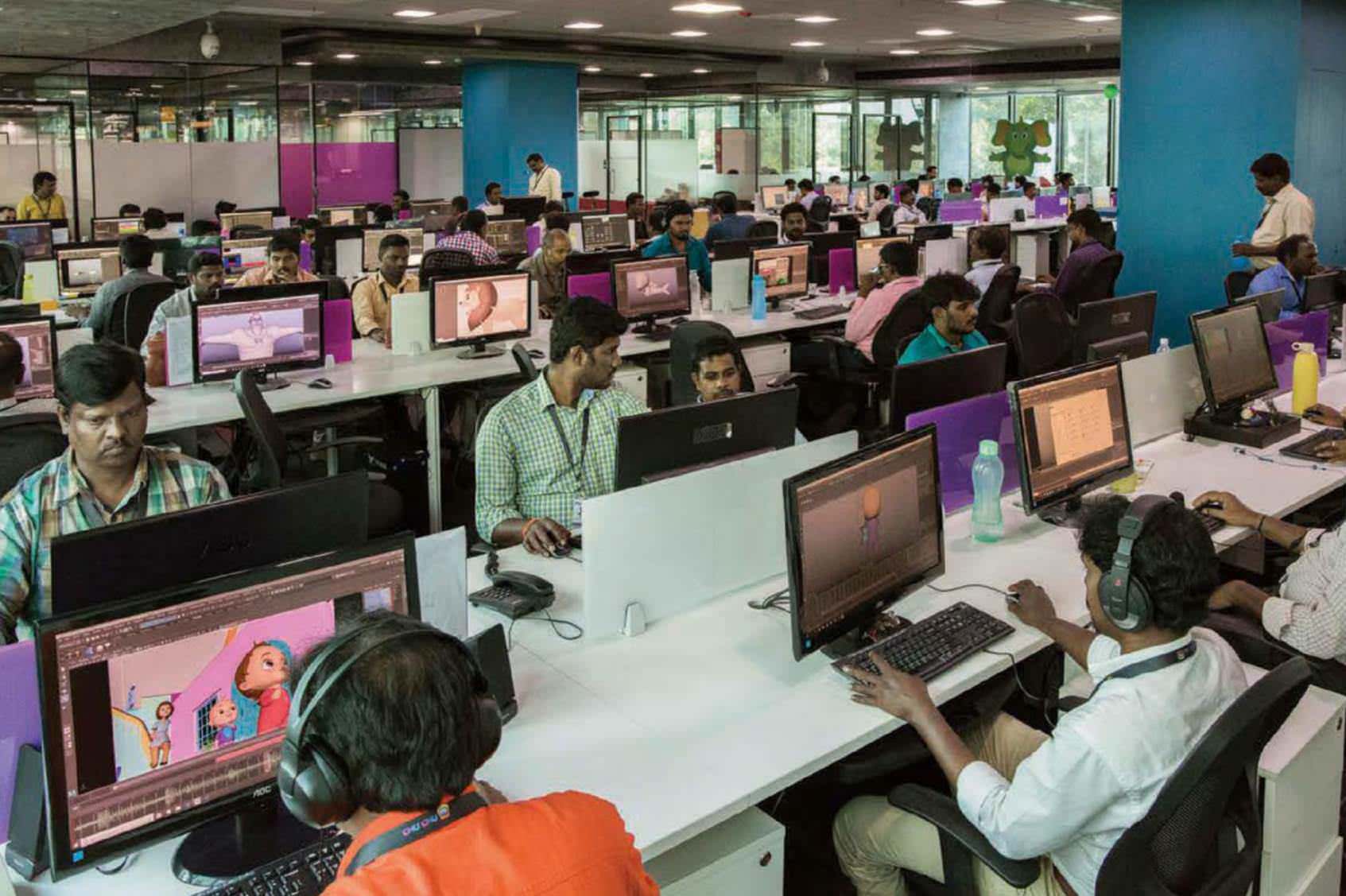 Uber in Chennai is essentially the same as Uber in Oakland, California, where I live. In the airport I hit a button on my phone, and soon a white sedan pulled up outside. My driver was a student who had come to Chennai to break into Tollywood. Yes, Tollywood: T for Telugu, the language spoken by 75 million people, mostly in South India.
The driver dropped me off just south of the center of the city, in an area of new high-rises that overlook Srinivasapuram, a fishing village on the Bay of Bengal. The village hangs on to the edge of the city, which has been modernizing fast; the government has been trying to relocate the village for years. From my hotel, I watched tiny figures wander over to the Adyar River estuary and squat, staring up at the opulence of the new Chennai.
ChuChu's headquarters take up the entire first floor of a blueglass building with bright-yellow stripes. Rows of animators flank a center aisle that houses big, colorful flourishes—weird chairs, structural columns with graffiti on them—signifying "fun tech office!" The work floor is ringed by maybe 10 offices that house the higher-ups. ChuChu says it employs about 200 people.
Chandar met me and led me into a massive conference room. In addition to being the CEO, he also composes music for ChuChu. He's the public face of the company and, at 39, a few years younger than the other four founders, who each hold an equal stake. He sent a young man to get me a coffee, and then we sat down together with his friend B. M. Krishnan, a former accountant and a ChuChu co-founder who is now the company's chief creative officer.
It was after Krishnan joined the creative team, Chandar told me, that ChuChu really began to achieve global popularity. What made the difference, in part, was that Krishnan decided to rewrite nursery rhymes that he felt didn't end well or teach good morals. What if Jack and Jill, after falling down while fetching the pail of water, get back up, learn from the resilience of birds and ants, actually get the damn pail of water, and give it to their mom? "It was 'Jack and Jill 2.0,' " Chandar said. "I thought, This is how a nursery rhyme should be."
After Krishnan rewrote a nursery rhyme, Chandar would then take the lyrics and compose music around them. The songs are simple, but if you hear them once, you will hear them for the rest of your life. Krishnan would storyboard the videos, imagining the sequence of shots, as befitting his youthful dream of becoming a movie director. ChuChu productions are essentially music videos for kids, sometimes featuring Tollywood dance moves that Chandar and Krishnan demonstrate for the animators.
The ChuChu guys didn't set out to make educational programming. They were just making videos for fun. How were they to know they'd become a global force in children's entertainment? As time went on and the staff expanded, the company created a teaching series, called Learning English Is Fun, and worked with a preschool company to develop an app, ChuChu School, that has an explicitly didactic purpose. But generally speaking, Chandar and Krishnan just wanted their videos to be wholesome—to deliver entertainment that perhaps provided kids with a dose of moral instruction.
Krishnan had no experience other than his own parenting. But if whatever he did as a parent worked for his kids, he felt, why wouldn't it work for everyone? For example, when he taught his kids left from right, he liked to do it in the car, when they were in the back seat. That way, if he pointed left, it was left for them, too. So when ChuChu made a video teaching the left-right concept, it made sure to always show the characters from behind, not mirrored, so that when a character pointed left, the kids watching would understand.
As it became clear that ChuChu videos were being watched by millions of people on six continents, Krishnan and Chandar started branching out into original songs and nursery rhymes, which Krishnan has been writing for the past couple of years. Their content runs the gamut, from an adaptation of "Here We Go Round the Mulberry Bush," dedicated to tree planting as a way to fight global warming, to "Banana Song" ("Na na na banana / long and curved banana").
But their most popular video, by far, is a compilation that opens with "Johny Johny Yes Papa," a take on a nursery rhyme popular in India. With 1.5 billion views, it's one of the most watched videos of any kind, ever.
Continue Reading with Magzter GOLD
Log-in, if you are already a subscriber
Get unlimited access to thousands of curated premium stories and 5,000+ magazines
READ THE ENTIRE ISSUE
November 2018