Disney CEO Bob Iger is going out on one last huge bet.
Long before he became chief executive officer of Walt Disney Co. in 2005, Robert Iger developed a habit of waking up on weekdays at 4:15 a.m. and working out. Lately he's been getting up around that hour on weekends, too, to exercise and watch early versions of his studios' movies and television shows. He's been obsessing over the first season of The Mandalorian, a space western from the Star Wars universe created by actor-director Jon Favreau. The show is about a bounty hunter whose armor bears a distinct resemblance to that of Boba Fett, who captured Han Solo in The Empire Strikes Back.
"I've probably seen each episode of The Mandalorian three times," Iger says. "First, to give some notes. Second, to see the rough cut and the impact of the notes. And now, just recently, I watched all the final cuts so that I could be blown away by how it looks." Disney is spending more than $100 million on the show, so it had better be visually stunning and then some.
If you want to see The Mandalorian, you'll have to sign up for Disney+, which launches on Nov. 12. Disney has promised the family-focused streaming service will feature at least 25 new TV shows and 10 new movies in its first year, along with a huge archive encompassing everything from Mickey Mouse's first appearance, in 1928's Steamboat Willie, to the contemporary adventures of The Avengers to the interstellar Star Wars canon. It's the most important product launch in Iger's 15 years as CEO.
It's also the riskiest. Iger built his reputation with 10- figure purchases that turned Disney into Hollywood's most successful movie company: Pixar in 2006, Marvel in 2009, Lucasfilm in 2012. This year, he cemented Disney's hegemony by spending $71 billion to buy much of 21st Century Fox. But for all its production might, Disney doesn't have a deep technology background like its primary streaming competitors Amazon, Netflix, and Apple, which introduced its own service on Nov. 1. And unlike these companies, it has little experience selling productions directly to consumers. Until recently, if you wanted to watch the Disney Channel or ESPN, you had to buy a cable subscription. If you wanted to see a first-run Avengers film, you had to go to a movie theater. And if you wanted to catch it online, you subscribed to Netflix.
Now Disney has the pipes, too, thanks to its $2.6 billion purchase of a controlling stake in New York-based streaming technology company BAMTech. And it's made a big bet that not only can its technology match its competitors', it can overwhelm them on price, with a monthly fee of $6.99, well below Netflix's standard $12.99. Disney will also spend $1 billion on new shows and films next year—a figure that will soon double. Marvel's offerings will include one based on Loki, the adopted brother and sometime nemesis of The Avengers' Thor. Pixar's will include Monsters at Work, featuring Monsters, Inc.'s Mike and Sulley, voiced by Billy Crystal and John Goodman, respectively.
Before Disney revealed the first details of its productions to Wall Street analysts in April, investors had reason to be skeptical of the company's streaming ambitions. Its year-old sports service, ESPN+, had 2 million subscribers but no profits, while Hulu, which Disney took control of in its Fox deal, had more than 25 million U.S. subscribers but was haemorrhaging cash. When it rolled out its new fare, complete with footage, though, "there were two audible gasps," says Jessica Reif Ehrlich, a media analyst with Bank of America Merrill Lynch. "One was when they announced the price, which is way lower than anyone expected, but also when Jon Favreau showed the clip from The Mandalorian. Every guy in the room went crazy." The next day, Disney's share price leapt more than 13%.
The consensus now is that Disney+ will easily meet its hopes for 90 million subscribers globally by 2024 and that ESPN+ and Hulu will add to their totals, bringing the company to as many as 160 million streaming customers. That's not quite in the realm of Netflix, which is expected to have up to 300 million by then, but a very good start. Iger often proclaims that Disney isn't competing with Netflix Inc. Others aren't so sure. "I actually do think he's gunning for Netflix," says Michael Pachter, an analyst at Wedbush Securities. "I think he wants to be bigger than that."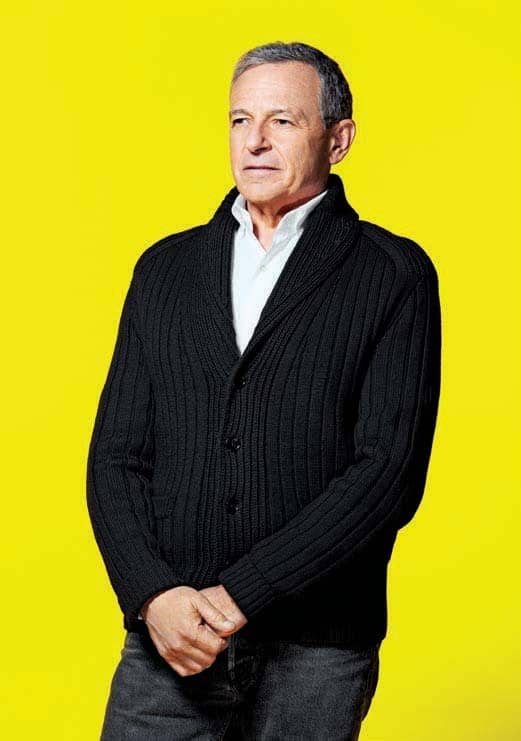 Disney's surging stock price can be read as an endorsement of Iger himself. Some of his spending initially raised eyebrows, but the strategy—basically, Disney is cornering the market on the most valuable entertainment character universes—has worked so far. The consummate corporate diplomat, Iger also made peace early on with such notoriously difficult personalities as Apple's Steve Jobs, who'd feuded with Iger's predecessor, Michael Eisner. Iger was even able to mull a run for president several years ago without incurring the sort of mockery that accompanied Howard Schultz's consideration of the same. (His next political challenge might be winning over Martin Scorsese, who recently likened Marvel movies to theme park rides. "That's not cinema," the Oscar-winning director said. Iger's response? "I'd like to have a glass of wine with him," he told the BBC.)
Disney+ could define Iger's legacy. Now 68, he'd been scheduled to retire this year. Instead, as part of the Fox deal, he agreed to stay on until 2021. He professes certainty that Disney+ is the right step. "It feels absolutely vital for us to do this," he says. "This is, no question about it, the future of media."
In addition to Netflix, Amazon, and Apple, AT&T will deploy its own streaming service next spring, HBO Max, with popular shows from the prestige cable network, plus fare such as Friends and new work from actor-writer-producer Mindy Kaling and director Ridley Scott. In April, Comcast Corp. will serve up Peacock, a streaming service with NBCUniversal offerings such as The Office and Jaws.
Continue Reading with Magzter GOLD
Log-in, if you are already a subscriber
Get unlimited access to thousands of curated premium stories and 5,000+ magazines
READ THE ENTIRE ISSUE
November 11, 2019
When Sleeping Rough Is The Only Way
Bloomberg Businessweek
The Kremlin Shrugs At Climate Change
Bloomberg Businessweek
The Business Cheering Brexit
Bloomberg Businessweek
Rethinking The Soros Fortune
Bloomberg Businessweek
Old Age Could Be A Beauty Gold Mine
Bloomberg Businessweek
Is Tennessee's Free College Program A Model For The Nation?
Bloomberg Businessweek
CEOs Get A Buyback Bonus
Bloomberg Businessweek
Amazon's About-Face On Hardware
Bloomberg Businessweek
Warby Parker Wants To Be The Warby Parker Of Contact Lenses
Bloomberg Businessweek
Viral 'Smart Bombs' Vs. The Superbugs
Bloomberg Businessweek