Can Ingo Wolf Transform Atomic No. 76 Into The Next-gen Diamond?
Can Ingo Wolf transform atomic No. 76 into the next-gen diamond?
The band at the 43rd annual International Precious Metals Institute Conference is billed, at least according to the huge glowing sign near the stage, as Abbacadabra, "the ultimate ABBA tribute." But talented as they are, Ingo Wolf, a 54-year-old German scientist and serial entrepreneur, sees room for improvement. "It's very difficult to make a copy," Wolf shouts over a rendition of Money, Money, Money. He wears a hotel-branded polo shirt, a guitar pendant necklace, and a chocolate smudge on his lip from the nearby fondue fountain (sponsored by Pamp, the Swiss seller of gold bars). "Everyone expects you to be as good as the original."
As we sip Heinekens at a booth at the Peppermill Resort's Edge Nightclub in Reno, Nev., Wolf and I discuss how the singers' glittering microphones look almost as if they're made of osmium, the precious metal he's come to this trade show to promote. Of course, if they were made of osmium, they'd be worth more than all of ABBA's music royalties combined. "You have to mine 10,000 tons of platinum ore just to find a sugar cube of osmium," he asserts. "This is what we call rare."
Wolf 's big bet is that the element, which is extracted in vanishingly small quantities as a byproduct of nickel and platinum mining, has commercial potential even greater than that of diamonds. Osmium crystals, which, unlike diamonds, can form only in laboratory settings, have stronger abrasion resistance and purportedly refract light at greater distances than the traditional engagement ring gemstone. Since starting the Osmium-Institute, a sort of for-profit advocacy group that oversees trade certifications and outreach to merchants and consumers, Wolf has been talking up these and other distinctive properties, such as osmium's highest-of-all- metals density and its gorgeous, Atlantis-blue finish.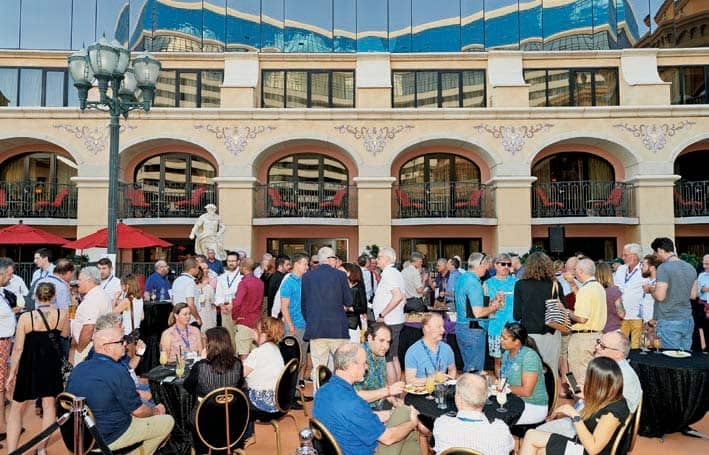 Osmium also happens to be a potential chemical weapon: In its oxidized state, the element, discovered in 1804 and named after the Greek word for "odor," is extremely toxic. It can cause lung damage—researchers describe it as " dryland-drowning"—and eye damage so severe it stains corneas black. Wolf once risked a nonlethal sniff of toxic osmium tetroxide, which, he says, smelled of "garlic and onions, like a doner kebab." He and his lab partner claim to have developed a crystallization process that renders osmium harmless and transforms it into the "chameleon of jewelry," as one of the institute's many informational websites phrases it. These mirrored gems can then be cut into diamondlike star pendants that sell for $5,800 or can be sold to investors as $1.3 million discs.
Wolf guards his proprietary method so closely that he implores me not to disclose his chemist partner's name or their lab's location in Switzerland. "As you American guys say, 'This is TOP SECRET!' " he says in theatrical, umlaut-laden English. "The best protection is if gangsters don't know where to go." For that reason, he doesn't store any osmium on-site at the institute. "If they run in with Kalashnikovs, they could only steal some files," he says. "There's so much money involved that it's really dangerous. This is not a joke."
Maybe not, but there's something slightly comical about Wolf, who sports silver stubble, a mess of white hair, and an ever-revolving selection of golf shirts, and says he bathes only by waterskiing. He tells me that, in addition to osmium, he's been involved in 14 ventures, including an internet-based television company, a 24/7 dance studio, an electric car project, an infrared-paint home- heating startup, and a rockabilly trio called the RaceCats, for which he remains lead singer and guitarist. His 24-year-old vice director for international business development, Scarlett Clauss, a former model who business associates often mistake for Wolf 's girlfriend, jokingly calls him a Rampensau, which she translates as a "pig that likes the spotlight."
In the boom-and-bust game of precious metals, such charismatic yet slippery qualities may be exactly what's needed to alchemize a whole new human obsession, fashioning extravagant value and elemental infatuation from nothing more than very, very dense primordial dust. Wolf estimates there's $50 billion worth of accessible osmium left in the Earth's crust, a value he predicts will quadruple in the next five years. Of course, the market could crash just as easily. It all depends on whether he can convince industry players, such as those at this Reno nightclub, that osmium diamonds are even better than the original. The only difference between his wizardry and Abbacadabra's? "They're doing pop!" Wolf yells over the music. "We're doing rock 'n' roll!"
Continue Reading with Magzter GOLD
Log-in, if you are already a subscriber
Get unlimited access to thousands of curated premium stories and 5,000+ magazines
READ THE ENTIRE ISSUE
September 02, 2019
THE TOKYO JOB
Bloomberg Businessweek
The Pollution-Busting Drones Of Krakow
Bloomberg Businessweek
The One Who Got Away
Bloomberg Businessweek
Ready to Rock
Bloomberg Businessweek
Forever Is a Long Time
Bloomberg Businessweek
Nobody Makes Money Like Leon Black
Bloomberg Businessweek
Modi's Economic Mess
Bloomberg Businessweek
A Housing Start for Microsoft
Bloomberg Businessweek
Can The Renault-Nissan Marriage Be Saved?
Bloomberg Businessweek
Mushroom Medicine
Bloomberg Businessweek