Bhamashah Yojana has successfully achieved efficiency of benefit transmission via DBT and also promoted women empowerment in the state. Please tell us about the impact of Bhamashah Yojana on the person at the last mile.
The power of financial inclusion was writing on the wall way back in the mid-2000s. If you look back at our track record between 2003 and 2008, you will find that our government was serious that every household should have a bank account. It was then that the Bhamashah Programme was conceived – a bank account in the name of the woman head of family and a small seed money to get her started.
It was then that the woman self-help group movement in Rajasthan became internationally renowned. Bhamashah V-2 leverages the power of Jandhan, Aadhaar and Mobile Connectivity and is today India's largest DBT platform. We have become the first State to achieve direct transfer of benefits worth more than Rs 20,000 crores transferred directly to the bank accounts of more than 5.73 crore beneficiaries – a population greater than that of many countries.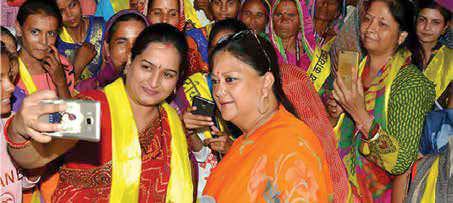 Bhamashah gives a family an identity and empowers women by strengthening her voice in financial decisions within the family. Bhamashah has been applauded and awarded far and wide.
Its impact is not just to be acc