Boning and butterflying a lamb leg turns a wintry cut into one primed for braaing (see recipe tip on page 40). Not only does a butterflied leg cook relatively quickly, it marinates well and has the benefit of picking up char from the grill. While you may come across butterflied legs, bone-in is cheaper. The bone can be roasted and used to make pan sauces.
tips
The butterfly effect: Butterflying not only opens a lamb leg out so the meat cooks evenly to the same degree throughout, it also maximises the surface area, which helps when you're adding flavourings. Don't be afraid to put a few slashes in the leg. This makes sure the muscle bundles won't pull tight and curl up on the grill, and also helps any spices or marinades to penetrate the meat – either Greek-style with fragrant herbs, lemon, garlic and olive oil, or North African flavours like harissa or ras el hanout.
Toolkit: While you can use a paring knife, a boning knife – typically a short, curved knife with a rigid blade – is designed for cutting through meat and joints, and up against bone. The right knife will make your job much easier.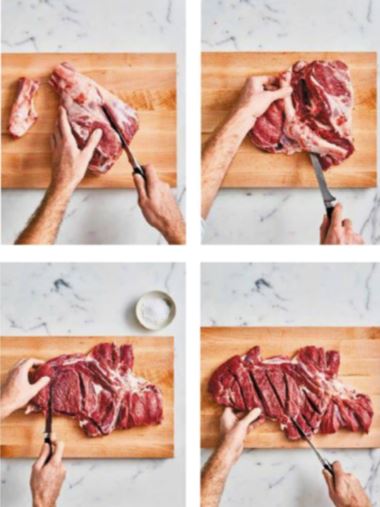 Step by step
1 With the leg fat-side down and the thick end facing you, feel along the leg to locate the knee joint. The first cut is