Stephen Billingham has combined his business, passion and hobby to showcase what is arguably the largest collection of vintage culinary equipment in the country at his HTA School of Culinary Art in Johannesburg. Each piece tells a story of heritage, housekeeping and history
A visit to HTA School of Culinary Art in Randburg, north-west of Joburg, is a juxtaposition of old and new. Students learn to cook using the latest equipment, crafting their culinary skills to become top chefs of the future. And yet they are surrounded by hundreds of years of history in the form of vintage, antique and pre-loved items on every wall and surface, inside and outdoors, across the premises, reminding them that once upon a time, the daily conveniences they take for granted looked quite different.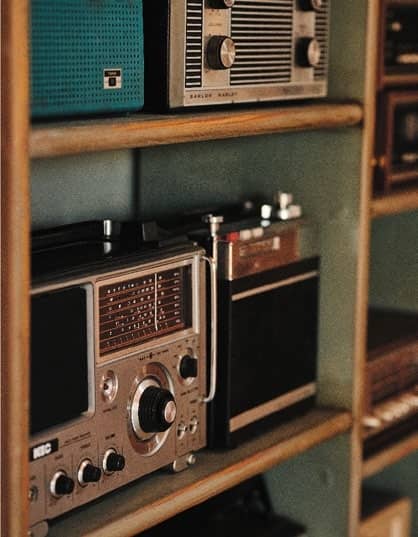 Chef, educator, businessman and HTA's founder, Stephen Billingham, has a fascination for copper pots, pans and kettles; mincers, grinders, slicers and cutters; pepper mills; scales; tins; milk cans; signage; piping nozzles, cookie cutters, cake tins and measuring cups; cutlery, chef's knives and lifters; and much more. In similar numbers are vintage typewriters, movie cameras, film reels, books, cupboards, ice boxes, shelves, Dutch ovens, and grape and maize presses. He even has a 1953 VW Beetle boot bonnet, which has pride of place in what was the original garage of the homestead on which the school is built, now called the Culinary Garage.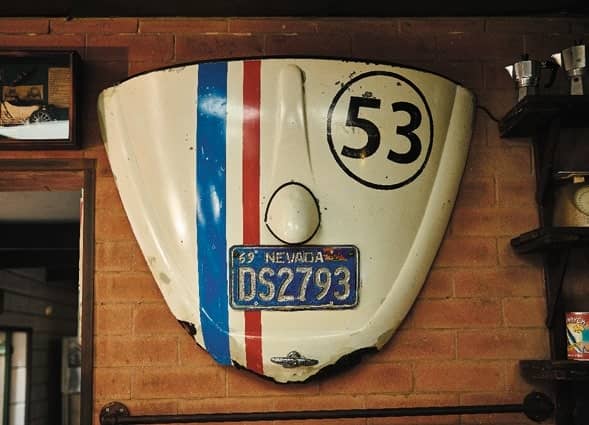 All of these treasures reflect the rich culinary legacy and heritage of South Africa and the international cooks and chefs who form the foundation of today's hospitality industry. These are household and professional kitchen items that once were involved in everyday life, and perhaps still are, in kitchens around the country. Stephen is a self-confessed building and memorabilia collecting addict, the two passions going hand in hand – for every building, room and venue that goes up creates a blank canvas on which to create new and interesting displays.
"Foraging comes naturally to chefs. Recently I foraged for aged zinc corrugated sheets and salvaged building materials in the Cosmo City informal settlement. These pieces lend a bespoke look; they have heritage and history, and are naturally weathered," Stephen explains. "I like to think each item I collect carries the spirit of those who came before – our ancestors. I look for objects that are strong, built to last. I've been attending auctions almost weekly for about six years and I find the buzz addictive – it's exciting and maybe I'd like to be an auctioneer myself one day. My wife, Kerry, says I am gifted in turning cash into trash!" he jests.
For Stephen, transforming HTA into something of a culinary museum is a joy. "I'm recreating warm and fuzzy childhood memories. There is something about people who like old things – pieces with a story and history – and pieces that have travelled a journey. Many times, people don't know what's under the grime but with a scratch of a fingernail on a blackened pot, I can spot the big finds, like a valuable copper piece," he says.
Among Stephen's personal favourites are items bought on auction from the old Carlton Hotel and the Gramadoelas restaurant – from the latter he got their original metal plaque from when the restaurant was in Hillbrow, stating, "Established 1967", the same year Stephen was born. Other prized items include a copper chafing dish that is still in use and an Aviary scale. The first piece he ever bought was a vintage pepper mill for R5 at a flea market in Greenmarket Square, Cape Town, in 1990.
Inventory-taking is an ongoing process but Stephen can spot a missing item in seconds. A recent tally revealed approximately 1 000 copper pieces, including 50 vintage copper pots; 260 vintage scales; 200 mincers, graters and juicers; 185 pepper mills; 50 vintage clocks; and 30 Italian coffee pots. "Scales represent balance and clocks reflect time gone by and time running out", Stephen notes.
Continue Reading with Magzter GOLD
Log-in, if you are already a subscriber
Get unlimited access to thousands of curated premium stories and 5,000+ magazines
READ THE ENTIRE ISSUE
September 2019
12 Days Of Christmas Desserts
Food & Home Entertaining
Turkey Delight
Food & Home Entertaining
Raising The Steaks
Food & Home Entertaining
Cover Recipe
Food & Home Entertaining
#Eat More Plants
Food & Home Entertaining
CARROT LOX
Food & Home Entertaining
Frozen Assets
Food & Home Entertaining
GUAVA-RIPPLED MERINGUES TOPPED WITH PISTACHIOS
Food & Home Entertaining
Hemp Seed Powder
Food & Home Entertaining
Plain Sailing
Food & Home Entertaining
5 Tips For A Healthy Holiday Meal
Alternative Medicine
How Does The Sausage Get Made?
Field & Stream
Gluten-Free Italian Desserts
Delight Gluten Free
Savory Pumpkin Recipes
Delight Gluten Free
You Can Try This At Home: Cookbook Serves Up TV, Movie Foods
Techlife News
Pumpkin Pockets
Spider Magazine for Kids
5 Fall Superfoods To Feast On Now
Better Nutrition
Does Outsourcing Affect Our Personal Connection To Food?
AppleMagazine
Where Healthy Family Fare Meets Fun
Clean Eating
Fiery Labor Day BBQ Sauce
Better Nutrition