Six Blooming Good Recipes For A Queen Bee
We're abuzz with excitement over this month's star ingredient! Sticky, sweet and oh-so yummy to eat, it's no wonder Pooh Bear loved his pots o' honey so much. Made with the help of the entire hive, our six blooming good recipes are fit for a queen bee
POTATO, ROSEMARY, HONEY AND ROASTED GARLIC FLATBREAD
Serves 4 EASY 30 mins
WHAT YOU NEED
cake flour, to dust
400g ready-made bread dough
(find at the bakery counter of your local supermarket)
3 potatoes, finely sliced into rounds using a mandolin slicer
1 tbsp chopped fresh rosemary leaves + extra sprigs, to garnish olive oil, to drizzle
salt, to taste
1 garlic bulb, top sliced off and bulb roasted in an oven preheated to
180ËšC for about 30 minutes
honey, to drizzle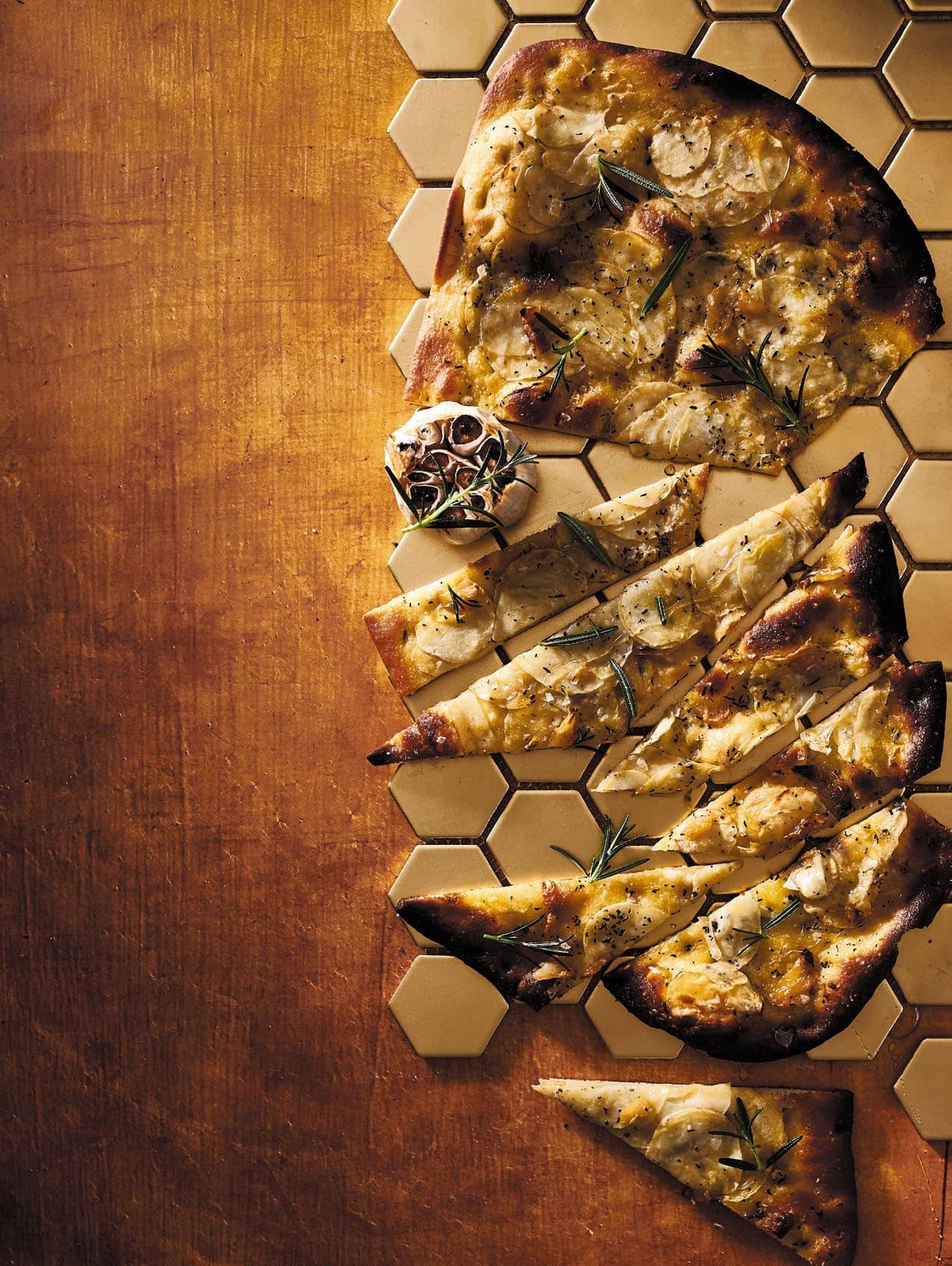 HOW TO DO IT
1 Preheat the oven to 200ËšC. On a lightly floured, clean work surface, press and stretch the ready-made bread dough into an oval shape of about 1cm in thickness. Transfer to a floured baking sheet. Arrange the potato slices on the dough, sprinkle with the chopped rosemary, generously drizzle with the olive oil and season with the salt.
2 Bake in the preheated oven until golden, 10 – 15 minutes. Remove from oven. Squeeze the soft, roasted garlic cloves out of their skins and spread over the flatbread. Drizzle with the honey just before serving. Garnish with the extra rosemary sprigs. Enjoy warm.
CHICKEN, CUMIN AND HONEY MEATBALLS WITH ORZO
Serves 4 EASY 40 mins
WHAT YOU NEED MEATBALLS
450 – 500g minced chicken
1 tbsp cumin seeds, toasted and crushed
1 tsp ground coriander
1 tsp dried mixed herbs handful fresh flat-leaf parsley, chopped
2 garlic cloves, peeled and minced salt and freshly ground black pepper, to taste
canola oil, to fry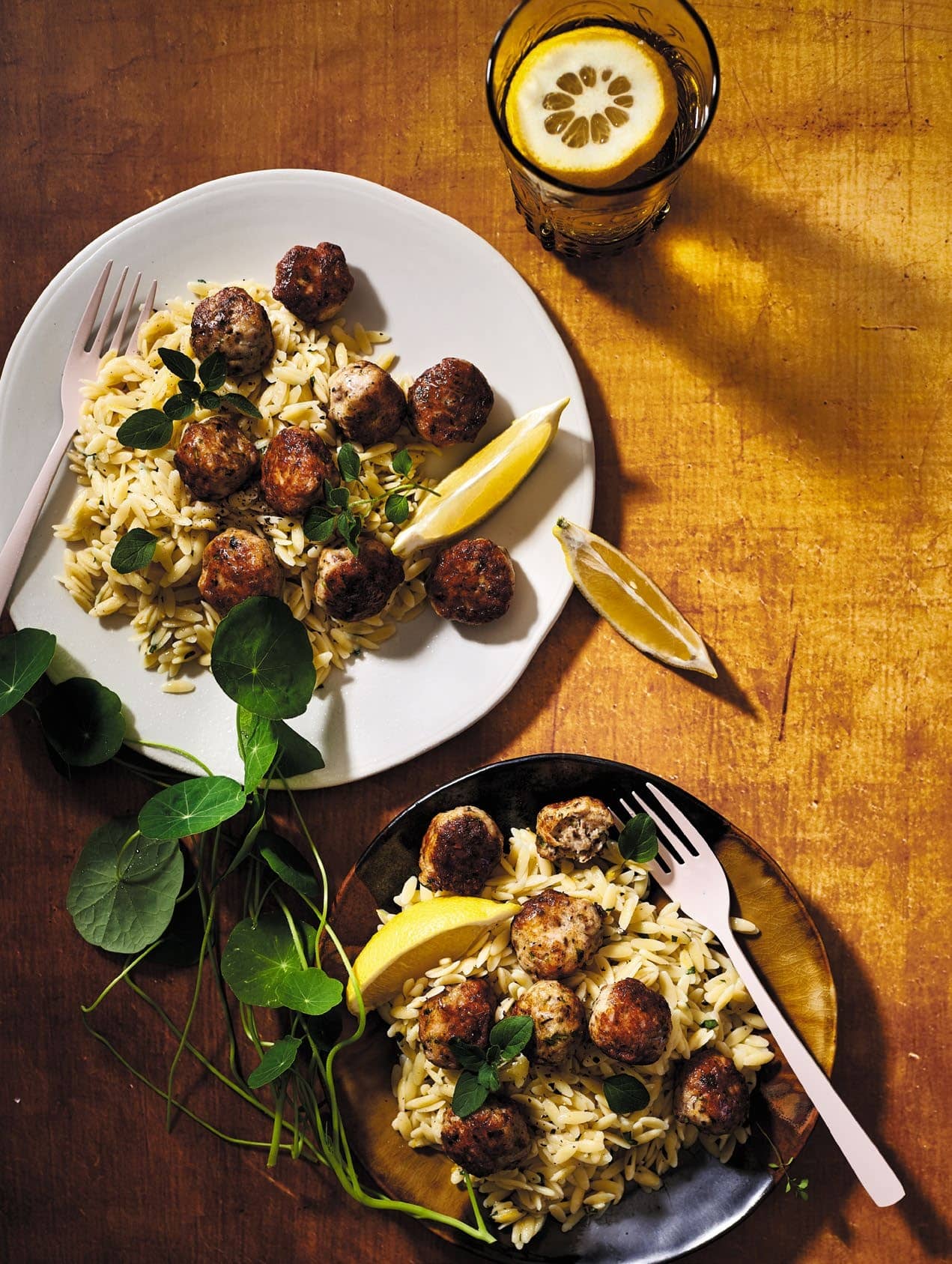 ORZO
500g orzo, cooked according to packaging instructions zest and juice of 1 lemon + lemon wedges, to serve handful fresh oregano, finely chopped + extra, to garnish
3 tbsp olive oil salt and freshly ground black pepper, to taste
HOW TO DO IT
1 For the meatballs, combine the minced chicken, crushed cumin, ground coriander, dried mixed herbs, parsley, garlic, salt and freshly ground black pepper in a large bowl. Mix until well combined. Use a teaspoon to scoop dollops of the mixture. Roll each spoonful between the palms of your hands to form a ball a little smaller than a golf ball. Repeat until the mixture is finished.
2 Heat the canola oil in a large frying pan over medium-high heat. Add the meatballs in batches and fry until cooked, about 5 minutes per side.
3 For the orzo, combine all the ingredients in a large bowl. Mix until well combined.
4 To serve, divide the orzo among 4 serving plates. Top each portion with a few meatballs. Garnish with the fresh oregano. Enjoy with the lemon wedges alongside, for squeezing.
SMOKY HONEY-GLAZED DUCK BREAST WITH SESAME RICE AND TANGY TURNIPS
Serves 4 EASY 1 hr
WHAT YOU NEED DUCK
120ml soya sauce few drops hickory liquid smoke
2 tsp sesame oil
150g honey
1 tsp dried chilli flakes
2 tbsp fresh ginger, grated
4 duck breasts, scored
1 – 2 tbsp salted butter
SESAME RICE
500g sushi rice, rinsed in cold water
750ml (3 cups) water
6 – 8 spring onions, finely chopped and sautéed
4 tbsp each black and white sesame seeds, toasted
Continue Reading with Magzter GOLD
Log-in, if you are already a subscriber
Get unlimited access to thousands of curated premium stories and 5,000+ magazines
READ THE ENTIRE ISSUE
September 2019