Assembly Elections: More Of An Alliance
Shiv Sena leader Uddhav Thackeray and BJP Maharashtra Chief Minister Devendra Fadnavis
In the first Assembly elections after the BJP's triumph in the Lok Sabha polls in May, the saffron party's electoral juggernaut met with some resistance in Maharashtra and Haryana with a resurgent Congress putting up a good show in the northern state. With the Congress managing to give the Bharatiya Janata Party a scare in Haryana and winning around the same number of seats as it did in 2014 in Maharashtra, these election results will come as a booster shot for the party. Had the BJP anticipated the results it would have had been different, but it's more of an outcome of overconfidence which is worrisome.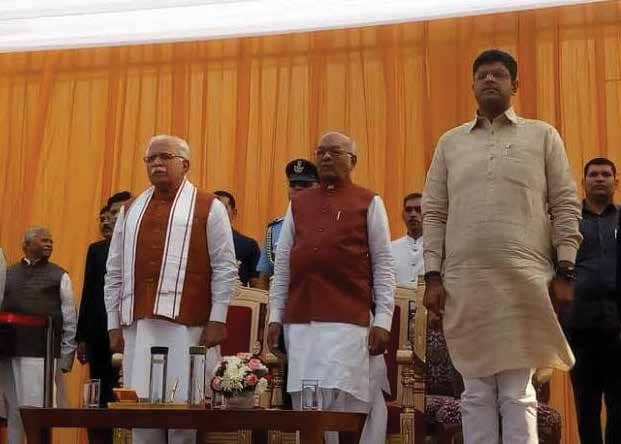 Haryana
Continue Reading with Magzter GOLD
Log-in, if you are already a subscriber
Get unlimited access to thousands of curated premium stories and 5,000+ magazines
READ THE ENTIRE ISSUE
November 2019
Ban On Plastic: A Shot In The Arm Of Dying Pottery
Eastern Panorama
End Of Insurgency In The Northeast?
Eastern Panorama
PMC Bank And The Fate Of Its Account Holders…
Eastern Panorama
Assembly Elections: More Of An Alliance
Eastern Panorama
Restoring The Glory Of Ayodhya
Eastern Panorama
A Seminar On Women Empowerment And Heritage Walk
Eastern Panorama
PM Modi Visits Mathura Remembers The 9/11 Attacks
Eastern Panorama
An Example In Minimizing Plastic Waste
Eastern Panorama
Gandhi 'The Man Of The Century'
Eastern Panorama
An Interaction With The Bjp Leader Vijay Kumar Gupta On Nrc
Eastern Panorama
India Election Body Struggles With Scale Of Fake Information
AppleMagazine
India At A Crossroads
Reason magazine
Priyanka, Akhilesh link Unnao rape case accused to BJP
The Hindu
Hiccups On The Home Stretch
India Today
BJP Needs A Sixer
India Today
नई सुबह के इंतजार मे अयोध्या
India Today Hindi
'Subsidise Whom: Aam Aadmi Or Big Corporates? What's Better Economics?'
Outlook
From Alt to Real Politik
Outlook