Ban On Plastic: A Shot In The Arm Of Dying Pottery
Plastic entered our planet in 1870. John Wesley Hyatt, an American extracted plastic from a material called celluloid.
By 2015, the world produced 322 million tons of plastic. But realization of adverse impact of plastic on the environment has only dawned on us now. Today, the world has to struggle to recover from the plastic deluge. In this battle, against plastic, humans must achieve victory, failing which plastic will lay us to rest. If human is the part of problem, human can be a part of solution to that problem. The recent call for avoiding the use of single-use plastic sounds convincing. But it is going to be just a small step forward which is friendly to Nature considering the host of human activities which are detrimental to Nature. The natural environment is dying for a much-needed respite from plastic pollutant. The move is laudable given the disastrous effect of this nuisance on our planet. It should have been a reality long ago, because non-biodegradable plastic has already taken toll on the health of the environment, but better late than never.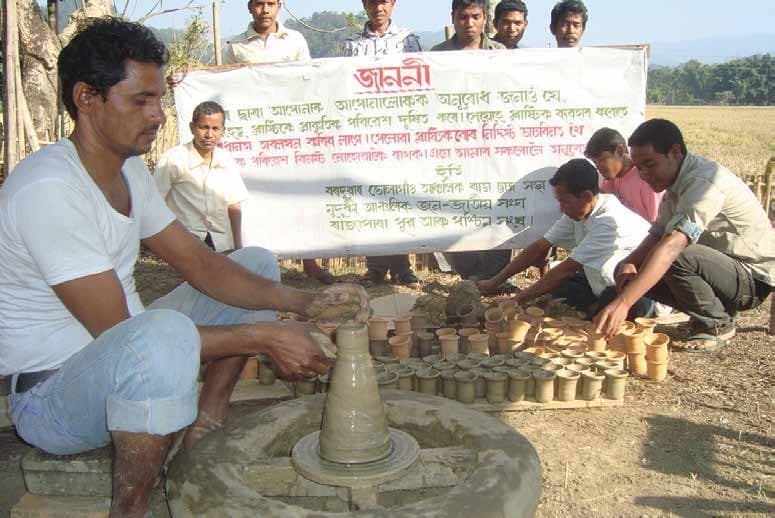 Continue Reading with Magzter GOLD
Log-in, if you are already a subscriber
Get unlimited access to thousands of curated premium stories and 5,000+ magazines
READ THE ENTIRE ISSUE
November 2019
Ban On Plastic: A Shot In The Arm Of Dying Pottery
Eastern Panorama
End Of Insurgency In The Northeast?
Eastern Panorama
PMC Bank And The Fate Of Its Account Holders…
Eastern Panorama
Assembly Elections: More Of An Alliance
Eastern Panorama
Restoring The Glory Of Ayodhya
Eastern Panorama
A Seminar On Women Empowerment And Heritage Walk
Eastern Panorama
PM Modi Visits Mathura Remembers The 9/11 Attacks
Eastern Panorama
An Example In Minimizing Plastic Waste
Eastern Panorama
Gandhi 'The Man Of The Century'
Eastern Panorama
An Interaction With The Bjp Leader Vijay Kumar Gupta On Nrc
Eastern Panorama