Kevin Kwan, author of Crazy Rich Asians gets to know some of L.A's most stylish global transplants.
"Los Angeles is a cultural wasteland."

"All anyone talks about is the traffic." "No one in L.A. has any style. You go out to a nice restaurant and the women are dressed in shorts and the men are wearing flip-flops."

These are all real quotes I've heard from New Yorkers, and having lived in Manhattan for almost half my life, I once agreed. But all that changed last year after Crazy Rich Asians, the film adapted from my novel, became the highest-grossing romantic comedy in a decade. As I began working on new film and TV projects, like writing and producing the pilot for a sitcom titled The Emperor of Malibu, I found myself spending more and more time in La La Land. By the time I was dragging four suitcases out of an Uber last October, it finally hit me: "Oh I guess I live here now." But the bigger epiphany was realizing just how much I loved my new life and how different it was than I expected.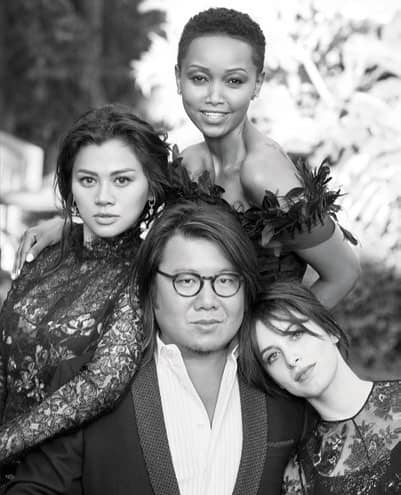 Sure the traffic in L.A. is bad, but it's no worse than Mexico City or Bangkok. And for a place supposedly devoid of culture, I've met and befriended more artists in the past year than I ever did before, and discovered a city rich with history and amazing secrets. "James Dean lived there," a friend would say, pointing to the gorgeous Spanish-style building on my street. Or I'd walk into a cafe hidden behind a strip mall, enjoy the best penne al pesto of my life, and notice a European princess sitting at the table on my left and a legendary Hollywood star on my right. Where else on earth can you sit at an outdoor terrace in January wearing flip-flops with such fabulous people watching? (Yes, what they say about flip-flops is true, but does it help that mine are handmade from Capri?) The City of Angels is undoubtedly going through a remarkable renaissance. Every time I step out of my door I feel an unmistakable frisson in the air. L.A. is now home to a decidedly sophisticated global crowd who could live anywhere but have chosen to be here right now because they feel it too.
At high noon on a Thursday in June, I stand on the Venice Beach Boardwalk watching the stunning Adinda Bakrie—whose family founded Indonesia's Bakrie Group, which has companies that span telecommunications, media, mining, oil and gas, and property development—balancing on a gold skate deck in mirrored Louboutins while a pair of muscled skateboarders do kickflips around her. When Adinda isn't draped in ostrich feathers, she can be found working for her family's foundation to build schools on islands throughout Indonesia, taking her two kids, Kierra, eight, and Kellan, five, to jujitsu practice or until very recently, attending class herself—at the age of 37, she just completed a master's in psychology at Pepperdine University.
Continue Reading with Magzter GOLD
Log-in, if you are already a subscriber
Get unlimited access to thousands of curated premium stories and 5,000+ magazines
READ THE ENTIRE ISSUE
September 2019
Unfolding The Future
Harper's Bazaar Malaysia
Monkey Business
Harper's Bazaar Malaysia
Departure Lounge
Harper's Bazaar Malaysia
Haute Wheels
Harper's Bazaar Malaysia
Eat, Drink, And Stay Fit!
Harper's Bazaar Malaysia
Deep Impact
Harper's Bazaar Malaysia
Bright And Bold
Harper's Bazaar Malaysia
A Library Of Flavours
Harper's Bazaar Malaysia
Enter The Labyrinth
Harper's Bazaar Malaysia
Looking Ahead
Harper's Bazaar Malaysia