The World's First Leather Convertible PC
The world's first leather convertible PC is more than just a pretty face. Here, the HP Spectre Folio reinvents form and function into one seriously stylish and powerful device.
"Touch has a memory," reads a quote by English Romantic poet, John Keats; the velvety softness of a black orchid in a restaurant downtown, the touch of mulberry silk on the skin, and the buttery soft leather of a car seat, bring about a seductive memory, followed by a quiet smile. In a world where we've become so accustomed to swiping on screens and tapping on keyboards, a soft touch brings about a sense of warmth and luxury, weathered imprints that only look better with time, giving a sense of individuality and comfort—like a favourite leatherbound book or journaled sketches.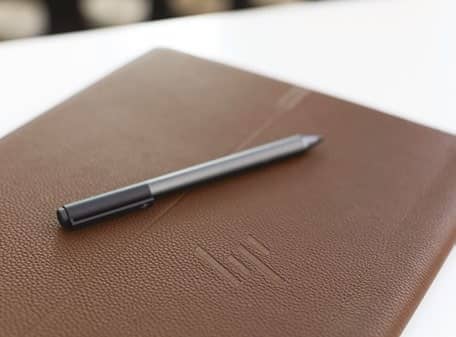 Understanding this desire for tactile experiences, the HP Spectre Folio reinvents the digital experience and every aspect of the traditional PC. What was once associated with cold, hard surfaces now comes to life with a transformative form factor: a leather convertible PC—the world's first, no less—embracing the art of 'manucrafturing' where meticulously designed hardware meets handcrafted materials.
Continue Reading with Magzter GOLD
Log-in, if you are already a subscriber
Get unlimited access to thousands of curated premium stories and 5,000+ magazines
READ THE ENTIRE ISSUE
BAZAAR NEWS
ROCKET MUM
Harper's Bazaar Malaysia
FUTURE HISTORY
Harper's Bazaar Malaysia
BORN READY
Harper's Bazaar Malaysia
AMPED UP
Harper's Bazaar Malaysia
Ear Seeds Acupuncture Without Needles
Harper's Bazaar Malaysia
What It's Like To Live Life Virtually
Harper's Bazaar Malaysia
Fashion's Next Frontier
Harper's Bazaar Malaysia
Chris Hemsworth- Man Of The Hour
Harper's Bazaar Malaysia
Future Proof Your Beauty
Harper's Bazaar Malaysia
Lightness Of Being
Harper's Bazaar Malaysia
Hands On With Microsoft's Project XCloud: Putting Cellular Cloud Gaming To The Test
PCWorld
Microsoft's 10 Biggest Ignite Reveals Include The New Edge, And More Ways To Tie Office To The Web
PCWorld
How To Host Your Own Password Server
Maximum PC
The History Of The PC
Maximum PC
Why You Can Stop Paying For Anti-Virus Software
PCWorld
These Researchers Want To Save You From Ransomware—For Free
PC Magazine
AMD Ryzen 7 3700X
Maximum PC
Remnant: From The Ashes - A Surprisingly Nourishing Mechanical Soup
PC Gamer US Edition
Reference Vs. Custom Graphics Cards Which Should You Buy?
PCWorld
Hands On: EA's Project Atlas Cloud Gaming Service
PC Magazine