When the most sensible choice given the biblical conditions is a Lambo, you know it's not exactly business as usual...
Knockhill Racing Circuit in Scotland, in the kind of rain that depresses ducks. My group? A ruinously expensive/exclusive Ford GT, the only slightly less top-end Lamborghini Huracán Performante and a lightly feral McLaren 720S. Erm… yay?

Nothing like starting at the pointy end.

I am, however, as likely to complain about driving three of the most superlative supercars of 2017 as I am to moan about winning the lottery, even if I am convinced that I just saw a salmon trying to swim up Turn 3. And so, lightly threatened by all three cars, I decide to go for the one least likely to immediately spit me into an advertising hoarding for Caber Coffee: the Lamborghini. I know, it seems like a woefully misguided idea that the least intimidating of any car park could be a Lambo, but in this company, all-wheel drive and the unboosted nature of a naturally aspirated V10 are about as much comfort as I'm going to get.

It looks pretty angry, mind. Matte orange, the new ALA (Aerodinamica Lamborghini Attiva) wings, cannon-muzzle exhausts. The interior is lightly batshit, fractalled with Lamborghini's hexagon obsession and feathered with its uniquely dappled "forged composites" – like someone wiped over the wet carbon with a dry sponge. But it sounds orchestral on start-up, and positively cinematic on the move. It's notably harder and more immediate through the control surfaces than a standard Huracán, and changes gear with the kind of whip-crack immediacy that makes you grin. And it feels lighter than the fortysomething kilo diet from the standard car can explain. Good stuff.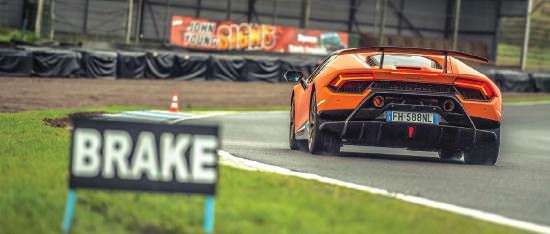 It is also joyous. It makes every tiny thing momentous, and fills in the gaps with anticipatory wonder. So it's highly unlikely that I'll be troubling the ALA active-stalling aero on such a tight circuit – though I'm almost positive I can feel the car stabilising on the long, fast left towards the bottom hairpin – but the all-wheel drive hauls the car straight, even when the surface is slick and shiny with potential embarrassment. Faster and faster we go, and every lap, the Performante finds another rung of ability, another level of excitement. And it's got that emotional connection dialled. You want supercars that are exciting? The Lambo delivers in spades.
Continue Reading with Magzter GOLD
Log-in, if you are already a subscriber
Get unlimited access to thousands of curated premium stories and 5,000+ magazines
READ THE ENTIRE ISSUE
December 2017