Why David Morin Suddenly Fighting For His Life?
David Morin was one of the most successful models in the fitness industry. So why was he suddenly fighting for his life?
DAVID MORIN WAS LYING in a hospital bed with a thick tube stuck down his throat and wires running off him into various medical machines. Things were not good. He was in a coma, and he'd been like this for five days. Ironically, it was the early hours of his 41st birthday—Oct. 9, 2015.
No one is supposed to fall into a coma, but Morin really wasn't supposed to. As one of the world's most sought-after fitness models, he was literally the picture of health. People paid good money to put his handsome mug on the cover of their magazines or shoot his shredded body for their instructional fitness videos. He was one of 10 men featured in a documentary, now on Netflix, called The Perfect Physique. (The title says it all.) He had even shot some scenes with Mark Wahlberg in the bodybuilding-themed Michael Bay film, Pain & Gain. (That's Morin in the turquoise Miami Dolphins cutoff tee and purple Zubaz pants.)
Now here he was in a hospital bed—motionless, breathing with the assistance of a ventilator, given a 50% chance of survival. His condition wasn't the result of some catastrophic injury, either. He had just been working a lot, traveling from his home in Florida to various parts of the world, when he found that he could barely breathe. He was headed to the gym with his girlfriend when she studied his unusually pale face and remarked, "You don't look so good." "I don't feel so good," he replied. Then, boom, he blacked out. He didn't even remember being rushed to the ER.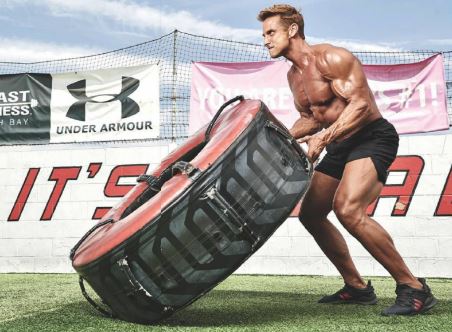 At the hospital, doctors discovered a large blood clot in his lungs—a pulmonary embolism— stemming from a cyst on the side of his heart. This is why he had found it nearly impossible to breathe, and why he ended up comatose. Then, on the fifth day, Morin says, he began floating above himself—staring down at his lifeless body and the other people in the room.
AS DIRE AS THIS situation was, it was by no means the first big challenge Morin had ever faced. Born in Germany to an Air Force pilot, he was a selfdescribed "military mutt" who grew up in three countries (Germany, England, and the U.S.) and a handful of states (California, Hawaii, Virginia). As a child, he struggled to make deep friendships with other kids, knowing he would be saying goodbye soon enough.
Continue Reading with Magzter GOLD
Log-in, if you are already a subscriber
Get unlimited access to thousands of curated premium stories and 5,000+ magazines
READ THE ENTIRE ISSUE
February 2019