With rolling greens and panoramic vistas, the award-winning Sentosa Golf Club boasts a rich history – it was officially opened in 1974 by then Prime Minister Lee Kuan Yew, and has since hosted celebrities, dignitaries and world-class golf professionals from all over the world.
It's not just a great location for teeing off too. The sprawling property with a stately disposition is a delightfully laid-back yet impressive wedding venue for urbanites in need of a green retreat.
For starters, the fabulous views, clear skies and captivating sunsets will give your solemnisation ceremony an enchanting ambience.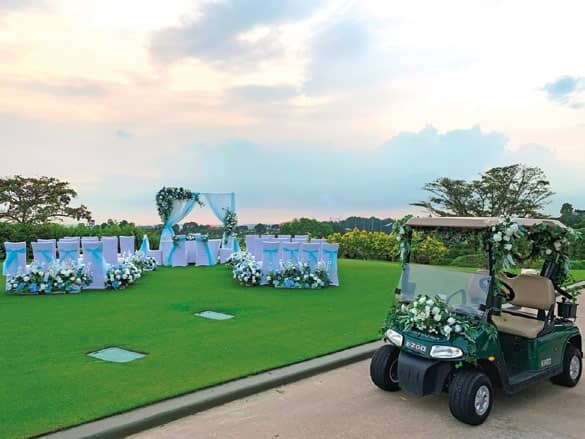 A major draw is The Pyramid, a garden-like setting on the highest point of the island with a serene waterfall, aptly named "Lovers Falls". It is located on the open lawn of The New Tanjong Golf Course Hole No. 4. You'll also be able to hold a banquet here after pledging your love.
From the rooftop of the Sentosa Pavilion, your guests will have a clear view of the breathtaking expanse of the Serapong Course as well as the Singapore harbour skyline as they enjoy the celebration.
Your other option is the Clubhouse Lawn, which overlooks the idyllic South China Sea. From this beautiful spot, you will get a marvellous view of the New Tanjong Golf Course.