The fact that it was both a Friday as well as being the 13th didn't seem to weigh too heavily on us, if indeed it was noticed at all.
Julian Evan-HartJulian Evan-Hart
Our minds were far too full of excitement as we headed off to Detectival, which was once again being held near the village of Burford in Oxfordshire.

As the scenery slowly changed from bricks to hedgerows and drystone walls, the anticipation was beginning to build up. Finally arriving we all settled in and had a walk around to see who was where etc. This is the initial part that I really like, as the atmosphere starts to slowly build. Detectival thrives on being the perfect fusion of awe, friendships, success, finds, scenery and respect. For detecting it is like the perfect celebratory platform for the hobby's successes over the past year and also the perfect launch pad for its successes in the one to come.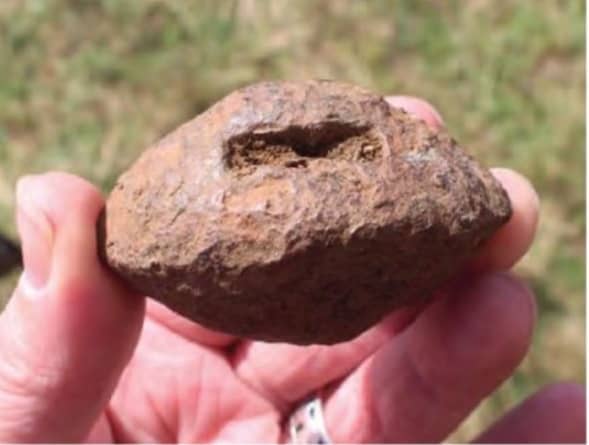 Perfect Weather
The weather was perfect for the event, but it was hot, thirsty and hungry work traipsing around the fields, factors which were alleviated by the beer tent and the numerous food and drinks vendors present. Organisation was, as always, of the highest standards, evident in the form of many marshals, with maps being provided and information clearly specified and readily available.
Continue Reading with Magzter GOLD
Log-in, if you are already a subscriber
Get unlimited access to thousands of curated premium stories and 5,000+ magazines
READ THE ENTIRE ISSUE
December 2019
Nokta Makro Simplex+
Treasure Hunting magazine
New Permission Old Treasure
Treasure Hunting magazine
Introducing the Finds Liaison Officers
Treasure Hunting magazine
Detectival 2019
Treasure Hunting magazine
Anglo-Saxon Stunner
Treasure Hunting magazine
The Mysterious Golden Bangle
Treasure Hunting magazine
The Mudlark Treasures Of Rae Love
Treasure Hunting magazine
Purse Spill Or Hoard?
Treasure Hunting magazine
Pictures From The Past
Treasure Hunting magazine
Nine Golden Years
Treasure Hunting magazine
UK Election Is Full Of Dirty Tricks And Political Clicks
Techlife News
The Business Cheering Brexit
Bloomberg Businessweek
What Would Social Media Look Like If It Served The Public Interest?
Columbia Journalism Review
BRIT-BASHING BARACK HATES MALIA FIANCÉ!
Globe
Brutal Muscle
Muscular Development
Following The President's Orders
New York magazine
GOOGLE REINS IN POLITICAL ADVERTISING
Techlife News
Reimagined Without Compromise
Super Street
Meet The Next Gen Of Changemakers
Girls' Life magazine
Supporting Women In Engineering
Industry Today