FROGS ARE BIOINDICATORS - THEY TELL US HOW THE ECOSYSTEM IS DOING. LATELY THEIR NUMBERS HAVE DROPPED DUE TO CLIMATE CHANGE, POLLUTION AND HABITAT LOSS.
DOUBLE LIFE Frogs and toads are amphibians. The word amphibian comes from two Greek words, 'amphi' meaning 'of both kinds' and 'bios' meaning 'life'. When you join the two together you get 'amphibios' meaning one that has two modes of existence, which makes sense because amphibians spend larval stages in water and adults live on land! Amphibians were the fi rst group of vertebrates to make the transition from water to life on land, 400 million years ago.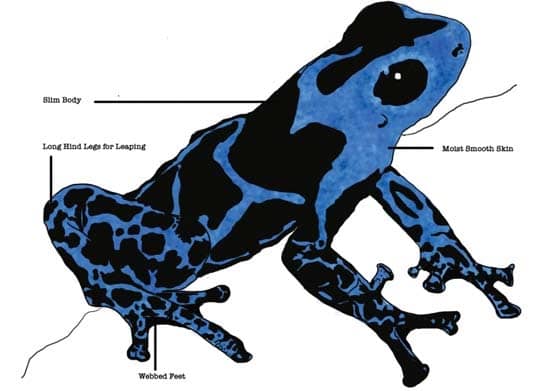 IT'S COMPLICATED!
The differences between frogs and toads are a little more complicated than you may think. There are about 402 species of frogs and 616 species of toads and 7,097 species classifi ed under the order Anura. So about 6,086 species under the order Anura are neither frogs nor toads and belong to different families and subfamilies somewhere in between! Toads are part of the Bufonidae family while frogs come from the Ranidae family.
ALL IN THE FAMILY
While toads and frogs may be easy to distinguish in Europe and North America – this gets tric