The Beach Thick-knee, also known as the Beach Stone-curlew Esacus neglectus, is a large, ground-dwelling bird found in the islands of Southeast Asia and Australia. Even though the species is seen across a widespread area, it is considered to be near-threatened and is quite uncommon across most of its range. It is vulnerable to human interference, predation and degradation of coastlines.
To be realistic, I knew that sighting chances were slim since there are only a few of these birds and they were spread across the different islands of the Andaman & Nicobar archipelago. When I landed up on Little Andaman, there were reports of a sighting on one of the beaches. However, with the island boasting several beaches, I didn't get my hopes up too high.
One evening, we decided to explore Butler Bay beach, an extension of one of the beaches in Little Andaman, from where most of the reports stemmed. After some searching, we spotted a pair that were probably nesting nearby.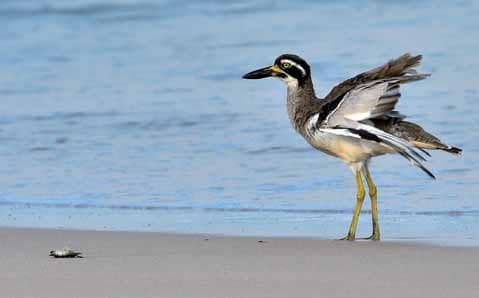 They were quite a distance from us, but still wary and kept moving away from us. We took a few photographs and left them alone, to sit on a bund, leading up to the water.
After a long wait, just as the sun dipped down the horizon, one of the curlews flew down and landed on the beach, by the water, not far from where we were seated. On landing,