We consulted a vet with experience in avian medicine. He suspected neurological trauma – the possible diagnosis was brain damage...
Our first feeding started at 2 p.m. but the bird was not keen. We continued to try feeding it. Stress is a major killer of rescued birds and every moment of physical handling by humans depletes their energy. But the fact that our bird had survived the first twelve hours after the incident was comforting.
GOOD NEWS A second vet visit confirmed that the treatment was working and there was a marked improvement, making it fit for release – 48 hours after being found. We selected Socorro Plateau in a deep-forested gorge that had a rocky stream and a small natural dam. The dam and stream had significant fish diversity. The forest around was dense with many alternative stream sites. At 10 a.m. the next day, we released it near the forest pool. It flew to a nearby tree branch and hid behind large leaves. This confirmed that its earlier symptoms of neuro trauma were well behind it!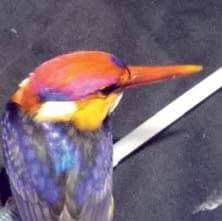 THE KING & I I guess I had become attached to the bird and went back to the spot to check. I was half expecting to see feathers scattered on the forest floor. I searched around in silence. I went around the pool and waded downstream to the other pools w