Ayanda Thabethe - The Continual Evolution
WH beauty and style writer, Sinead Martin sits down with the model turned actress turned TV presenter for a chat about reinvention, authenticity, what gets her butt to the gym and just how she keeps her 1.1 million Instagram followers entertained.
We've just wrapped a full day of shooting. Ayanda Thabethe's first WH cover. I mention that it's time to move on to the interview portion of the day and she quickly changes into her comfies – black leggings, a white tee and pink fluffy Ugg boots – before meeting me at the studio's boardroom table. "Super prepped", I think (the studio has been chilly all day). Ayanda was fairly quiet throughout the shoot, which, as I begin to chat to her one-on-one, I realise was not out of shyness or disinterest, but rather, pure focus. Ayanda is a powerhouse, here to glow up, show up and rise up.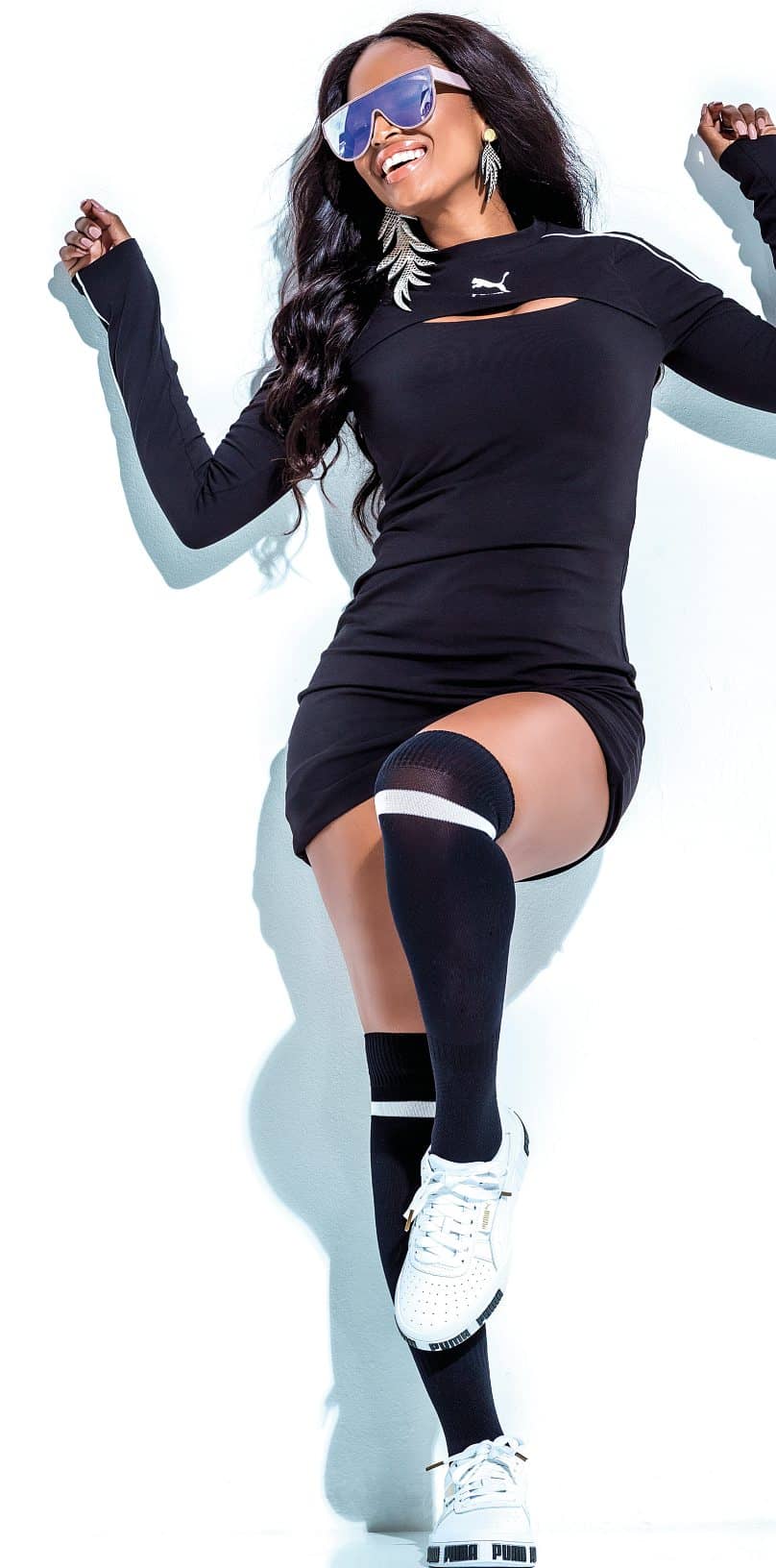 LET'S TALK…
We start chatting with ease. The petite Top Billing presenter tells me how much she's enjoyed her past week in Cape Town. Based in Joburg, Ayanda admits she only really visits The Mother City for work, but this week she has "played hard as well". A bite at popular restaurant The Shortmarket Club, dim sum at Asian eatery Haiku and even a misty hike up Lion's Head. She's loved the week in Cape Town, she tells me, but needs to rush home because she's leaving in the next few days for Monaco and a full weekend of glamour, yacht-side at the Formula 1 Grand Prix.
After watching her on set all day, it became clear early on that Ayanda knows her angles. She's no stranger to the camera, nor is she shy in front of it. And quite frankly, why should she be? Her body looks fierce in every single outfit and her skin is so silky smooth that the make-up artist has had an easy day at the office. This is why I'm pretty surprised when Ayanda reveals to me that in recent years she's struggled with self-confidence and insecurities.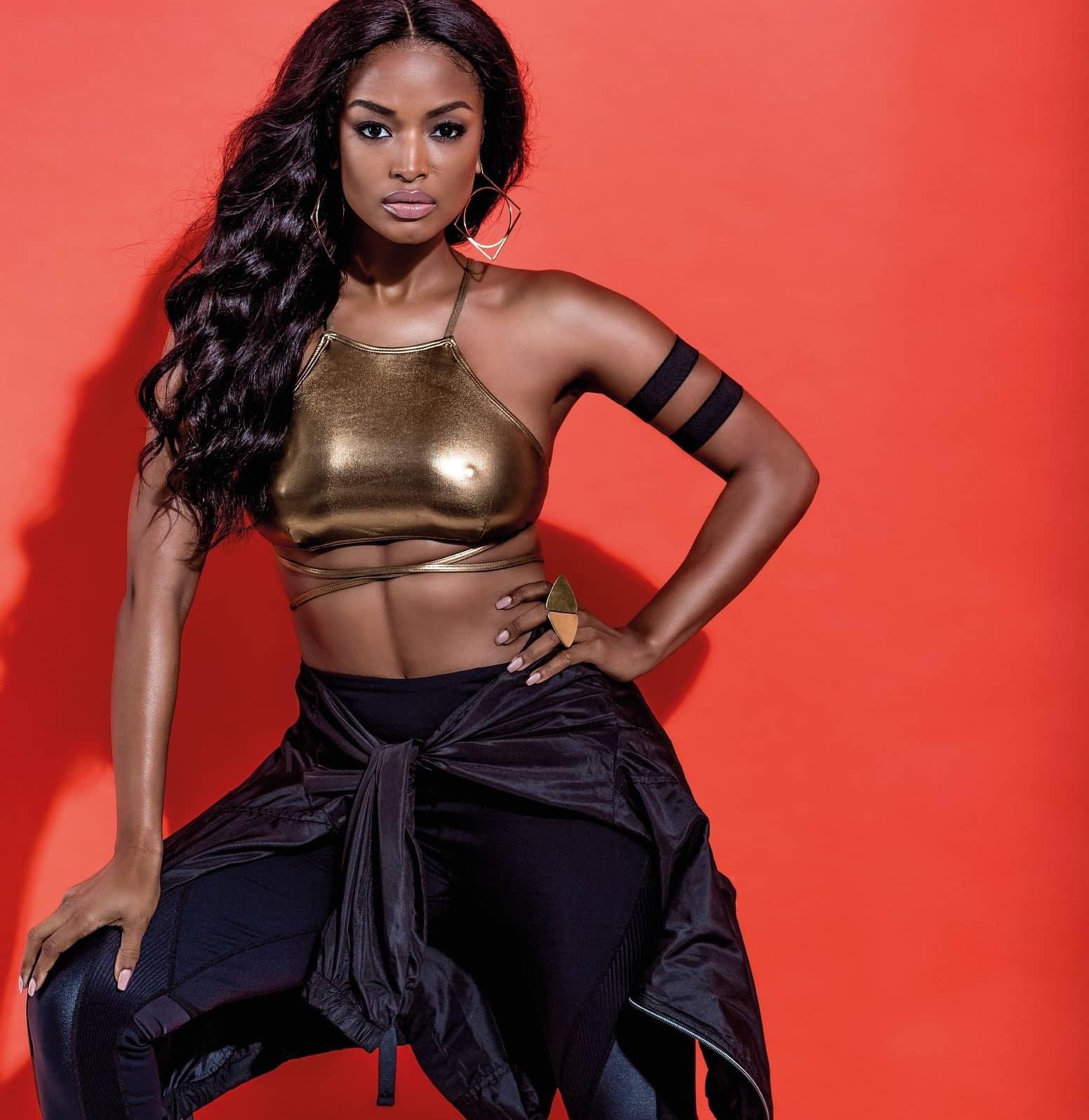 Ayanda's Top Training Tips
FIND A WORKOUT BUDDY.
Someone who will take the time out of their day to be at the gym with you. Being held accountable is key.
YOU MIGHT NOT FIND WHAT YOU LOVE STRAIGHT AWAY
Be patient until you find your thing. Then commit to it.
SWITCH THINGS UP.
In order to see your body evolve, you need to put it through a range of different workouts.
GLOW UP
Continue Reading with Magzter GOLD
Log-in, if you are already a subscriber
Get unlimited access to thousands of curated premium stories and 5,000+ magazines
READ THE ENTIRE ISSUE
July 2019
Blitz This
Women's Health South Africa
What's The Alternative
Women's Health South Africa
Cult Of The Coach
Women's Health South Africa
Turn Up The Heat
Women's Health South Africa
The Big Disconnect
Women's Health South Africa
The Evolution Of Jessica Alba
Women's Health South Africa
Room To Breathe
Women's Health South Africa
The Marciel Effect
Women's Health South Africa
Meet Your New Personal Trainer
Women's Health South Africa
Too Anxious To Orgasm?
Women's Health South Africa
JR Everyday People
JUXTAPOZ
The Silicon South Is Rising
Inc.
Trinity Episcopal Church Leader Settles Down On Maine Coast
Castine Patriot
Company Of The Year: Impossible Foods
Inc.
Wilson Museum Begins Search For Executive Director
Castine Patriot
Where Startups Thrive
Inc.