Sa-Born Lesley-Ann Brandt, Star Of Netflix's Lucifer, Is Butt-Kicking Proof That We Build 'Em Tough Here At The Tip Of Africa.
A badass demon in black leather pants walks into a bar. For the past three and a bit years, that's pretty much summed up Lesley-Ann Brandt's day job. Playing the demon Mazikeen (Maze to her friends) on cult fantasy series Lucifer, she's unleashed her personal brand of hell on the small screen – a blade-wielding, sass-mouthing, pansexual brand that's earned the Cape Town-born star a legion of fans around the world.
A LOT CAN HAPPEN IN A YEAR...
The demon part may be comic-book fantasy, but the badassery certainly is not. When she first appeared on the cover of WH just over a year ago, Lesley Ann was filming fight scenes by day, then going home to breastfeed her son Kingston – who was just six months old when the then-36-year-old revealed her washboard abs at our cover shoot.
Lesley-Ann was refreshingly un-smug about the transformation, stressing that new moms shouldn't put undue pressure on themselves and that her rapid weight loss was necessary for work. Her work ethic certainly couldn't be faulted, but showbiz is fickle. That same month, US TV network Fox cancelled Lucifer.
Just six weeks after her cover hit shelves, Lesley-Ann posted an emotional goodbye to her on-screen home and family on Instagram, reflecting on her personal journey with the show and thanking its loyal fans. Only, said fans were having none of it. #SaveLucifer trended on social media and three months later the show was picked up by Netflix for a fourth season. "It was a time of utter shock and gratitude to our incredible fans," recalls Lesley-Ann. "Cancelled shows are part of doing this job. It happens. But shows being revived after an outpouring of love from fans, that's an anomaly."
Although the move to Netflix was forced, Lesley-Ann believes it's worked out for the best. "I just don't think we belonged on network TV and you'll see why in season four," she says, cryptically. "I'm thrilled we are now on Netflix and with a team of executives who get us and what we're doing."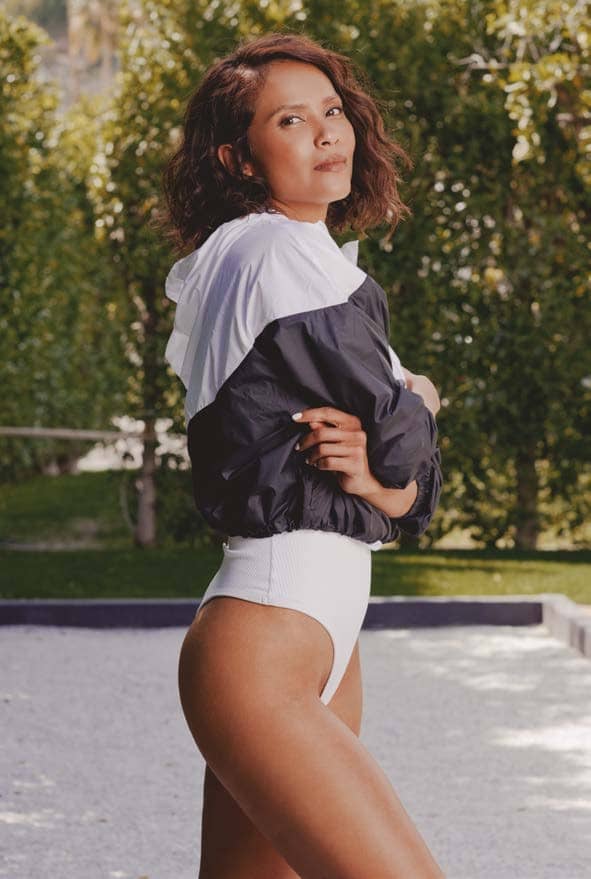 IF YOU CAN'T STAND THE HIIT...
The success of the #SaveLucifer campaign means more time for Lesley Ann to spend in Maze's wardrobe. And if you've ever watched an episode, you'll know that the demon's style is not exactly forgiving. "Lots of fitted clothing is a great incentive not to fall off the wagon!" says Lesley-Ann in a #jokingnotjoking kind of way. "But to be honest, I'm just someone who needs to work out, for my physical and mental health. I don't feel good when I haven't broken a sweat and my Instagram is proof that I really enjoy the gym."
Lesley-Ann works with Paolo Mascitti, the same trainer who guided her through her post-partum weight loss and return to gym with gentle conditioning exercises suitable for a new mom. But there's nothing gentle about her workouts these days. "It's intense," she says.
"I'm working at a higher intensity and that's been tough to build back up. You don't get much sleep when you're a parent of an 18-month-old who's constantly on the run."
Mascitti combines high-intensity interval training (HIIT) and strength work with functional training using equipment like dumbbells, kettlebells and medicine balls to achieve max fat burn and sculpt lean muscle.
To make sure she sticks with the programme, Lesley-Ann motivates herself with rewards. "I buy a bunch of cute workout clothing when I know I'm training towards something," she says. "In fact, I bought clothes while I was pregnant with the goal of getting into them post pregnancy. And I stay off the scale. That's just a terrible way to play mind games with yourself."
Continue Reading with Magzter GOLD
Log-in, if you are already a subscriber
Get unlimited access to thousands of curated premium stories and 5,000+ magazines
READ THE ENTIRE ISSUE
May 2019
Blitz This
Women's Health South Africa
What's The Alternative
Women's Health South Africa
Cult Of The Coach
Women's Health South Africa
Turn Up The Heat
Women's Health South Africa
The Big Disconnect
Women's Health South Africa
The Evolution Of Jessica Alba
Women's Health South Africa
Room To Breathe
Women's Health South Africa
The Marciel Effect
Women's Health South Africa
Meet Your New Personal Trainer
Women's Health South Africa
Too Anxious To Orgasm?
Women's Health South Africa
Weight Room Promotes Fitness At DISHS
Island Ad-Vantages
Stonington student is a 'STAR'
Island Ad-Vantages
Mariners carry over success from last season
Island Ad-Vantages
GSA Girls Show Promise In Early Losses
Island Ad-Vantages
Deer Isle Garbage Man Retires After Half A Century Of Work
Island Ad-Vantages
SAN FRANCISCO AIMS TO REIN IN TESTS OF TECH IDEAS ON STREETS
AppleMagazine
NETFLIX SAYS MORE THAN 26M WATCHED 'THE IRISHMAN' IN 7 DAYS
AppleMagazine
OVER $500K IN ROBOTICS GRANTS GOING TO 101 SCHOOLS
AppleMagazine
NEW AMAZON LEASE FOR NY SPACE RENEWS DEBATE OVER FAILED DEAL
AppleMagazine
NATO RESEARCHERS: SOCIAL MEDIA FAILING TO STOP MANIPULATION
AppleMagazine